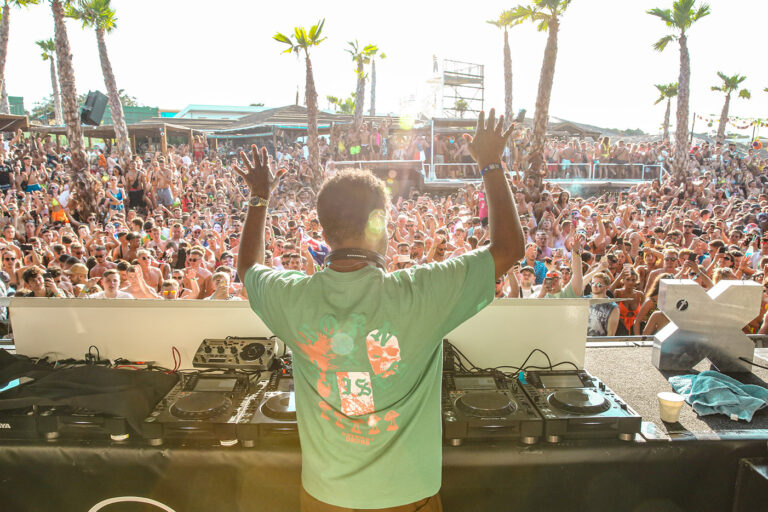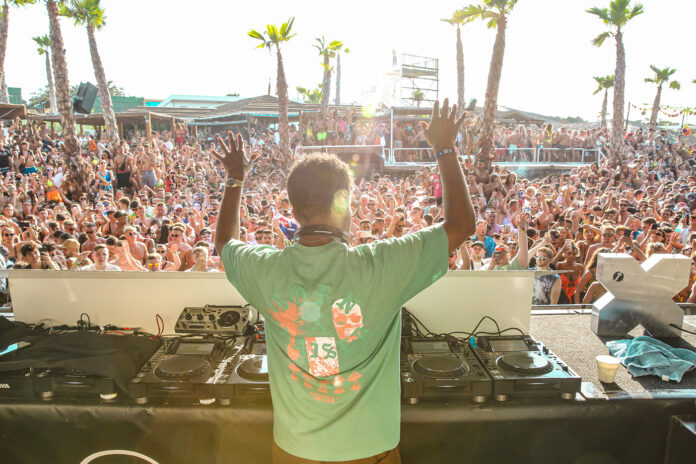 Croatia's Hideout Festival is back for its 10th edition on July 3 – 7 2022, on the beautiful island Pag in the northern Adriatic Sea, the 5th largest island of the coast of Croatia, known for its nightlife and…cheese. The island is about to host once again, one of the best music festivals in Croatia. A whirlwind of amazing electronic music artists and international festival-goers are about to hit Hideout Festival 2022 and we couldn't be more thrilled! We've been hearing about Hideout for a long time, the festival has a legendary reputation, and we just can't wait to experience it!
Hideout Festival is bringing once again a unique summer party experience, on top of the five amazing open air venues with beachfront stages, the festival also offers its famous boat parties, pool parties, pre-parties, after parties, exclusive headline shows and more! You don't want to miss this one!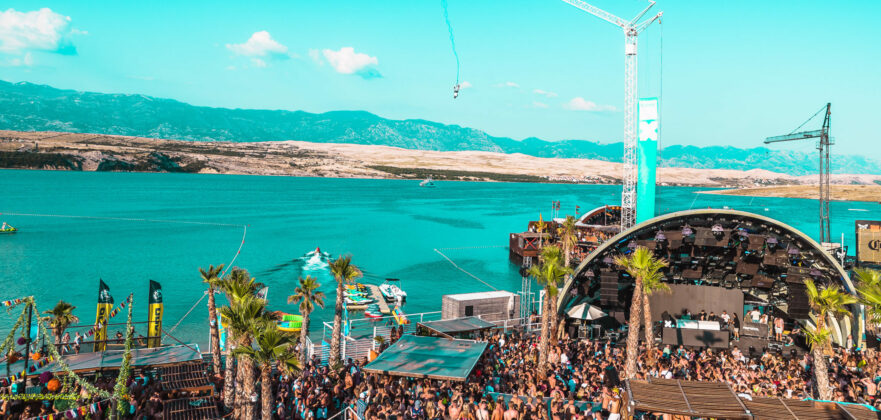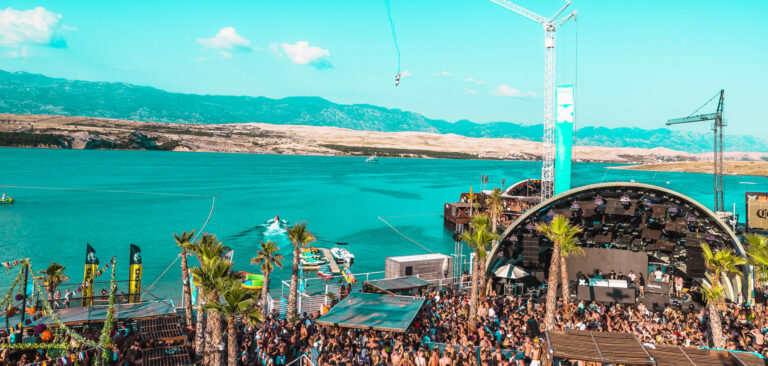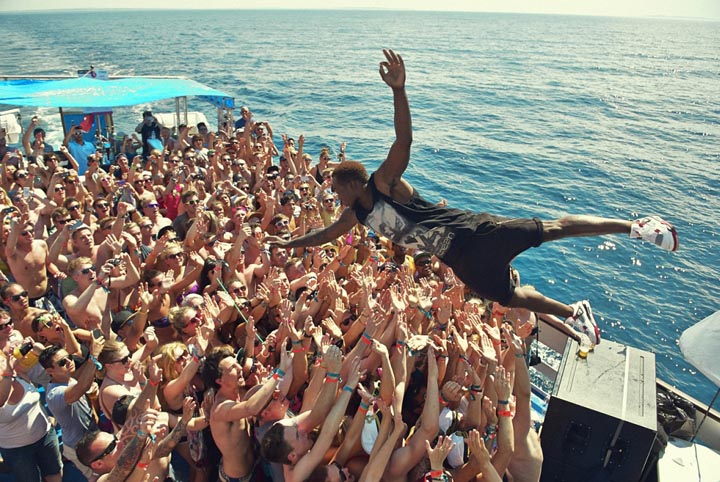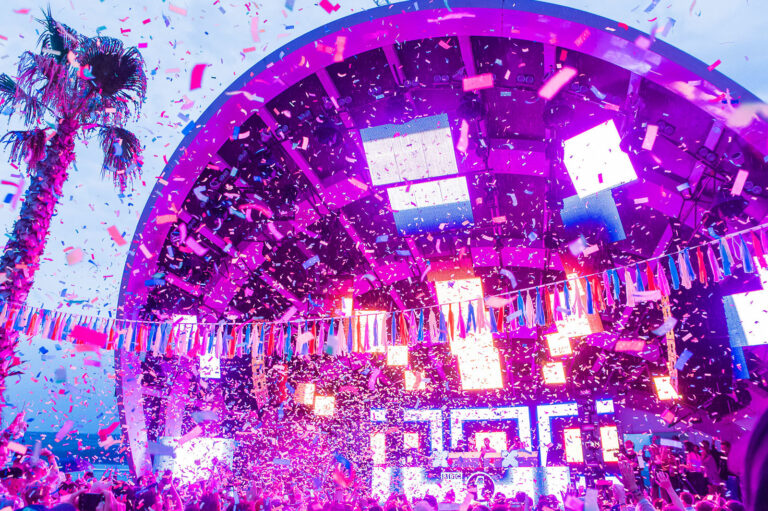 The festival started in 2011 and immediately made it to the Guardian's list of the best festivals in Europe (and Croatia) that year. The festival is known for bringing some of the most respected artists on the scene and this year is no different. Hideout Festival 2022 brings an outstanding lineup including performances by Maya Jane Coles, Eats Everything, Eli Brown, Camephat, Andy C, Bou, Kanine, Fisher, Folamour, Hot Since 82, Skream, Shy FX, and many many more. The 5 days festival is offering something for everybody! From Tech House to Drum & Bass, Indie Dance, Grime, Techno, Deep House, Garage and everything in between, Hideout Festival 2022 really stands out for its diversity, on a scene where a lot of festivals focus on only a few single genres. No wonder it is considered one of the best music festivals in Croatia.
Our readers will probably remember our interviews with Bou and Kanine, we've also featured many artists that will perform at Hideout Festival 2022, check out some of our features to get familiar with their sound: Eli Brown's Escape EP, Trouble, Immortal and Desire. Kanine's Lighter Crew, Never Let You Down and KICKONS. Crucast's label releases Losing My Mind and What You Want. Dimension's Remedy, Fisher's It's a Killa (Shermanology Edit), John Summit's Human, Make Me Feel and More Life, Maya Jane Coles' remixes of Come Back Around and Reclaim Me, Prospa's WANT NEED LOVE, Tibasko's Only You and Reverie, Shy FX's Soundkilla Pt 2, and last but not least, Franky Wah's amazing Bring Me Back To You and Should I Seen It Coming. Needless to say, our music curation and Hideout Festival's line up are a perfect match!
Unfamiliar with island Pag? Just to give you an idea, the festival is hosted at Papaya Club, Kalypso Club, Aquarius Club, Euphoria Club, and Noa Beach Club, on Zrce beach in Novalja, the pebble beach and summer party zone of the island. Also known as one of the top party beach in the world. Surrounded by mountains and the gorgeous Adriatic Sea, expect to witness some of the most breathtaking sunsets in Europe.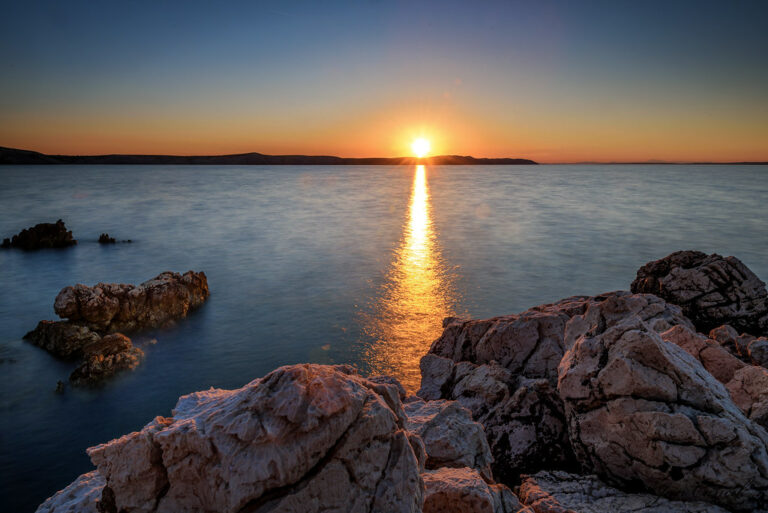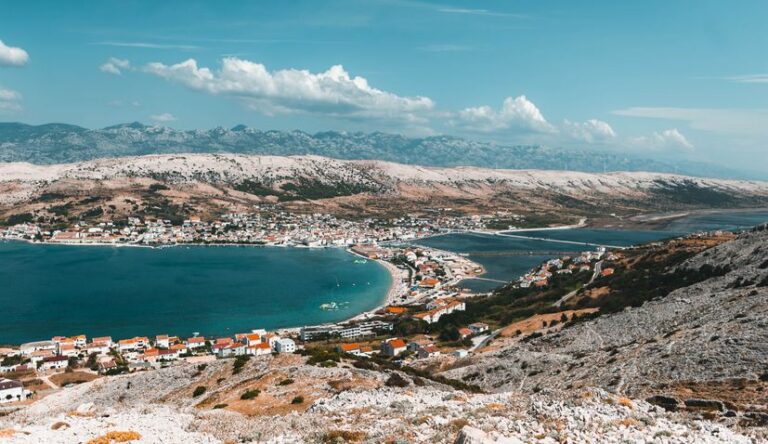 But, partying is not the only thing to do on island Pag. The island also offers a variety of activities for when you are not partying, activities like sunbathing, quad biking experiences, adventurous hikes, water sports like banana boats, pedalos and jet skies, the famous bungee jump on Zrce Beach, island hopping to the UNESCO world heritage site Plitvice Lakes national park or simply enjoying the amazing local cuisine, this region of the Adriatic Sea has a lot to offer and discover.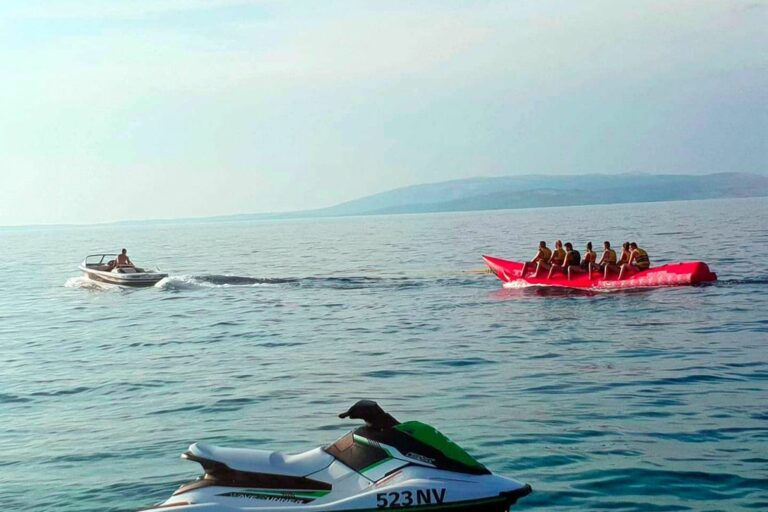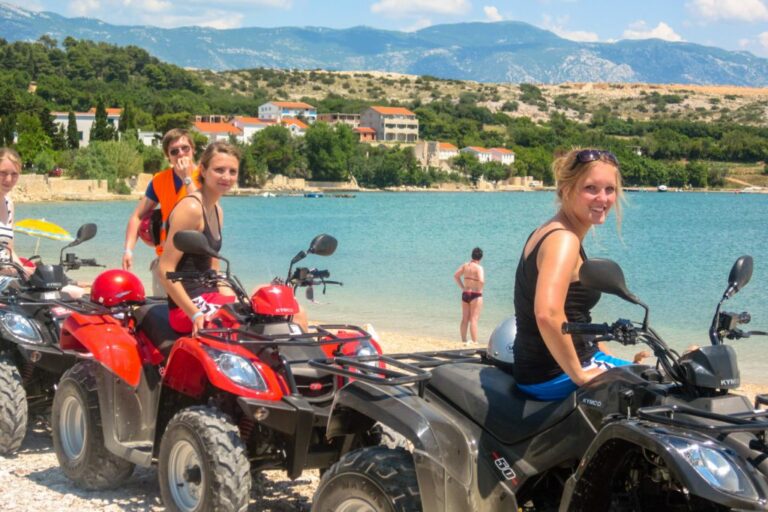 Check out the Hideout Festival 2022 lineup below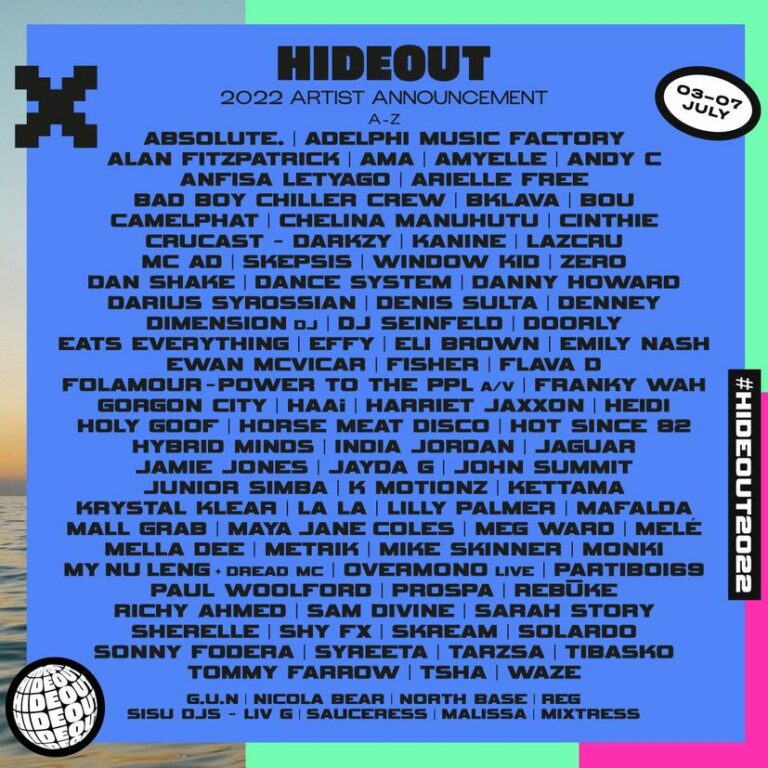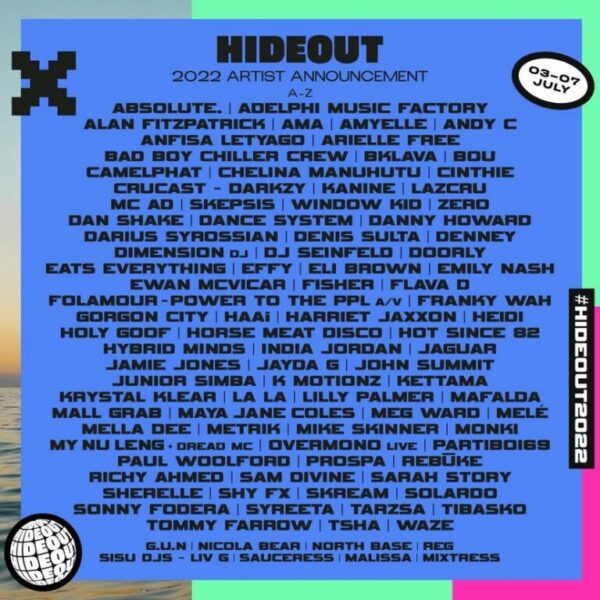 Top 5 Must-See Acts @ Hideout Festival 2022
As you can see above, Hideout Festival is truly offering a legendary line-up for electronic music fans this year, as is tradition, which is one of the reasons why it is still considered one of the best music festivals in Croatia and Europe after over a decade. We consider so many acts on this line-up to be must-see (or must-hear?) but, although it wasn't easy, we did our best to narrow it down to only five, we've build a short list of our acts that are must-see and not to be missed at the festival this year, without further ado…
#1 – Folamour
DJ, producer, and founder of the label FHUO, Folamour is a very accomplished producer and DJ with a very diverse background. In 2019, he did a total of 140 gigs counting festivals like Dimension, Lost Village, Nuit Sonores, and Defected. Well rounded, he plays drums, guitar, bass, and percussion which explains in part why his tracks are so masterfully orchestrated (I mean, he has worked with Lyon's National Orchestra after all). He has an amazing knowledge of classic House and Disco music and most definitely knows how to please a crowd. 7 years ago, Folamour fell ill and got stuck in bed for two months so he decided to learn Ableton to start producing his own music and since then, he released on labels like All City, Classic and Church, Glitterbox and obviously, his own, FHUO Records. So, if you like to be surprised by a DJ with a unique track selection, great vibes and funky beats, make sure not to miss his set at Hideout festival 2022, we know he won't disappoint and he will put a smile on everybody's faces.
#2 – Sherelle
DJ, producer and Hooversound co-founder, Sherelle is probably the most exciting and talked about young DJ in the UK at the moment. Her rise to the top was dazzling and mainly due to her amazing performance at Boiler room in 2019 (if you have not seen it, please do so above). Equipped with her amazing knowledge of Jungle, Drum 'n' Bass, Footwork, and Juke, her undeniable energy, and her refusal to let the haters reach her, she went from student level to an international star in less than 2 years. She's made a lot of noise in Europe and the US and scored a year-long residency on BBC Radio 1, which is not an easy thing to get. Is her fame only based on hype you may ask? Well, the crowds who went completely "batshit" during Sherelle's sold-out Boiler Room tour would definitely confirm that she is a lot more than just hype. If she only brings half of the energy she brought at the London Boiler rooms, we are in for a real treat.
#3 – TIBASKO
When someone like Pete Tong names you as the future stars of 2021, you know you are doing something right. Ken Petalcorin and Andy Bowden, established as TIBASKO, are known as instigators of a highly melodic sound that navigates between Breaks, Melodic Techno, and Trance. One of the things we love the most about them is their ability to find amazing samples and incorporate them flawlessly and creatively in their songs. A great example of that is the work they did on one of their latest and top releases, Hibiscus, in which they sample vocals from Nahaw Doumbia, a singer from South Mali. TIBASKO's ability to evoke intense, heartfelt emotions while never losing the pulse of the dancefloor is precisely what connects them so firmly to their audience, and their singles since 2020 have consistently been prime examples of their impressive alchemy. Personally, we will absolutely not miss their set as it is an amazing opportunity to see and witness the rise of this amazing duo. They are always perfectly in sync with the dancefloor and the music they play is guaranteed to amaze the crowd at Croatia's best music festival.
#4 – Eli Brown
Eli Brown has quickly risen to the top thanks to his avant-garde productions which got early support from Skream, Adam Beyer and Solardo, to name only a few. His productions are acclaimed for their uniquely ominous approach, creating distinctive tracks packed with high energy patterns. Another amazing thing with Eli brown is that he does not focus on only one style of electronic music. Whether it is House music (We can come together), Tech House (XTC), Techno (Believe) or Melodic House & Techno (Pulling me back), his production style can clearly be heard and most of all, he always delivers. His affinity for dark and ethereal sounds led him to create a label named Arcane to allow other talents with similar sounds to be released and heard by the community. With the pandemic forcing everyone to stay home and clubs and venues to shut down in the past 2 years, he took the opportunity to bring his sound to the next level……. to the stadium & festival level. If you like DJ sets that take you on a trip from beginning to end, including various genres and relentless energy, this is an act that is sure to deliver just that.
#5 – Skream
The goal of our Top 5 Must-See Acts @ Hideout Festival 2022 was mainly to introduce you to some acts that are a tad more underground and less mainstream and known, DJs and producers that you absolutely need to discover. We could have easily talked about the almighty Fisher, DnB legend Andy C or Deep House superstar Hot Since 82, but, you already known them, you have probably seen them live before, and it would just have been too easy. However, we are breaking the rule right now, we could not finish this article without mentioning a veteran who is most definitely one of the most coveted acts to perform Hideout Festival 2022. We are talking, of course, about none other than Skream (we were tempted to add Sir. in front of his name, this is how revered he is). His passion for collecting and performing music is endless; Disco, House, Techno, and everything in between. Without forgetting that he is one of the pioneers and extremely influential producer of the Dubstep genre. At one point in his career, Skream wanted a change of pace from arena and festival performances, so he launched his Skreamizm tour to play three-hour sets in small clubs. Why would you go see him you may ask, well, simply because you have no clue what he will be playing, but one thing we know for sure is that he will deliver a set full of surprises, flawless mixing, and a musical journey to remember. People will still be talking about it when they go back home after the 5 memorable days at Hideout Festival 2022.
Check out the highlights from the last edition of Hideout Festival
You are unfamiliar with the artists and DJs that will play this year's Hideout Festival? You want to have an idea of what genres of electronic music will play? You want to build the hype for the festival?
Don't have your tickets yet? Don't wait, the festival has sold out every year since its inception, it is one of the best festivals in Croatia after all, grab your tickets now HERE! Hideout Festival is also offering packages and accommodation HERE.
Follow Hideout Festival 2022!