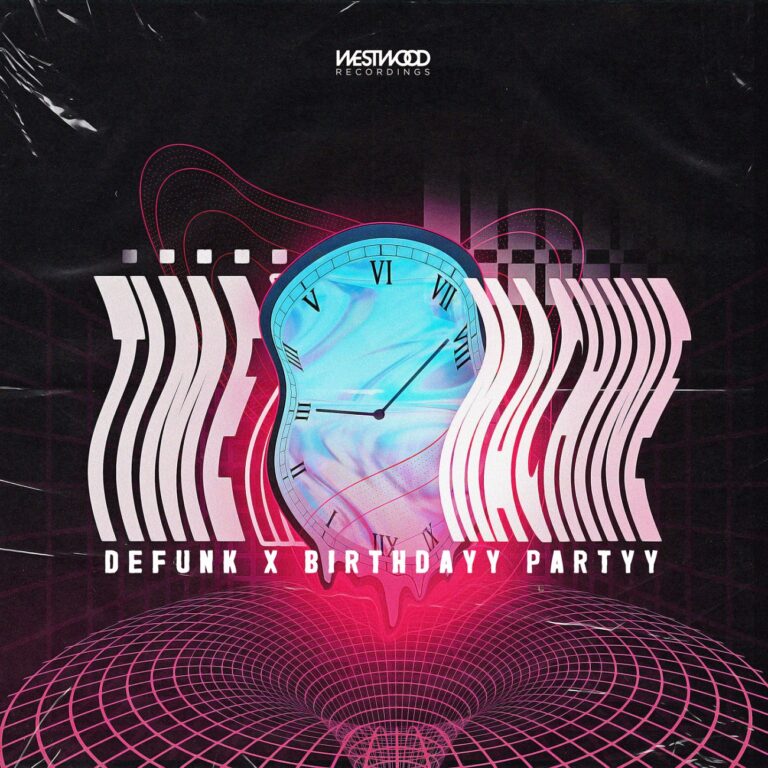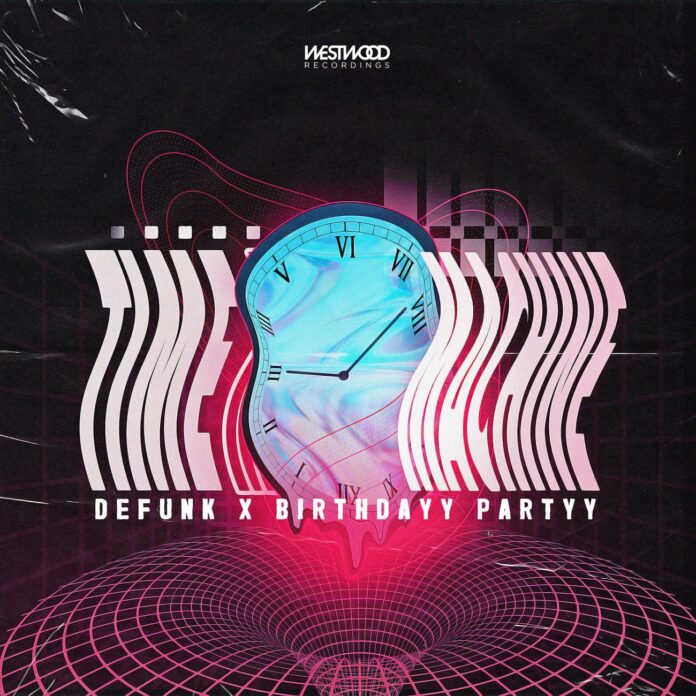 Are you ready for the genre-defying collaboration from Westwood Records' talent, Defunk, and the Chicago based duo of Birthdayy Partyy? Just a warning, this song titled, 'Time Machine' is an explosive and energetic banger with a dizzying environment. While Defunk is known for his genre-bending styles, Birthdayy Partyy is famous for their killer party sounds. Therefore, this artistic collaboration has resulted in a powerful Bass House delivery. We're sure that this new Defunk music will jam your muscles and twist you into knots with its unstoppable energy.
Released on Westwood Records, 'Time Machine' is a distorted heaven with futuristic sounds that emulsify in the background oh-so-well. This new Defunk music is hot off the rails fusion between different Bass House elements and a dominant Electro feel. From the get-go, this sizzling track has a molten power fueled aura that does not descend into a lull for even a second. Defunk and Birthdayy Partyy have injected an impulsive life in this peak time cut with splintering bassline and piercingly wild synths that craft a one of a kind listening experience. The song has a relentless tempo that is further sent into a tailspin with crashing and pulsating cadences. The addition of filtered vocals catapults this tune into a catchy and fury-ridden sonic dimension.
'Time Machine' flows with an intoxicating euphoria. This new Defunk music is a real heavy hitter. Rolled out via Westwood Records, this stunning track slaps and growls with fierce vivacity. Birthdayy Partyy & Defunk have poured percussive heat, massive drops, and catchy hooks in this latest Bass House gem. This track is a serious stomper that will throw you over the edge.
All in all, 'Time Machine' is a sweltering and warped affair that hits like a ticking bomb. Therefore, we're pleasantly thrilled with this party-ready number from Defunk and Birthdayy Partyy.
Stream 'Defunk x Birthdayy Partyy – Time Machine' on YouTube below!
Streaming Options:
Defunk x Birthdayy Partyy – Time Machine Apple Music
Defunk x Birthdayy Partyy – Time Machine Spotify
Defunk x Birthdayy Partyy – Time Machine Soundcloud
Defunk x Birthdayy Partyy – Time Machine FREE DOWNLOAD
Defunk x Birthdayy Partyy – Time Machine Download
More Streaming Options HERE.
---
More About Defunk:
Hailing from the Canadian prairies, Defunk has made a distinct name for himself in the electronic music scene. Defunk's unique brew of funk, blues, soul and bass music has proven him to be a true connoisseur of genre blending. His innovative style has created a path for fans of all genres to venture into the bass music scene…and a niche that has left him virtually untouched. Experimenting with dynamic sounds and tempos, Defunk pushes the envelope with each new release.
The versatility he delivers in both his DJ sets and live performances has caught the attention of Pretty Lights, GRiZ and Gramatik. With a constantly changing set and rapidly expanding discography, Defunk consistently constructs a show brimming with allure and absolute magic.
More About Birthday Partyy:
It's always someone's birthday and Birthdayy Partyy is here to celebrate that. The twin brothers Jon and Bryan of Chicago have taken over 2020 with their bass-boosted project that gallivants between genres with ease. From bass house and tech house to dubstep and beyond, Birthdayy Partyy has a little something to satisfy everybody.
Birthdayy Partyy shows no sign of slowing down, releasing music at an unrivaled speed. From their originals on labels like Jauz 's Bite This! and AC Slater 's Night Bass imprints, to their remixes, including official ones for Autograf, Odd Mob, Spinnin' Records, and Circus Records, Birthdayy Partyy gives listeners something exciting each and every time. Welcome to the Partyy!