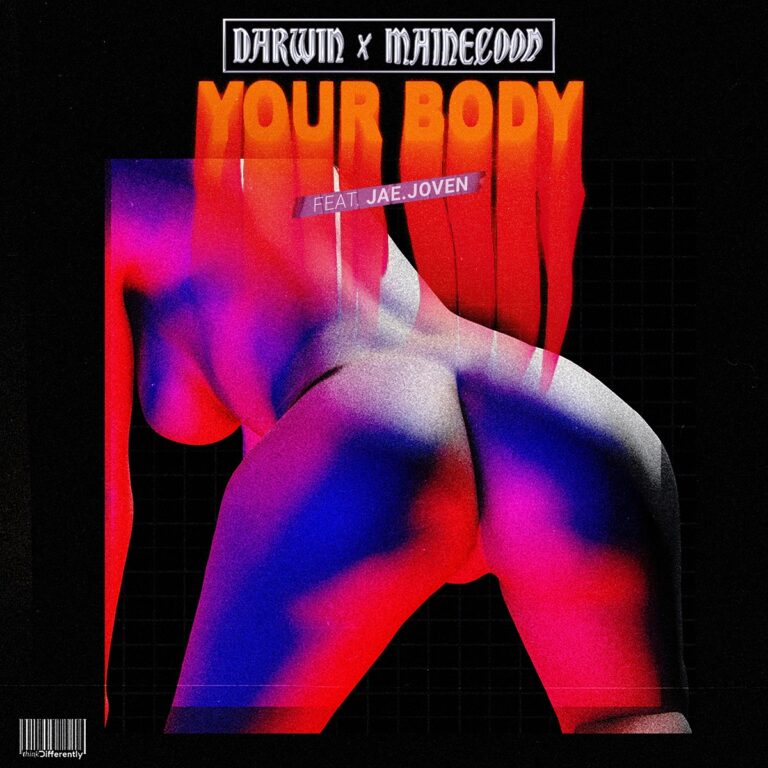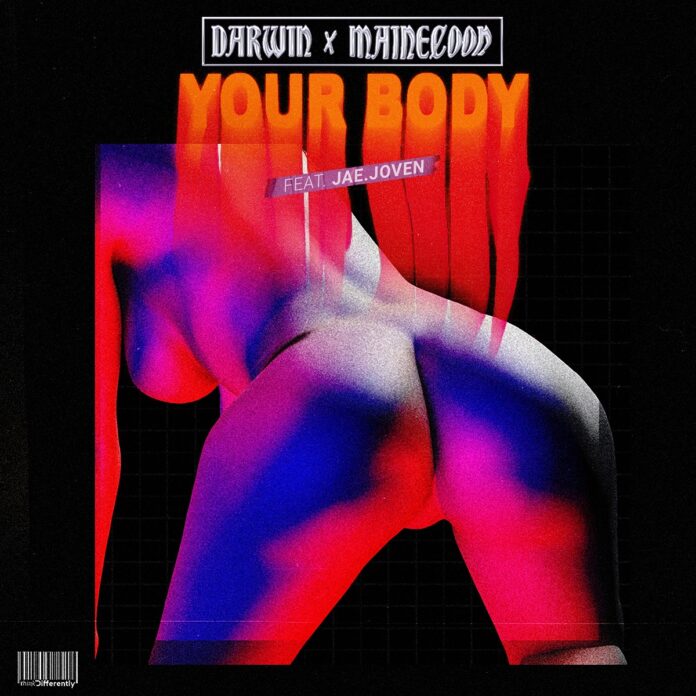 It's the first EKM Premiere of the year! Darwin x Mainecoon are a French production duo who are making waves. Pretty big ones too. As time goes on, finding truly original music just keeps getting harder. However, the new Darwin x Mainecoon music that landed in our inbox has done exactly that. In 2018, the producers, Hugo and Vincent, launched their joint project, and ever since they've been killing it! On this track, 'Your Body', their creativity has met the flow and lyricism of US wordsmith Jae.Joven. The results are explosive.
The producers self-describe as Futuristic Pop, but they draw influence from the entire spectrum of electronic music. The harder you listen, the more you reveal and discover. But it's about more than just blending genres. It's about doing it well. The technical and musical execution of 'Your Body' is incredible. The mood is dark, brooding, and effortlessly cool. The combination of the vocals and the slightly off-kilter sound design is both dramatic and captivating. The chorus arrives and blows your mind all over again. It's hard to know where this track belongs—it could be considered edgy for a club, but you couldn't help but dance to it anyway.
Jae.Joven finally makes his appearance. His energy matches the mood and tone. The rapper's voice is the perfect fit for this track. His delivery is a Hip Hop infusion that gives us respite from the intensity of the track. But in the end, 'Your Body' has the last word. The track finishes out on an even more hectic bewildering note, leaving you slightly speechless. This is one of the most original EKM premieres that we've had and we're hoping that there's more new Darwin x Mainecoon music on the horizon! Check them out and make sure to keep watching, because you never know what's coming next.
Stream 'Darwin x Mainecoon – Your Body (Feat Jae.Joven)' on YouTube Below!
Streaming Options:
Darwin x Mainecoon – Your Body (Feat Jae.Joven) Apple Music
Darwin x Mainecoon – Your Body (Feat Jae.Joven) Spotify
Darwin x Mainecoon – Your Body (Feat Jae.Joven) SoundCloud
Darwin x Mainecoon – Your Body (Feat Jae.Joven) FREE DOWNLOAD
Darwin x Mainecoon – Your Body (Feat Jae.Joven) Download
More Streaming Options HERE
---
More About Darwin x Mainecoon:
n 2018, Hugo and Vincent met and merged their solo projects to create one musical entity, Darwin x Mainecoon. From there, it was game over. Since this fusion, the French duo's signature style is best described as futuristic pop with doses of various other genres in and outside of electronic music. You can expect to hear anything from future bass, trap, hip hop, and also house. They quickly gained the support of Nicky Romero, Martin Garrix, Klingande, Showtek, Brooks, Cloudkid, and many more in their tirade of new music to the world. Since 2018, they've built a strong identity, both musically and graphically. After many successful collaborations with world-famous producers and singers such as Dj Teez, Maky Lavender, Akalex, Silja Ros, Kinnoha and Akacia, the prolific duo is on the world map of Pop. 'Your Body' is their latest track and is an EKM Premiere.
More About Jae.Joven:
Hip-hop artist Jae.Joven made his debut EP, From Within, in the spring of 2018. Based out of Portland, OR, but born in the small town of Longview, WA, Jae never imagined music would be his vehicle towards success. Early hardships struck when his parents split and his father lost his job due to the 2008 economic recession. He lost his childhood home and was separated from his younger sister. Hip-hop quickly became an escape and led to his love for the genre.
Aspirations to become a doctor diminished when he decided his true passion was music. Despite his high academic marks in school, Jae saw the potential for success in his musical talents.
His personality is spread throughout his music, full of unapologetic statements and personal truths about his life. Jae, like his music, is unafraid to touch upon any topic. 'Your Body' is his latest track and it's an EKM Premiere.