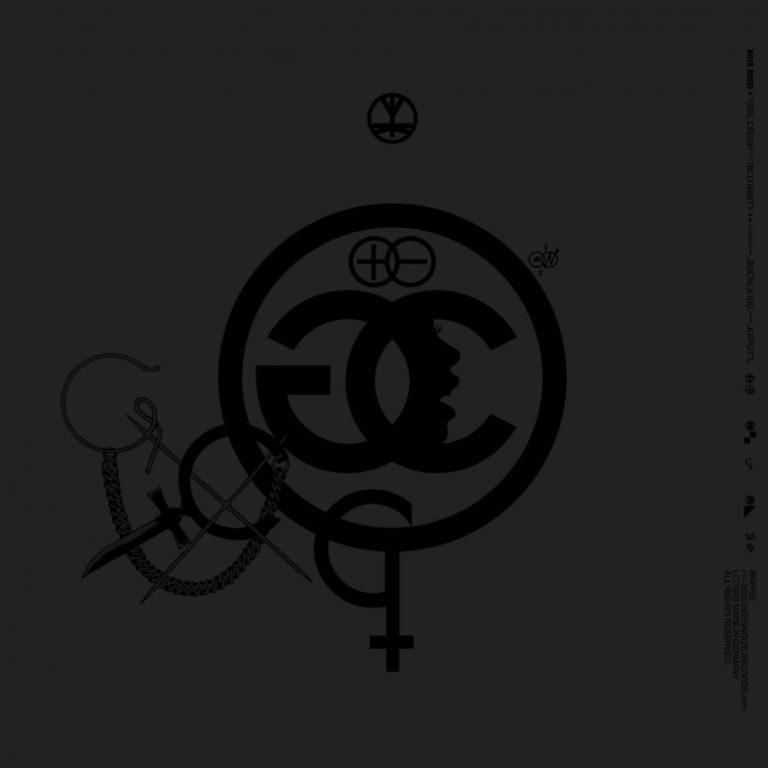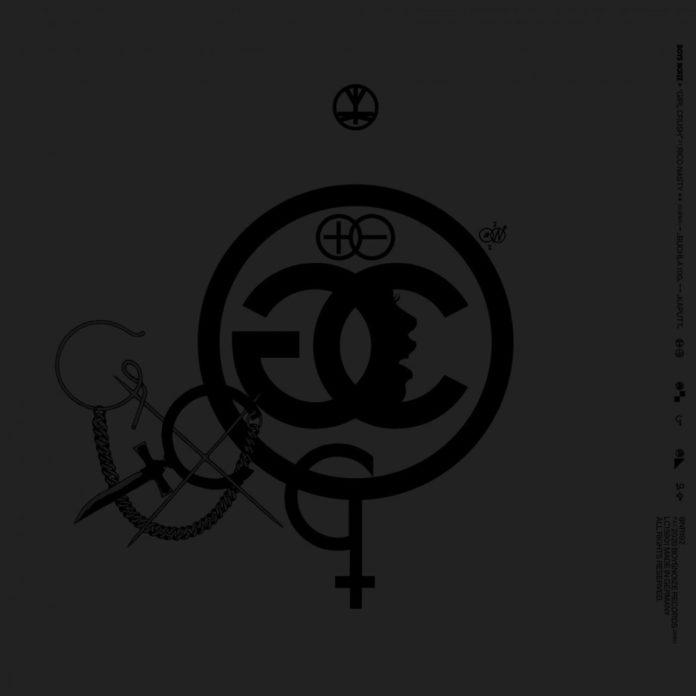 Boys Noize is back with something fresh and innovative… again! Alex is known for mixing genres together, some that are rarely combined, bringing new flavors and sounds, he always finds a way to make styles mingle perfectly. The result is really unique and outstanding every time, and once more, he did just that. And WE FVCKING LOVE IT!
How to describe "Girl Crush", imagine a recipe with one part The Weeknd style sexy Future R&B vocal, 2 measures of Gesaffelstein style raw Industrial flavor, and wrap all that in a low-tempo Techno envelop, this is "Girl Crush".
The vocal is so catchy and sexy, Rico Nasty really went extra nasty on this one! The vocal contrasts perfectly with the cerebral, raw and aggressive feel of the Industrial side of the track. This wouldn't be a Boys Noize track without some intoxicating melodies and banging Techno/Electro drums. As if the track wasn't fresh enough already, the break bring a fantastic old school west coast synth that can't prepare you enough for the intensity of the last drop. It goes from deep and sexy to rage mode in a blink of an eye.
Alex has been killing it for over a decade, the first time we blogged his music was in 2012, and we've always been big supporters of his music. He is one of the rare artists that always stayed at the "top". He knows how to reinvent himself and stay fresh. We hope to get another decade of Boys Noize!
Boys Noize and Rico Nasty really created a fantastic eclectic club anthem, it is fresh, raw, sexy, heavy-hitting and, most of all, unique. These two artists can really make some gems together! Make sure to add this one to your playlists!
Stream

"Girls Crush"

on Spotify and Soundcloud below and grab your copy on HERE!
More about Boys Noize:
BOYS NOIZE (Alex Ridha) builds worlds, then builds bridges between them. Circumnavigating the planet in a bulldozer, the nonconformist German-Iraqi artist, DJ, producer and label boss Alex Ridha set the path for the global electronic music explosion and defiantly drives it into new territories.
Propelled by an infatuation with sonic invention, BOYS NOIZE developed a peerless sound both distinctive and diverse. Bringing techno to the main stage and modular synths to the Billboard charts, his work flies in the face of convention, reaching into both past and future to change music today. Masterfully anarchic performances at festivals from Coachella to Glastonbury and every continent in between while still DJing yearly at techno mecca Berghain – few reach mass success while being embraced with the critical respect of the underground, and Ridha achieves this on his own terms.
The new decade begins with unprecedented momentum from BOYS NOIZE´s expanding practice. Sessions with Lady Gaga, co-writing and producing Frank Ocean's return single "DHL" and "Babushka Boi" for A$AP Rocky, releasing the disco-drenched song "Why Not" with Francis and the Lights and receiving a GRAMMY nomination for "Midnight Hour" alongside Skrillex and Ty Dolla $ign, Ridha has asserted his place at the top behind the console and the decks. There's more, of course – collaborations with Bon Iver, Chance The Rapper, Snoop Dogg, Rico Nasty, Tommy Cash and Jarvis Cocker, working on Mark Ronson's "Uptown Funk," remixing Daft Punk, N.E.R.D., Depeche Mode, Rammstein and David Lynch, composing the soundtrack and theme song for Oliver Stone's "Snowden" film, and Virgil Abloh choosing BOYS NOIZE to collaborate on the designer's first ever music release – with an accompanying OFF-WHITE x BOYS NOIZE's MAYDAY capsule collection to match. Whether composing and performing live as OCTAVE MINDS with piano maestro Chilly Gonzales, crafting club hits with Skrillex as DOG BLOOD or DJing as his house pseudonym ELAX, BOYS NOIZE is unstoppable as he drives towards new forms of expression, fueling a creativity without limits.
Relentlessly supporting the music that shapes his life, Ridha also runs his own label, Boysnoize Records (BNR). Originally started to retain full artistic freedom with BOYS NOIZE's releases, BNR became a home for an exceptional and diverse roster of musicians, forming a league of its own while defying genre restraints. The Berlin-based "non-conformist DIY anarchist collective" (Dazed & Confused) is entering its 15th year, discovering, developing and distributing future-facing artists including SCNTST, Djedjotronic, NAEEM, Jensen Interceptor, Cardopusher, Dave Clarke, Peaches as well as releasing his ground-breaking debut album Oi Oi Oi as well as all following BOYS NOIZE ́s full length LP's.
Catch Boys Noize on Tour!
Fri 2.28 – Clermont-Ferrand, FR @ La Coope
Sat 2.29 – Cologne, DE @ Gewoelbe
Sat 3.07 – Toulouse, FR @ Le Bikini
Fri 3.13 – Nancy, FR @ L'Autre Canal
Sat 3.14 – Gent, BE @ Kompass
Fri 3.20 – Miami, FL @ Ultra Music Festival
Fri 3.27 – Glasgow, GB @ Sub Club
Sat 3.28 – Copenhagen, DK @ Pumpehuset
Fri 4.03 – Milan, IT @ Circolo Magnolia
Sat 4.04 – Rome, IT @ Dot
Thu 4.09 – Basel, CH @ Nordstern
Fri 4.10 – Porto, PT @ Industria Club
Sat 4.11 – Morlaix, FR @ Panoramas Festival
Sat 4.18 – Geneva, CH @ Audio Club
Fri 4.24 – Oslo, NOR @ Jaeger
Sat 4.25 – Prague, CZ @ Roxy
Fri 5.08 – Paris, FR @ Dehors Brut
Sat 5.09 – Bordeaux, FR @ Le Hangar
Follow Boys Noize:
Boysnoize.com
Twitter.com/BOYSNOIZE
Instagram.com/boysnoize
iTunes / Apple
Spotify
Join us on:
Spotify
Soundcloud
Mixcloud
Youtube
Facebook
Twitter
Instagram