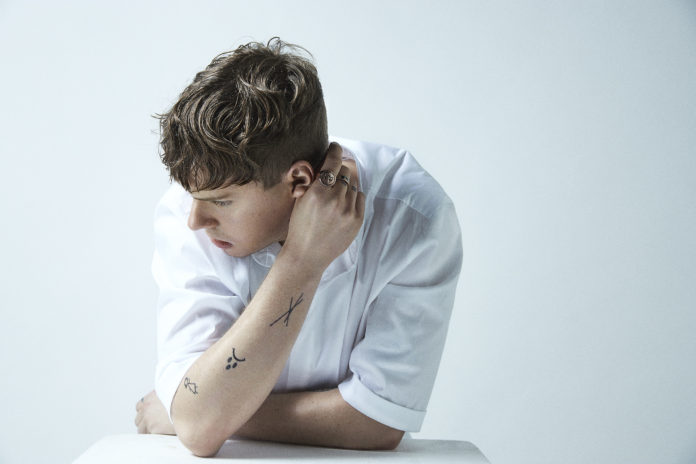 Swedish electronic artist Mountain Bird (aka Adam Öhman) has revealed a stunning new song – 'Clean From You'. It delivers a mesmerizing blend of Indie Electronic, Electro Pop and Chill-out flavors.
The song is a positive look at losing someone close, filled with melancholy that's heartbreakingly palpable as you listen. With its beautiful synth textures and interwoven vocoder vocals, it's impossible not to be moved by this powerful track.
Mountain Bird says: "'Clean From You' is about being cheated on and finding out in a bad way. To be let down by someone you thought you were really close to, and to lose trust in all future relationships."
"It's about trying to get that self-confidence back, but always being careful in new relationships, and wondering if it will ever go away. All relationships shape you in a good and bad way; we just think we can shape ourselves, but it's mostly dependent on other people and their actions. It's quite provocative if you think about it that way"
This honesty in Mountain Bird's music gives his songs such a deep personal connection, coupled with the fact that Adam is continuing to sing the vocals on his tracks himself, as opposed to working with session vocalists as he had done prior to 2019. 'Clean From You' shows how Mountain Bird continues to create beauty out of the darkest of places.
Since his first releases in 2014, Mountain Bird has received radio airplay from BBC 6 Music's Steve Lamacq, Radio X, Absolute Radio, Amazing Radio, and garnered fans from the likes of The Line of Best Fit, Clash, The 405, and Ja Ja Ja.
'Clean From You' is released via Nettwerk Records and a new EP 'DearBrainLetMeSleep' is due to come early next year.
About Mountain Bird
After his breakout Cubism EP launched Mountain Bird into the international spotlight for the first time in 2018, Öhman is now preparing to release four new singles this year, marking a turning point in his young career as Mountain Bird. But Öhman's story starts much earlier.
When he wasn't spending hours watching his music-teacher mother sing and play the piano as a child, Öhman was sneaking into his older sister's room to bang on her drum set. She became his mentor early on, until he began taking lessons on his own. The drums were his world for eight years, when he decided to learn the piano. But as his impeccably produced tracks attest, Öhman remains rhythmically gifted, and is often called upon by other musicians to help produce their tracks. He even wrote hip hop beats for TV4, the biggest network in Sweden.
But Öhman's first love is post-rock, which he discovered through bands like Godspeed You! Black Emperor, Mogwai, and most importantly, Explosions in the Sky. After his sister gave him The Earth Is Not A Cold Dead Place when he was 14 years old, their music impressed on Öhman the importance of being moved by something, or as he describes it, "the seriousness of music," which he carries with him today. Music is not simply a tool for Adam, it's therapy, and if what he writes doesn't move him deeply enough, he throws it away.
It was when Adam was 16 that music as therapy became central to his life. His parents divorced, and his panic attacks returned. Living with his father, who along with his mother supported his musical journey every step of the way, Adam saved up for a new iMac, and began experimenting with GarageBand. His anxiety kept him locked away producing for hours on end, and soon he'd built a home studio in his living room. When he wasn't there or studying, he was learning ProTools and Logic in his high school's studio until the early hours of the morning. He also purchased a used MIDI keyboard, and though he couldn't yet play the piano, Adam created post-rock melodies and chords much like Avicii did, painfully drawing them block by block. But his passion also gave him a newfound sense of freedom and confidence. Music production became his best friend, his therapist, and he realized that by channeling his pain, he could speak through music, releasing the emotions bottled up inside of him.
This, of course, is why his lyrics often take such a dark tone. They're honest and fearlessly emotional, exemplified by Cubism's standout 2018 single, 'The Wolf.' Melancholic, spacious, and brooding, 'The Wolf' marked a significant shift in Öhman's production. Not only did it first capture the attention of Nettwerk, his current label, but Adam says "it's the one track that's the most me." He'd finally stopped worrying about being too personal, and allowed the full range of his emotions to come forward. He started putting the musicality of his songs first, writing the melody and lyrics before beginning the production process. He also began taking his voice more seriously, practicing with a vocal coach for hours with the understanding that his voice is the most personal instrument he has.
Now he's heading into the second half of 2019 ready to release the singles he worked on during the year he spent living in Berlin. Written while he struggled to adapt to the grey German capital, and following the breakup with his longtime girlfriend, Adam says the lyrics are darker than ever. "I often wish a second life, where I was feeling better, showing all my feathers," he broods on 'Hiding Under Water,' written while he was "feeling really alone in Berlin." But Adam needed his time in Berlin to reset the system. And his breakup, while difficult, inspired the forthcoming 'Clean From You,' — a song not just about lost love, but about Adam's realization that "some events completely change you," for better or for worse, while giving him a more mature outlook on life and music.
Currently in Stockholm and surrounded by a rock solid new team, Adam is feeling better than ever. In July he released 'Quit,' his most positive and inspirational song to date, which delves into Adam's realization that "problems will always come, but you have the power to change," as long as you never quit. 'Quit' also gave Adam the chance to explore all sides of his personality, "Including the positive ones," of which there are plenty. Of course, even the positive songs will still sound like Adam. "No booty shakers," he laughs. And while he waits for more music to drop, he's working on a new improvisational, multidimensional live show, which will take his studio recording processes on the road. He's also busy writing new music, which will incorporate acoustic instruments, and feature old gospel recordings for a more earthy, natural sound.
With his fearlessness, honesty, and commitment to perfection, Adam Öhman's Mountain Bird is a force that will soon be heard everywhere.