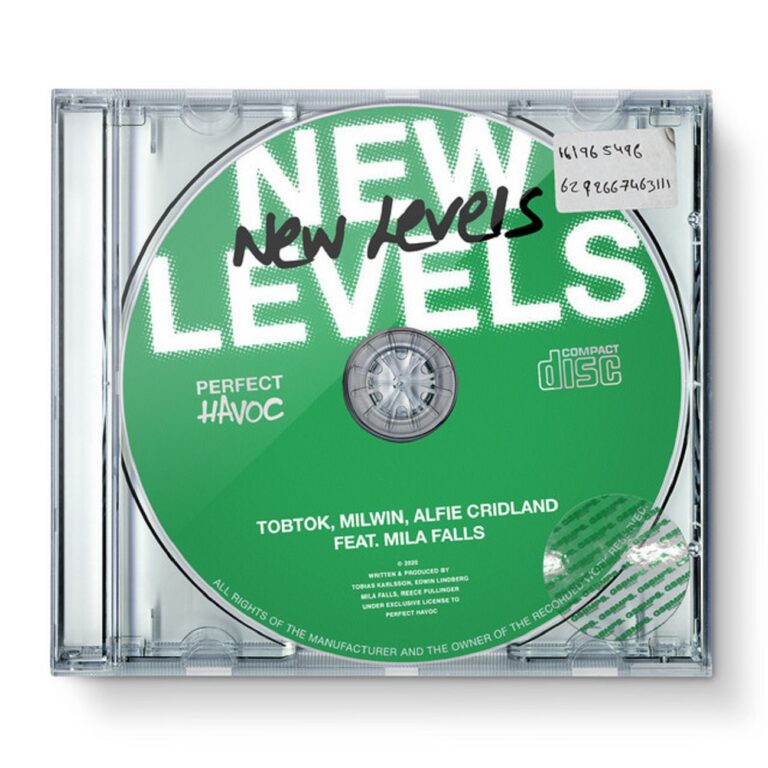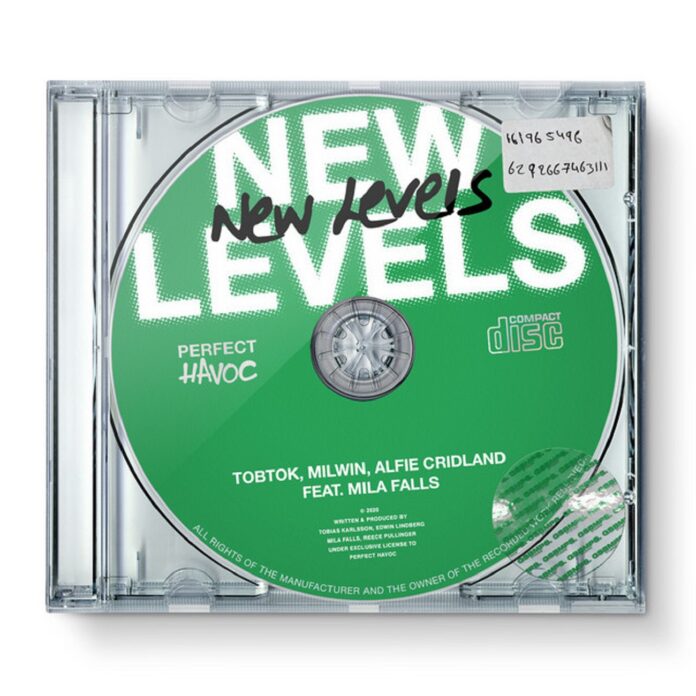 'New Levels' is a mega collaboration between three top-rising producers, Tobtok, Milwin, and Alfie Cridland. The song also features the captivating vocalist, Mila Falls. Released on Perfect Havoc, the track has brought together an exciting lineup of extremely talented artists and the result is a buzzing and pulsating club track. This tune feels like summer with electrifying arrangements that show off the rich pool of talent.
Tobtok, Milwin & Alfie Cridland's 'New Levels' launch a smooth opening with atmospheric elements which is instantly backed by the stylized vocals from Mila Falls. This refreshing track has an infectious and feel-good kind of energy that builds up into a beat-thumping atmosphere. This Perfect Havoc release is truly intensified by the powerful vocals of Falls. The vocalist harnesses the song's energy with a ringing and resonant quality without faltering at any point. The shifting momentum of the tune is elevated by the heavy drum kicks and punches, which amps liveliness and the groove. The song is upbeat, catchy, and definitely infectious.
The old school House-inspired track, 'New Levels' features an upbeat tempo and fast-paced elements, which give the enticing cut a relentless energy. Tobtok, Milwin & Alfie Cridland induce this stunning tune with bouncy basslines, intoxicating piano arrangements and addictive synths on top of the hi-hats and percussive elements that drive the track's momentum perfectly. The effervescent vocals fuse brilliantly with the riffs and snares, which results in a crashing vibrance. The producer trio brings in the rhythmically intoxicating chorus and synth stabs to weave temperature shifts in the track's epic melodic drops. Issued by Perfect Havoc, it is a new age anthem that shines for its simplistic elements and ear-defying melodic rhythms.
This mighty collaboration between Tobtok, Milwin & Alfie Cridland featuring Mila Falls on the vocal sections is highly addictive. 'New Levels' is definitely a refreshing House genre entrée that will definitely make the listeners break a sweat.
Stream 'Tobtok, Milwin & Alfie Cridland – New Levels (feat. Mila Falls)' on YouTube below!
Streaming Options:
Tobtok, Milwin, & Alfie Cridland – New Levels (feat. Mila Falls) Apple Music
Tobtok, Milwin, & Alfie Cridland – New Levels (feat. Mila Falls) Spotify
Tobtok, Milwin, & Alfie Cridland – New Levels (feat. Mila Falls) Soundcloud
Tobtok, Milwin, & Alfie Cridland – New Levels (feat. Mila Falls) FREE DOWNLOAD
Tobtok, Milwin, & Alfie Cridland – New Levels (feat. Mila Falls) Download
More Streaming Options HERE.
---
More About Tobtok:
28-year-old Tobtok aka Tobias Karlsson, is one of the most talented artists leading the new wave of Swedish electronic music DJ / producers. He has generated over 100 million streams on Spotify alone, enjoyed consistent DJ and radio support (BBC Radio 1, KISS FM, Capital Xtra and more) is in high demand as a remixer and producer for other artists, and still finds the time to DJ around the world. Tobtok continues to prove he is a rare talent.
Tobtok has released on such eminent labels as Kitsuné, Astralwerks, Perfect Havoc, Ministry of Sound, Toolroom, Armada and more, showcasing a sound ranging from nu-disco to uplifting house. His tropical-flavoured 'Fast Car' ft River (Neon Records) crashed into the top 20 in Australia, reached double-platinum sales and charted around the world. As a producer he's worked on other tracks such as Karen Harding's hit, 'Picture' (7.5 million streams) and Alex Ross 'Dreams' (23.5 million streams) and his remix skills have been called upon by the likes of The Magician, Blonde, Ella Henderson, John Newman, Wretch-32, Christina Aguilera ft Nile Rodgers, Take That, and most recently, Sam Feldt, Wilder Woods, Aloe Blacc, and Kesha to name a few.
Recent releases such as 'Pick You Up' (with Redondo ft Penny F), 'Something 'Bout The Music' (with AKA George & Oliver Nelson), 'The Stand Off' and 'The Sting' (both with Adam Griffin) have all received heavy DJ and radio support, including Mistajam and Scott Mills' shows on BBC Radio.
More About Milwin:
Milwin, real name Edwin Lindberg, is a Swedish DJ, producer and songwriter. Milwin's life has always revolved around music, with his father being in a band and himself playing instruments at an early age. His sound originates from electronic music of all genres, producing everything from electronic pop to tech-house. One thing is for sure, when Milwin performs you are guaranteed a good party!
More About Alfie Cridland:
Alfie Cridland started to make a name for himself after winning Nathan Dawes DJ competition in 2017. After supporting Nathan at the 02 in Birmingham, Alfie then went on to support him on his Zante tour 2 years in a row. As well as hitting thousands with his mashup videos online, Alfie now continues to showcase his talent in nightclubs up and down the UK. His first debut single 'Last Day In Paradise' alongside Paul Kay and released on Perfect Havoc received support from BBC Radio 1 DJ Scott Mills and also made it into the Capital Big Top 40 at No. 35 and hit No. 5 in the iTunes UK Main Chart and No. 2 in the iTunes Dance Chart. The record continues to grow and is nearing over 2 million streams.
More About Mila Falls:
Based in Brighton UK, singer and songwriter Mila Falls has been heavily supported by Radio 1, Kiss FM and multiple DJs globally. She achieved 'Artist of the Week' in Flavour Mag, 4 weeks at #1 on Apple Music's Breaking Dance Chart, #6 on the UK Official Dance Chart with Tom Hall and ENV in August 2020 and was labelled 'Must Hear' by Beatport. Mila Falls was the voice of the Fifa World Cup 2018, her voice was heard by millions on the title sequence for every match. Mila Falls has signed records with some of the most prestigious labels and artists in EDM. Her voice has taken her around the world performing on stages in Paris, Ibiza, Croatia and Dubai.