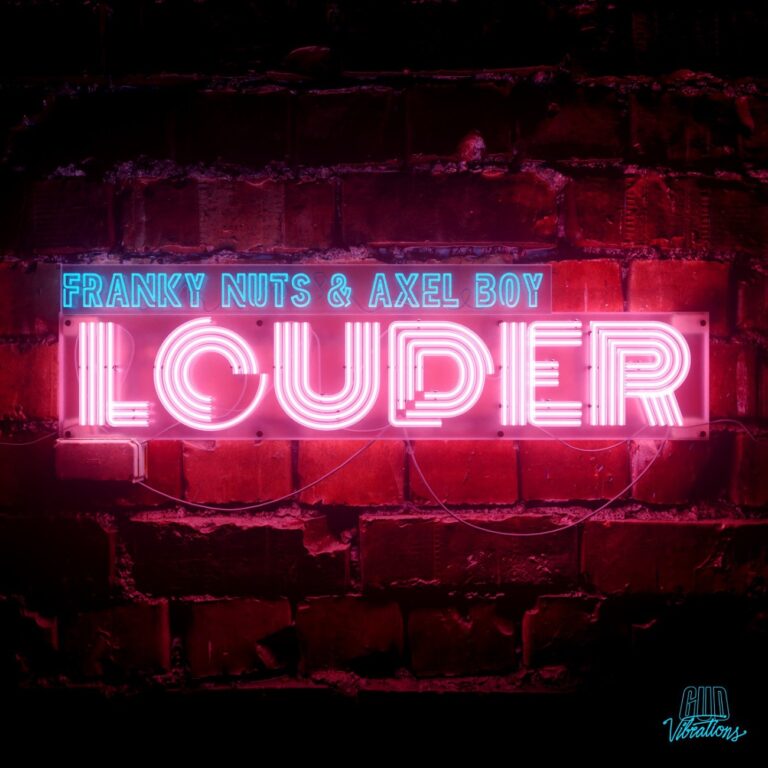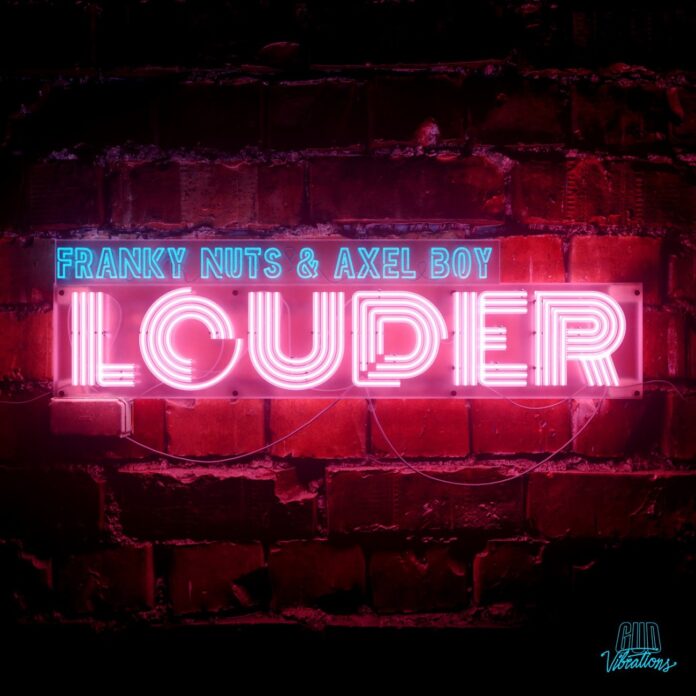 Newsflash! Gud Vibrations is ready to roll out a serious assault on our minds and bodies with the release of Franky Nuts x Axel Boy – Louder. The label is responsible for churning out mind-blowing hits like Oddprophet's remix of Moody Good's song 'Heartbreak,' VARI's 'Anodize,' and WaveDash's 'By Any Means,' along with many collaborative bangers such as 'Blood on Me' by SVDDEN DEATH & SLANDER, 'Stallions' by Wavedash & fknsyd, and 'Falling' by NGHTMRE & KLAXX. The label has also dropped SLANDER's legendary EP 'Back to U Remixes.' Therefore, it's a no-brainer that this absolutely crushing new Brostep music titled, 'Louder' was picked up by SLANDER & NGHTMRE's imprint. This massive Gud Vibrations Dubstep delivery tramples the uncharted territories with its blazing edge and aggressive beats. Franky Nuts and Axel Boy have laid out a power trip of passionate rage on this tune like absolute bosses! 
Franky Nuts x Axel Boy – Louder whips and slashes like there's no tomorrow. This Gud Vibrations Dubstep track is fleshed out with fervent and ominous sonic structures that will trap the listeners in its off-the-kilter rhythms right from the beginning. This fresh new Brostep music is fueled with gut-punching wubs and extremely alluring and catchy vocal chops. The frenzied screeches and cut-throat synths are layered over a highly intoxicating bassline, which makes this tune a true slapper. It's the combination of intensely rhythmic nuances, frazzling and electrifying buildups and antagonizing drops that are more than enough to make the fans sweat.
This new Brostep music is a clamoring and colliding mesh of utterly out of control euphoria. The shrill analog effects and acidic riffs melt into electronic throbs and pulses, resulting in a jaw-dropping release. This Gud Vibrations Dubstep opus is a bolstering festival-banger with logic-defying soundscapes. Franky Nuts x Axel Boy – Louder is the kind of collaboration that the Dubstep scene needs and we hope to get more very soon!
Stream 'Franky Nuts x Axel Boy – Louder' on YouTube below!
Streaming Options:
Franky Nuts x Axel Boy – Louder Apple Music
Franky Nuts x Axel Boy – Louder Spotify
Franky Nuts x Axel Boy – Louder SoundCloud
Franky Nuts x Axel Boy – Louder FREE DOWNLOAD
Franky Nuts x Axel Boy – Louder Download
More Streaming Options HERE.
---
More About Franky Nuts:
Dutch-based producer & DJ Franky Nuts recently has taken the worldwide Dubstep scene by storm.
Having previously released on JAUZ's renowned label Bite This, as well as being signed to Flux Pavillion's Circus Records, Franky Nuts is creating his own musical style, by merging powerful vocals and harmonies into a deadly combination. This led to worldwide support from artists like The Chainsmokers, NGHTMRE, Combo, Zeds Dead, Skrillex, Excision and more and even to stage appearances with JAUZ to perform his tracks with him at Parookaville & Bootshaus in 2019.
By reaching a couple of million plays on Spotify in summer 2019, after this rather short period within the music industry, Franky's tendency for setting a new musical trend, by creating his own interpretation of melodic & still powerful dubstep, more and more crystallizes out. This musical journey first started with appearances on Never Say Die, Circus or Diplo's Mad Decent and led to early touring success at some of the most acclaimed worldwide festival & club stages like Bootshaus Cologne or Rampage Belgium.
2019, until now, has been Franky's most successful year-to-date, with over 12 original single & remix releases on his home base Circus Records, but also with guest appearances on Jauz's label Bite This and remixes for the likes of Doctor P and further ones for Modestep & Delta Heavy on the horizon, Nuts is slowly creating an omnipresence in the scene. And with the release of Franky Nuts x Axel Boy – Louder, he is looking to be unstoppable.
More About Axel Boy:
Mixing seasoned UK Bass, styled with new age Bass House & Dubstep sounds, Bristol native Axel Boy stays constantly challenging himself as he blends melodic synths with hard-hitting bass lines – creating a notable "Axel Boy" sound.
Such notable sounds have caught the ears of big-time independent labels such as the legendary Circus Records as well as UKF and Bite This – causing Axel to fill 2019 with a multitude of label releases, including a massive collab with Jauz titled "I Dare You".
Refusing to restrict his sound to one sonic or tempo has led to Axel taking the electronic scene by the reins, no genre safe to his signature sound. Keep an eye out for a ton of new music & shows in 2021. And with the release of Franky Nuts x Axel Boy – Louder, he is all set to rule the EDM world.
---
Looking for more tracks like "Louder"?