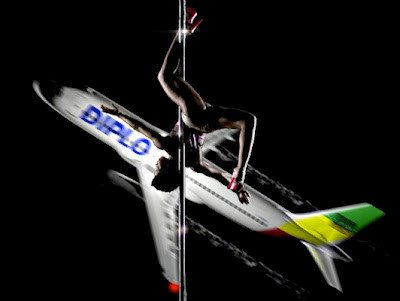 I don't post videos very often but I felt like this might interest a lot of our readers.
Strippers + Pole Dancing + Diplo + Lazerdisk Sex Party + 110BPM vibe = WIN!
Diplo's latest single "Set It Off feat. Lazerdisk Party Sex" off his
Express Yourself EP gets an out of this world official music video
featuring an infinite stripper pole to the stars. Thanks to Director
Ryan Staake we may finally know the answer to how many strippers it
takes to get to outerspace.
PURCHASE ON ITUNES: http://bit.ly/DiploItunes
PURCHASE ON BEATPORT: http://s.beatport.com/LZ7FWQ
PURCHASE CD+ TSHIRT BUNDLE: http://bit.ly/DIPCD
credits:
Directed by Ryan Staake (Pomp&Clout)
Interactive Version: set-it-off.com
Dancers: Marlo, Mina, Nadia, Reiko, Michelle, Kyra, Autumn, Danielle & Crystal
Production Companies: Pomp&Clout and Pier Pictures
Co-producers: T.S. Pfeffer, Robert McHugh & Ryan Staake
Director of Photography: Aaron Grasso
Assistant Director: Robert McHugh
Assistant Camera: Gille Klabin
Concept & Visual Effects: Ryan Staake
Makeup: Christina Rodriguez & Rana Akhavan
Gaffer: Rudie Schaefer
Key Grip: Jamin Mandel
Associate Producers: Kyle McBeth, Kyra Johannesen, Jen James & Liz Kinnmark
Production Assistants: Ian Kaye & Michael Onak
Quality Assurance: Leslie Ruckman
Thanks to the AERA Dance Foundation (aeradance.org) & The Automobile
Driving Museum (automobiledrivingmuseum.org)
Shot in Los Angeles on the RED Epic
Diplo
http://www.twitter.com/diplo
http://www.facebook.com/diplo