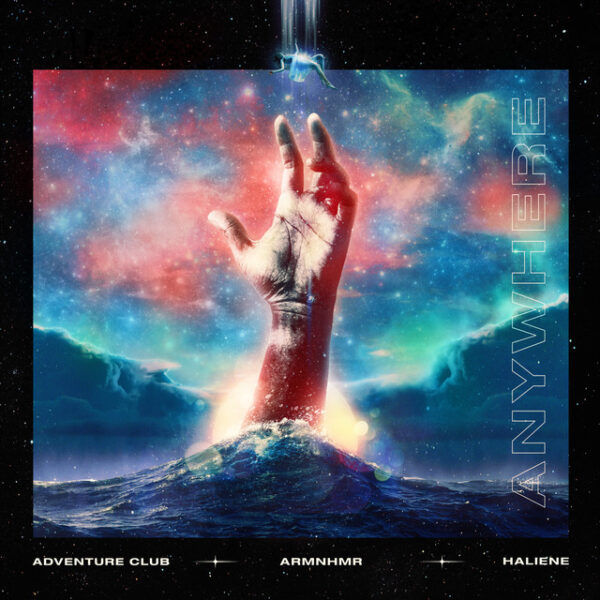 Adventure Club x ARMNHMR have teamed up to bring us the dreamy, euphoric new single 'Anywhere'. Both of these duos are renown for their ability to transport audiences with their music. Adventure Club, the Canadian duo, shot to fame with their remix of Flight Facilities – 'Crave You' nearly nine years ago. Their meteoric ascent to Dubstep-royalty status has involved Grammy nominations and #1 chart positions. Meanwhile, the LA-based duo ARMNHMR have been remixing everyone from ODESZA to Bring Me The Horizon over the past five years, racking up nearly 100k followers on SoundCloud. Their latest track together 'Anywhere' also features the much-adored EDM vocalist Haliene. The stunning Haliene vocal is supported by a special Adventure Club lyric video.
By working together, Adventure Club x ARMNHMR have somehow managed to multiply the emotional impact of their music. This track is nothing short of incredible. The heavenly textures and vocals set high expectations from the word go but not once does 'Anywhere' fall short of those expectations. The track jumps from Melodic Dubstep to House to moments of complete weightlessness. AC had the following to say about it:
"We've been anxiously waiting to release 'Anywhere.' It's our idea of the perfect collaboration between artists we admire. ARMNHMR really helped drive this track home paired alongside HALIENE''s ethereal vocals. We think this will be an instant classic for old fans and new fans alike. To be listened to loud, surrounded (virtually) by people you love."

The huge sound of this track is out now on Ultra Music, maybe the only label befitting of this caliber of electronic music. The Adventure Club lyric video does the Haliene vocal and the whole track complete justice, providing an abstract but idyllic visual representation of the track. Stay tuned for more from AC and ARMNHMR!
Stream 'Adventure Club x ARMNHMR x Haliene – Anywhere' on YouTube Below!
Streaming Options:
Adventure Club x ARMNHMR x Haliene – Anywhere Apple Music
Adventure Club x ARMNHMR x Haliene – Anywhere Spotify
Adventure Club x ARMNHMR x Haliene – Anywhere SoundCloud
Adventure Club x ARMNHMR x Haliene – Anywhere FREE DOWNLOAD
Adventure Club x ARMNHMR x Haliene – Anywhere Download
More Streaming Options HERE.
---
More About Adventure Club:
With numerous achievements under their belts, electronic duo Adventure Club – made up of Leighton James and Christian Srigley – have built an empire within the electronic dance community. Hailing from Montreal, Canada, Adventure Club has graced the stages of some of the world's largest music festivals, crafted top 40 hits "Crash", "Wonder" and their most popular dubstep remix to date, "Crave You" by Flight Facilities – amassing over 34 million streams on SoundCloud – and released their first full-length album, Red //Blue, which went #1 on Dance and Electronic charts in North America.
Over the past few years, while engaged in their own projects, the duo remixed songs from creditable artists such as Kehlani, Virtual Self and collaborated with the likes of Snails and Sara Diamond. Most notably, their 'Undercover' club remix with Kehlani accredited them a Grammy nomination in 2018 for "Best Remixed Recording". Adding to this, the Canadian duo have been nominated for two Juno Awards – in the categories of best new music group and best electronic album. Easily considered as one of the forefathers of dubstep, Adventure Club continues to push boundaries and keep the melodic genre of dubstep alive and thriving. While gearing up for the release of their sophomore album, they most recently released, "Back To You", feat. Sara Diamond, followed by their current single "High Like This", a collaboration with Squired feat. Dia Frampton. The pair have their own mixtape series, 'Superheroes Anonymous', that streams to an average of 1 million listeners. As much as Adventure Club has obtained a renowned reputation in dance music, they continue to surprise fans by breaking barriers and leading a new direction of creativity in their music. Their new track featuring 'Anywhere' featuring a Haliene vocal is out now!
More About ARMNHMR:
Catapulting onto the scene with full force, LA duo ARMNHMR (Joseph Chung and Joseph Abella) are o strangers to attacking the spectrums of Dance Music. With masterful original productions and beautifully resonated remixes, ARMNHMR has built a loyal following as well as received string support and recognition from high profile artists throughout the industry. A combination of heart pounding drops and melodic interludes encompass the #hammersound, guiding their audience into a world filled with emotion and energy. With dozens of planned solo releases along with collaborations with some of the highest caliber artists in dance music and beyond, ARMNHMR is set for a monster year.