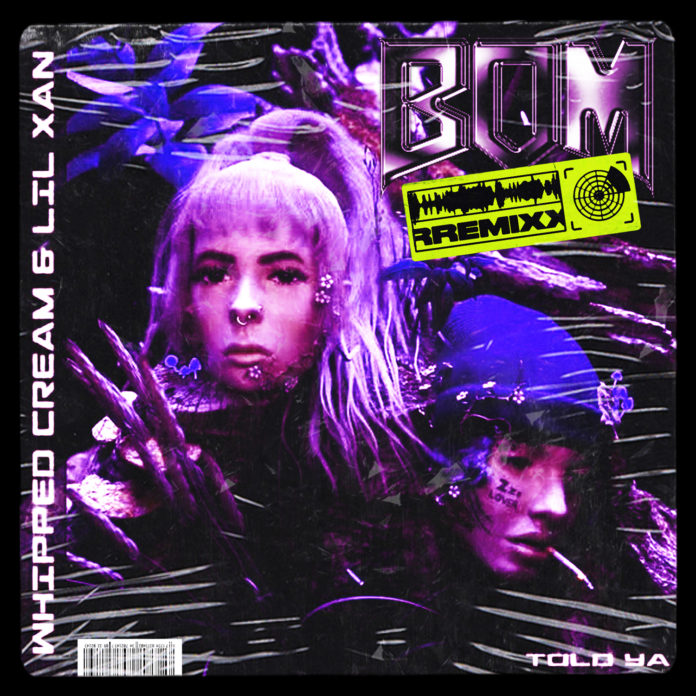 We are super stoked to have the opportunity to Premiere BOM's Told Ya Dubstep Flip of the Lil Xan and Whipped Cream hit song! We've been big supporters of BOM since 2018 when he dropped the amazing Midtempo bangers "Trinity" and "Odyssey " (with KYB), and since that day, we are always ecstatic when we hear a new BOM release is coming out. And today we get to Premiere one!
The Australian producer doesn't really dabble into soft music too much, he knows how to make a release hit hard, and he does it well. His Told Ya Dubstep flip blends Rap and Dubstep flawlessly. He used Lil Xan's vocal perfectly and make the flip sound like an original. It is raw, gritty, catchy and most of all, dazzlingly compelling. The build-ups are super tight and create an intoxicating hype along with Xan's vocal. It delivers two distinct drops that raise different levels of energy and intensity! This flip is truly a powerhouse!
BOM has been delivering outstanding releases one after the other. Be warned though, his music might dismantle your sub-woofers and make your landlord want to expel you. I guarantee that this Told Ya Dubstep flip will bring your bass face out. Saying that BOM's music is powerful is almost an understatement.
The Aussie producer is unstoppable, he really creates fresh and heavy-hitting music that is always perfectly tailored for music festivals, the type of bass music that people most pit and destroy rails to, real Bass anthems!
Stream Lil Xan & Whipped Cream – Told Ya (BOM FLIP) on Youtube below!
This is not it though! We have more Dubstep madness for you! We also have BOM's latest Dubstep original "Brutality". If the Told Ya Dubstep flip wasn't filthy enough for you, "Brutality" should do it! As is tradition, the Australian producer holds nothing back and gives you straight up violence. The drops on this one offer a fresh blend of Riddim and nu and old school Dubstep flavors. The use of vocal samples is masterly, he selected and placed them for maximum impact. "Brutality" brings a very sinister ambiance with police sirens, crows cawing, and an infectious and hypnotic melody that will penetrate your mind and won't let go until you finally succumb to the dark side.
Stream BOM – Brutality on Soundcloud and Spotify below and download it for free HERE!
Follow B.O.M:
Spotify
Soundcloud
Facebook
Twitter
Join us on:
Spotify
Soundcloud
Mixcloud
Youtube
Facebook
Twitter
Instagram