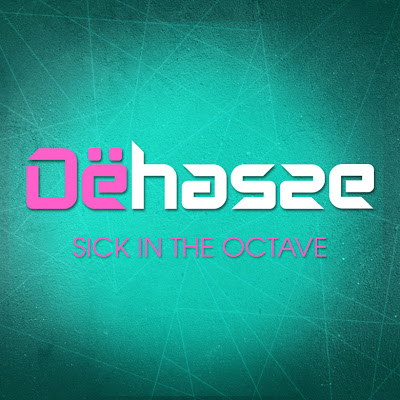 Recently I got the opportunity to do an e-mail correspondence with the new hot European DJ/Producer DEHASSE! Fresh from producing remixes of the London 2012 Olympic Games Theme Tune – 
Public Enemy "Harder Than You Think"
 – DEHASSE has completed a string of remixes for the likes of 
Randy Jackson's
 Universal record label 
Dream Merchant 21 
and top US label 
Interscope
. DEHASSE unleashes a solid club stormer ready to hit the summer dance floors where it hurts. He recently appeared as DJ Dalis first international artist on Groove Therapy Sessions and I was lucky enough to be featured on the same radio cast. The interview below will give you a small glimpse into the man behind the decks. As well as the aforementioned mix for
Groove Therapy Sessions on www.TechnoHouse.fm
. You can also check out his new single Sick In The Octave out on Beatport!
Who brought you into the dance music scene and when?
I've always been fan of electronic music and dance music since a very early age. I grew up in Central Europe listening to pioneer electronic bands such as Kraftwerk. My family also had a huge vinyl collection which included all styles of music… from 80's new romantic to Chicago House to 70's soul and funk, rare groove and disco. Contemporary up tempo danceable music was always on the agenda.
When did you start producing electronic music?
I've been producing for many years and have considerable success working with all kinds of artists.. but I wanted to make a new project so here we are 😉
Where did you come up w the name DEHASSE?
It's my family name from my mothers side.. My mother was half German/ Belgium, so premium European baby!
Who are your biggest influences?
So many to mention… I already mentioned Kraftwerk, but honestly I just always enjoyed music which was exciting and fresh. A lot of early street soul and early Electro from New York… honestly far to many influences to mention.
Who would you like to work with and why?
Well I guess Nile Rodgers is one of my main Heroes and I understand he's putting a new project together right now. He is one of the music world's wonders and has written so many good songs, it just goes on…
Who would you like to ideally see remix one of your tracks?
Right now I'm a big fan of Federico Scavo on a chunky house tip. Nari and Milani are also killing it right now on the big room EDM sound.
Who do you believe is the next up and coming producer or DJ that doesn't get mentioned enough or at all?
Probably the 2 guys i mentioned above .
What do you think about the current state of dance music?
Very healthy, but it depends from which direction you are looking. Personally I'm really enjoying making music right now and loving the huge events in the US and so on… but I guess if you're a record label it must be pretty tough.
What has changed in the dance music scene since (insert date of when you started producing) besides the technology?
Beside the technology and of course advancement of sounds and so on, pretty much the same principles apply. The whole EDM thing has blown a bit of a hole in arrangements, but the same rules pretty much apply… MAKE PEOPLE DANCE AND FLY!
What platform do you use to produce?
Ableton to sketch ideas, as it's super quick to get a vibe going, then I transfer into logic for mixing and final production.
What platform do you use to play out on? IE CDJ's (if cdj's, cd's or usb or serato?), controller?
CDJS always. I burn separate CDs for each song and mix live without computers. I don't have an issue with people using a laptop to DJ, but honestly I like to be hands on myself and mixing comes very naturally to me. I may go to a laptop in the future… who knows? But I like to be in control in a club. I've seen horrendous incidents with people using laptops in clubs and events!
What's your favorite piece of production equipment you have?
Well I guess nostalgically it would have to be the vintage outboards Juno and Virus, although, they are not often used these days. My favorite program for sounds currently is Massive/NI, however "Sylenth" is great for polyphony soft synths… it has a really nice saturation feature into the main filter and with its easy use oscillators it allows you to design better chord sounds. I always like to use Wave plug-ins for that clear crisp sound and the WOW filter from "Sugarbytes" gives some really interesting sounds.
Where was your favorite place to play and why?
Ibiza was always my favorite place but I have done some amazing shows in the USA recently.
Whats the craziest thing you've seen while playing out?
God knows …   so many things ..
What was the craziest thing you've seen on someones rider? Whats the craziest thing on your rider?
I've seen one artist who would only have red m&ms in his dressing room … another who would asks for vintage champagne and then takes it home .. I'm quite simple but my manager always like to ask for the finest port and wine 😉
Lastly if you could give young producers and DJ's one piece of advice what would that be?
Do what you feel is right and follow your gut feeling and don't be moulded ..
Thank you we appreciate the time you've taken to sit down with us at ElectroKill Media!