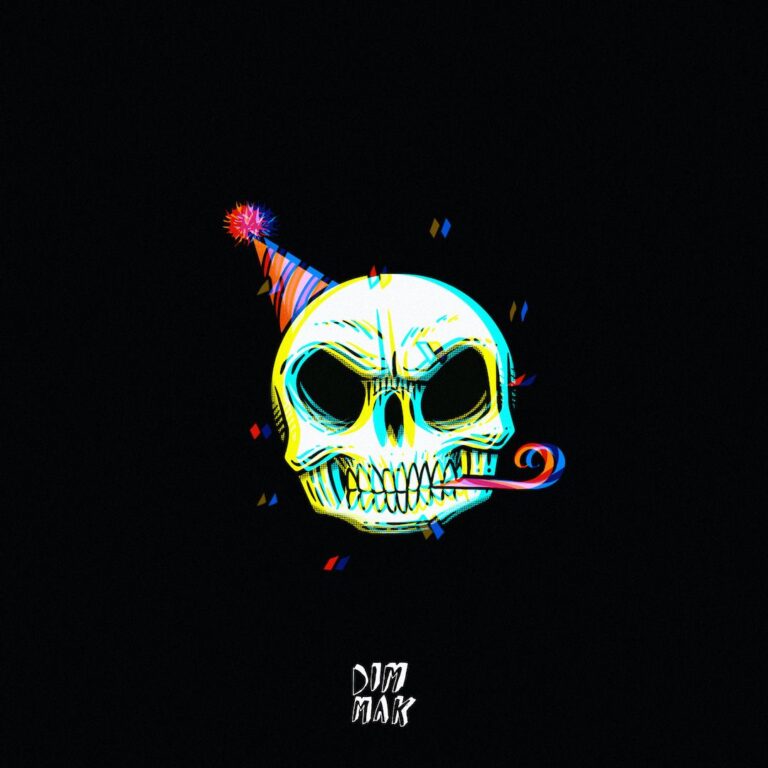 Riot Ten x CHRMNDRS have just dropped a big new Dubstep tune with rapper Krystall Poppin! This new Riot Ten music is appropriately named 'Poppin'. Riot Ten is a familiar name on the Dubstep scene. He's been particularly busy this last year. He's been churning out amazing remixes, originals and collaborations, such as his huge track 'Bang Bang' with Cesqeaux (which you can, and absolutely should, check out HERE). CHRMNDRS is an up-and-coming Canadian producer with releases on Buygore and DirtySnatcha Records. Together, these two producers have made sounds unlike any others. 'Poppin' is a fierce Dim Mak Dubstep release and is available right now on all music streaming services. 
Saying that 'Poppin' by Riot Ten x CHRMNDRS is a full-throttle Dubstep banger almost feels like an understatement. It's got everything; big drums, bars and huge bass. On producing the track Riot Ten says:
I'd been wanting to make a new obnoxiously hype record for when festivals return, and as you don't see many female rappers on Dubstep songs, I reached out to my long time friend, Krystall Poppin, to bring the vocal heat. Teaming up with CHRMNDRS, one of my favorite up and coming producers right now, was the cherry on top. I've been playing this one out in my live streams and mixes for a while and the response has been huge. Beyond excited for this to finally drop!" 
Check it out and we're sure you'll agree, this track goes hard. There are so many different sections, each one with its own personality. With so much talent on the scene, Dubstep has to work hard these days to keep things fresh, but Riot Ten x CHRMNDRS have made it sound easy. The bars from Krystall Poppin are what really make this track go off. It would be great to see more female rappers on the scene, with this production right here proving just how great it can sound. Check out this Dim Mak Dubstep release and see what all the hype is about!
Stream 'Riot Ten x CHRMNDRS – Poppin (feat. Krystall Poppin)' on YouTube Below!
Streaming Options:
Riot Ten x CHRMNDRS – Poppin (feat. Krystall Poppin) Apple Music
Riot Ten x CHRMNDRS – Poppin (feat. Krystall Poppin) Spotify
Riot Ten x CHRMNDRS – Poppin (feat. Krystall Poppin) SoundCloud
Riot Ten x CHRMNDRS – Poppin (feat. Krystall Poppin) FREE DOWNLOAD
Riot Ten x CHRMNDRS – Poppin (feat. Krystall Poppin) Download
---
More About Riot Ten:
Born and raised in El Paso, TX, Riot Ten exploded into the world of dance music at the age of 22. Joining the Dim Mak Records family in 2017, with additional music out on Never Say Die, Insomniac, Bassrush and Excision's "Rottun Records", Riot Ten blasted off with four #1 top 100 dubstep singles. His music has been supported around the world from the likes of DJ Snake, Zeds Dead, The Chainsmokers, Excision and many more. In 2017, his single "Fuck It" with Sullivan King became a staple on The Chainsmokers "Memories Do Not Open" tour. This success paved the way for "Rail Breaker", his global smash. This became one of the most played out dubstep songs of the decade. The single saw support at nearly every major festival from the biggest names in dance music. The latest Riot Ten x CHRMNDRS track Poppin is out now!
Following the release of "Rail Breaker", Riot Ten dropped his debut EP with Dim Mak called "Hype Or Die: The Dead" in 2018, which recorded a top 10 debut on iTunes' "dance album" charts, a feat seldom seen by an artist in the genre. He recorded another top 10 debut on the iTunes charts in 2019 with his debut album "Hype Or Die: Nightmares". In addition to the music, Riot Ten has recorded sold-out tours for 3 years and counting. He has also made appearances at EDC Las Vegas, Coachella, Nocturnal Wonderland, Electric Zoo, EDC Mexico, Lost Lands, EDC Orlando, Global Dance Festival, Electric Forest, Bass Canyon, Imagine Music Festival, and more. Check out Riot Ten x CHRMNDRS lastest track Poppin!
---
Looking for more tracks like "Poppin"?