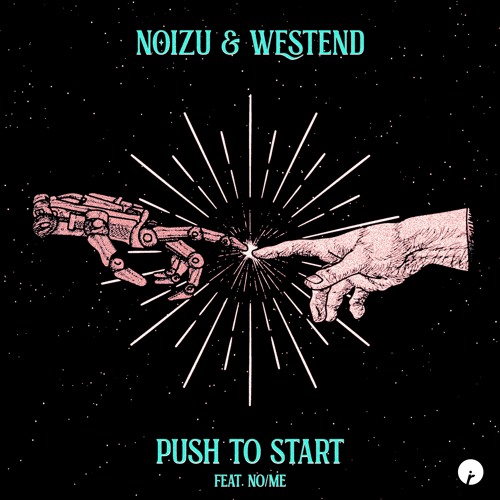 Los Angeles producer Noizu joins forces with Bronx' Tech House music star Westend on the dark, catchy and sexy song Push To Start (ft NO/ME) to hypnotize the dance floors in the upcoming spring of 2023 and most probably beyond it. As the electrifying bassline and the groovy beats embrace the cold synths of the track, NO/ME's passionate spoken-word vocals create a mesmerizing atmosphere that will keep the listeners moving all night long.
Both, Noizu & Westend are producers who can feel comfortable working with any genre and finding new ways to fuse those, which results in unexpected and innovative song structures, be it Acid-inspired sounds like on Revival with Dombresky , Electro-infused House bangers like Life Of Sin with Ranger Trucco or soulful, but punchy numbers like Middle. Push To Start is a whole different beast regarding this, since its belonging to Tech House is a rather formal categorization. A lot of this comes solely from the production choices the duo makes on the song, more specifically, the choices of sounds.
Although the track feels like a Tech House song, builds the grooves like many other works in the music genre, has a similar dark and sexy vibe with some peculiar catchy details to them, and is overall arranged like a Tech House song, thanks to the pallet of genres and trends of 2023 it borrows from, yet it doesn't sound like your typical work in the genre. The minimal sound design of the Insomniac release, that gradually opens up and reaches truly cinematic scales, puts a lot of care and subtlety in-between this path. It's something that also makes this transition from claustrophobic and closed soundscapes to spacious and open ones possible and effective, making Push To Start by Noizu & Westend (ft NO/ME) one of the more memorable releases in the genre in 2023 so far.
Stream Noizu & Westend (ft NO/ME) – Push To Start on SoundCloud below!
Looking for more music like Push To Start?