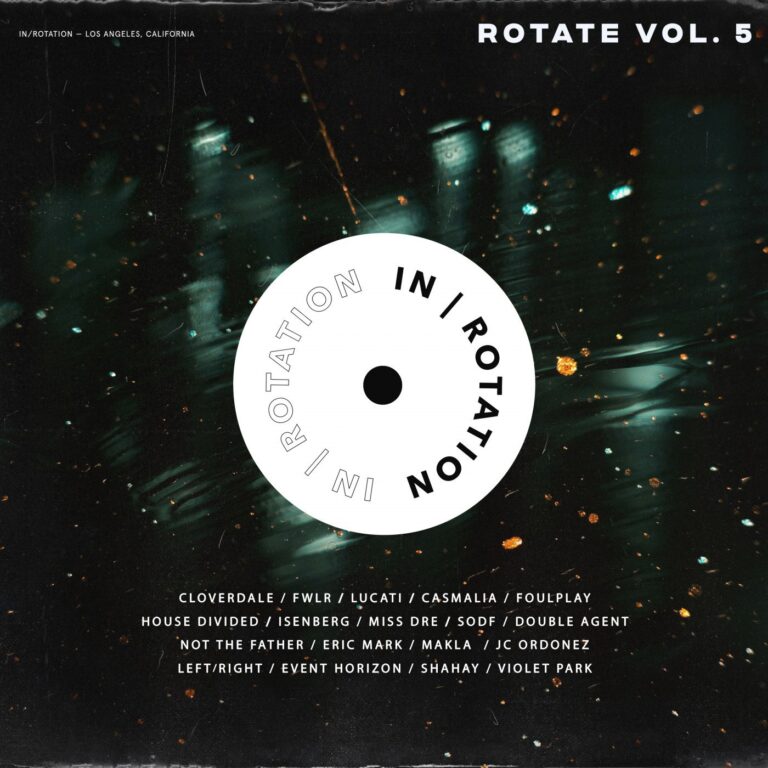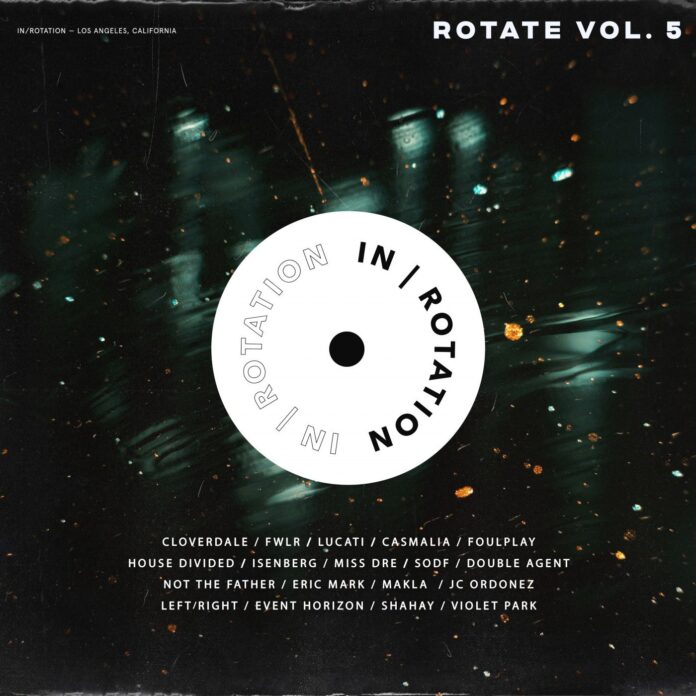 Rotate Vol 5 is the House music compilation 2021 needs because let's face it, this year hasn't really delivered so far. From start to finish, this album is incredible, with each tune bringing something completely different. Dance music titans, the Insomniac House label, changed the face of underground Tech House music in 2017 when they created their new imprint IN/ROTATION Records. It was made to give artists of all levels a platform to showcase their music. There are names you'll recognize and names you won't, but one thing is for sure, you'll love the music.
Cloverdale x FWLR are first on the bill, kicking off with their track 'Old School'. It features some appropriately old school vocals and synthesizers. The retro sound design and samples throughout are combined with a driving beat to make this track a thumping Tech House banger. You'll recognize samples and sounds from the 90's golden-era of House music but you've never heard them like this before. They're mingled and intertwined with heavy bass design and lashings of distortion. Rotate Vol 5 is one track in and so far, it bangs!
Lucati is next with a change of pace in 'Kol Me', followed by Casmalia – 'Talk To Me'. After this, FOULPLAY takes the stage with a minimal heater of a track called 'Let Me'. This track is all about the groove. The drums are tight, punchy, and scant but the track still manages to sound so full. FOULPLAY creates a big atmosphere with very few ingredients. Given that the Insomniac House label has its roots in live events, it's easy to see why they'd like this track, it would absolutely go off in a club! (Remember those?)

House Divided drop a belter called 'Turn It Up' before Isenberg shows up with his track 'Gotta Be'. This one is different from anything else on the album so far. It's a soulful uptempo mingle of Deep and Tech House but it borrows from a lot of genres. The fast vocal chops, Rhodes-style keys, and occasional synth stab give this track a UK Garage feel. Despite being from Dallas, TX, Isenberg makes a lot of UK Bass which explains the vibe on 'Gotta Be'. This track really bounces but it also packs in a lot of atmosphere and emotion. This compilation is truly a roller coaster of vibes and sub-genres.
Up next, MISS DRE makes her appearance as the second female producer on Rotate Vol 5 (the first being Casmalia). Tech House has always been a diverse scene and it's great to see more female producers getting the props they deserve. Up next on the new IN/ROTATION Records release is SODF x Double Agent with 'Come Over'. Some muted arpeggios and a faded 808 meet some catchy vocals in the intro. They don't give you much of a clue as to where the track is going, but then it drops. It's a hectic, fast-paced banger that fills the room with sound and really flexes your speakers.
Although we would love to cover all the great music on this House music compilation 2021, we would be here all day trying. And more to the point, we want you to listen to it, not just read about it! Rotate Vol 5 is a Tech House opus that covers the full range of flavors that the House music genre has to offer. IN/ROTATION Records should already be on your watch list but if they're not, they will be after this! Big shout out to the Insomniac House label and IN/ROTATION crew. Hopefully, you can see them in a club near you soon!
Stream 'IN / ROTATION – Rotate Vol. 5' on SoundCloud Below!
Streaming Options:
IN / ROTATION – Rotate Vol. 5 Apple Music
IN / ROTATION – Rotate Vol. 5 Spotify
IN / ROTATION – Rotate Vol. 5 SoundCloud
IN / ROTATION – Rotate Vol. 5 FREE DOWNLOAD
IN / ROTATION – Rotate Vol. 5 Download
More Streaming Options HERE.
---
More About Cloverdale:
Cloverdale is High Octane Tech House. Through his productions and wild live sets, this crazy Canadian has continued to prove why he's been named one of the Dancing Astronauts and Your EDM's Artists to Watch for 2021. The producer, based out of Halifax, Canada is defined by his high-energy grooves, big basslines, and polished productions. These qualities have solidified Cloverdale as a leader in the new wave of modern house music.
Cloverdale's fast pace, dynamic live sets and live streams really show where the future of tech house is headed. It's all about good tunes and good times. Find Cloverdale streaming from the bathtub on Twitch, texting you love letters at night or sharing his favourite track finds of the week on Instagram.
Having earned support from industry heavy hitters like Steve Aoki, Martin Garrix, David Guetta, Dillon Francis, Tchami, Malaa, Dr. Fresch, Griz, Valentino Khan and Matroda, just to name a few, Cloverdale has started to solidify his name amongst the dance community at large. With the launch of his new music label "VIBRANCY" late in 2020, this goofball is just getting the ball rolling. His latest track 'Old School' is out now Rotate Vol 5, the House music compilation 2021 from the Insomniac House label imprint IN/ROTATION Records.
More About FOULPLAY:
FOULPLAY is a 22-year-old DJ/Producer from the UK. FOULPLAY experiments with his sound but spends the majority of his time producing a hybrid of Bass and Tech House. Already in 2020 he has released numerous tracks, with an EP on BROHOUSE and a singles on Tony Romeras' Sans Merci Records, Crucast, Panthers Groove, Diverge Records and Mixmash Records. In 2021 he has released 'After Party' which gained support from spotify's editorial playlists 'Housewerk' and 'Operator'. He has had support from renowned artists such as Malaa, BROHUG, Aazar, Tony Romera, and Bleu Clair. There is lots more in store for FOULPLAY in 2021. His latest track 'Let Me' is now available on Rotate Vol 5, the House music compilation 2021 from the Insomniac House label imprint IN/ROTATION Records.
More About Isenberg:
Isenberg is a fast rising Dallas based producer in the House, UK Bass and Garage scene who has a diverse selection of releases with Night Bass, Bite This, IN/ROTATION, Gold Digger, House Call Recs, Pinnacle Collective, DND Recs, 3000 Bass, The Boat House, Box of Cats, and Tons & Tons to name a few. He has appeared at festivals such as EDC Las Vegas, EDC Orlando, Lights All Night, Something Wicked and has quickly gained the support from the likes of Pasquale Rotella, AC Slater, Wax Motif, Dr. Fresch, Jack Beats, Bijou and many more. Isenberg's latest track 'Gotta Be' is out now Rotate Vol 5, the House music compilation 2021 from the Insomniac House label imprint IN/ROTATION Records.
More About SODF:
Once Sydney's best kept secret, SODF are now quickly becoming a force to be reckoned within the Australian House Music Scene. Dominating radio waves, charts and clubs throughout the country, this producer / DJ duo was everywhere this year.
In 2019, the duo turned their eye to America, releasing on Insomniac Records / Houseline with Sinden, and AC Slater's seminal Night Bass Records. Following these releases, SODF headed overseas for a run of California dates, including a headline set at the iconic Space Yacht in LA alongside Marten Hørger.
One of 2019's most in demand re-mixers, SODF have put their spin on tracks by LO'99, Go Freek, Joel Corry, Wongo, KLP, Piem and more. 2020 saw the duo shift focus and hone in on their production skills, with time off from touring their Sydney based studio got a workout with a long list of demos lined up for when the clubs re-open.
With a back catalogue of releases on labels such as Sweat It Out, Medium Rare, Box Of Cats, Insomniac, Night Bass, Atlantic Records, Club Sweat, One Love and regular radio rotation on Triple J, BBC Radio One and Sirius XM, SODF have industry support in all the right places to make 2021 their biggest year yet. SODF's latest track with Double Agent entitled 'Come Over' is out now Rotate Vol 5, the House music compilation 2021 from the Insomniac House label imprint IN/ROTATION Records.
More About Double Agent:
As a DJ, Double Agent can be found beneath the lasers, commanding club and warehouse dance-floors Australia-wide.
As a producer, he's part of the Medium Rare Records family, making bassline-driven house tracks that are turning all the right heads. His music is deep, dark, driving, and club-oriented, as well as addictively atmospheric. Double Agent's new track 'Come Over' in collaboration with SODF is out now Rotate Vol 5, the House music compilation 2021 from the Insomniac House label imprint IN/ROTATION Records.