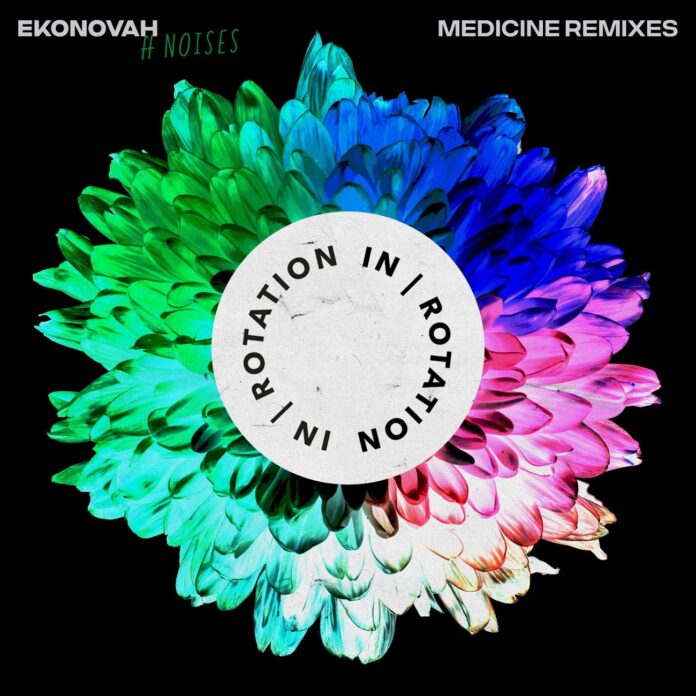 'Medicine' was a highly successful Bass House anthem in 2019 and it has now been remixed by Kage. The song is originally produced by one of the EDM industry's most unique sound conjurers, Ekonovah, and also features the famed producer/singer, NOISES. Released on IN/ROTATION, the Kage remix is a powerful banger. While we absolutely dig the original tune, we can't stop vibing to this new version by Kage. The remix of this NOISES music elevates the tune a couple of notches higher on the bass-heavy scale.
The Kage remix is a powerful Bass House gem that will explode into your ears like mini fireworks. The catchy and upbeat energy of the IN/ROTATION release is fused masterfully with dark and gritty textures. The remix edition of 'Medicine' by Ekonovah and NOISES music tramples with fury-driven bass which adds a dramatic pulse and edginess into the mix. The dirty and menacing bassline fills the ambiance with adrenaline racing momentum. The song is further pushed into a sizzling realm with influential vocals by NOISES music. The filling percussion and raw synth also intensify the composition perfectly.
In this Kage remix of 'Medicine,' the fearless instrumental arrangements create an intoxicating buzz. This IN/ROTATION release from Ekonovah ft. NOISES get Kage's special treatment as he flips the song into a high-octane spectacle. The vocal snippets on this version brim with distorted energy and a gyrating flow. The drops send the tune flying into a palpitating, mysterious zone with haunting throbs and kicks. We particularly hail the NOISES music for its stirring fusion of heavily filtered vocals and frenzied oscillations.
While the previous house banger 'Godspeed' from Kage is still fresh in our minds, we're mightily floored by his remix of Ekonovah and NOISES' 'Medicine.' This Kage remix is a heavy-hitting club slapper with rhythmic vitality and fiery sonic patterns. This track has got us twisted in its swirling cadence, and we're sure you'll spiral into its hypnotic charm as well.
Stream 'Ekonovah – Medicine ft. NOISES (Kage Remix)' on YouTube below!
Streaming Options:
Ekonovah – Medicine ft. NOISES (Kage Remix) Apple Music
Ekonovah – Medicine ft. NOISES (Kage Remix) Spotify
Ekonovah – Medicine ft. NOISES (Kage Remix) Soundcloud
Ekonovah – Medicine ft. NOISES (Kage Remix) FREE DOWNLOAD
Ekonovah – Medicine ft. NOISES (Kage Remix) Download
---
More About Kage:
Started in 2018, Kage has already achieved a lot of unique milestones. His minimalistic, raw and strong bass filled sound vibrated on many dancefloors and festivals. With releases on Monstercat, STMPD, Confession, IN/Rotation, Riotville & more, the world became acquainted with Kage.
With his release 'Mind' a lot of tier 1 DJ's first fell in love with his sound. The track got supported by many artists such as Tchami & Malaa, Habstrakt, Porter Robinson, Oliver Heldens and Martin Garrix to name a few. In 2019, Kage made his DJ debut 3000 meters up at E-Wax Festival, in Copenhagen's Distortion Festival and the underground festival Octane Madrid.
With a diverse repertoire of tracks and Kage remix, his fluent combination of raw bass music and minimalistic use of sounds, Kage is ready to rise from the shadows.
More About Ekonovah:
Playing cities like Los Angeles, New York City, Chicago, and festivals like EDC LV and Bonnaroo, Ekonovah is leaving his sonic footprint across the nation thanks to his distinguished sound.
Originating from Phoenix, Arizona, Ekonovah is on a simple mission: to influence the electronic music scene with a new sound. After finding his voice, the 23-year-old is creating his identity by emphasizing musical integrity, danceable grooves,and a refreshing departure from the sound of mainstream electronic music.
After catching the attention of world-famous DJs like Porter Robinson and Steve Aoki by blending clever sound design in an unexplored context, Ekonovah is crafting his own niche within the electronic dance community.
More About NOISES:
Gaining support from artists such as Deadmau5, Dillon Francis, Alison Wonderland and many more, Southern California native NOISES has set out to create a high energy environment that produces a unique experience unlike any other. From his love for the music to his invigorating live performances, his aim has always been to bring back the origins of heavy dance sound while incorporating a fresh new take on House music. Emerging into the scene in 2019, NOISES hit the ground running with his first ever release on Insomniac's House imprint In/Rotation Records with Ekonovah titled 'Medicine'. Since then, has been featured on Bijou's Do Not Duplicate Recordings with Night Bass artist Blossom, A single on In/Rotation's Rotate Vol. 2 compilation, A 3 record EP that gained support from Diplo, Wax Motif, Zeds Dead, etc. and a single on the latest Mau5trap x Insomniac Records collaborative EP. All in all, we have not been able to locate where this artist has risen from or if he's been behind the scenes for some time; but we are happy he has arrived and excited to see what the future holds for this rising star in dance music.