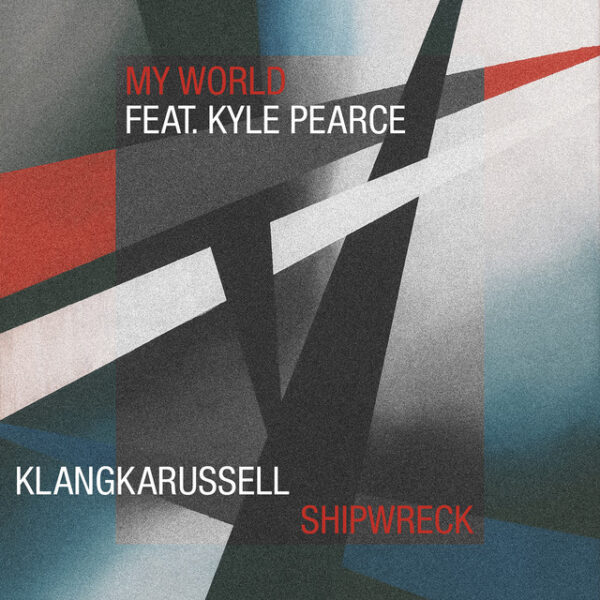 KLANGKARUSSELL are true geniuses when it comes to producing soulful music. They have a way of translating emotions through their songs and the duo's wonderful releases like 'Shipwreck' and 'GHOSTKEEPER' prove just that. Both of these tracks became huge hits and earned them a lot of acclaim from fans of Melodic House & Techno music. KLANGKARUSSELL – My World has now been released. It is a collaborative effort with the super talented singer-songwriter Kyle Pearce. Issued by Bias Beach Records, this tune is a delightful experience to listen to and will make your worries go away while transporting you to a state of bliss.  
KLANGKARUSSELL – My World with Kyle Pearce is a mellifluous collaboration. This song is a work of art to say the least. It is designed with eloquent percussion, smooth vocals, subtle basslines, and mellisonant synth stabs, making this song a wondrous release that will certainly have its tranquilizing effect on you. The duo embellishes the track with their soulful counter melodies as they interact in an impressive way with their intonation. This Bias Beach Records' release will make an excellent addition to your Melodic House and Techno playlist.
'MY WORLD' by KLANGKARUSSEL and Kyle Pearce delivers a gentle and enchantingly haunting feeling that will fill the atmosphere. The duo's composition is pliable. It sounds sensitive and empathetic while their restless exploratory impulses are contained within the phenomenal song structure. The concoction of synth and bass is gently built on, and fills out the melody, rather than hijacking and dominating it.
Released by Bias Beach Records, KLANGKARUSSELL – My World is a special tune that will bring out your emotions. It is an enthralling cut that sounds extremely mesmeric thanks to the soothing vocals of Kyle Pearce. The trio worked on this together as if they beam in from another dimension. With this release, the guys have made it clear that they are not bound by the clichéd conventions of songcraft. A place where tempos fluctuate and melodies shapeshift in the track is elusive. It is already one of our favorite Melodic House and Techno release of the summer.
Download 'KLANGKARUSSELL – My World ft Kyle Pearce' HERE and stream the song on YouTube
You can also enjoy 'KLANGKARUSSELL – My World ft Kyle Pearce' on Spotify and Apple Music.
Connect With KLANGKARUSSELL:
Join Us On:
More About KLANGKARUSSELL:
Klangkarussell returned last September with 'Comoros', their first new music in over 2 years, and the debut release on their new label, Bias Beach. 'Comoros' followed a summer of standout festival performances and sold out headline shows that saw them play to crowds in the UK (sold out Night Tales London), Europe (including taking the Saturday night honours at Benicassim), Beirut and South America.
This January, Tobi and Adrian played another sold out headline show at Night Tales London (which saw queues around the block), with further DJ dates in Europe and beyond. Forthcoming shows have been cancelled and rescheduled where possible due to coronavirus. They'll join Booka Shade at London's Electric Brixton on 9 October for their next UK performance.
Klangkarussell, which translates to English as "Sound Carousel" — were formed in Salzburg, Austria by Tobias Rieser and Adrian Held. Both respected producers in their own right, they first broke through with the jazz-tinged instrumental club record 'Sonnentanz', which reached the Top 10 singles chart in 6 different countries, including No.1 in The Netherlands. Like many dance artists faced with unexpected success, a record they'd written for their own DJ sets had taken on a life of it's own, and when a vocal version – retitled 'Sonnentanz (Sun Don't Shine)' and featuring British soul singer Will Heard – was released the following summer, the track charted in both the UK and Ireland, going on to become one of the biggest dance records of this decade (despite the pair shunning all publicity).
Following the success of 'Sonnentanz', the duo then released their second single, 'Netzwerk (Falls Like Rain)', featuring vocalist Tom Havelock, and which also became a hit. Klangkarussell's debut album, 'Netzwerk', appeared soon after and sporting the singles 'Hey Maria' and 'In the Crowd Alone' appeared in 2016, followed by 'Time', 'Circuits', and 'Good to Go' in 2017.
After spending the last two years on the road, the duo's second album is now within their sights. Musically, and with the type of creative freedom they had during their initial rise to fame, both Tobi and Adrian have entered a new decade exactly where they want to be.