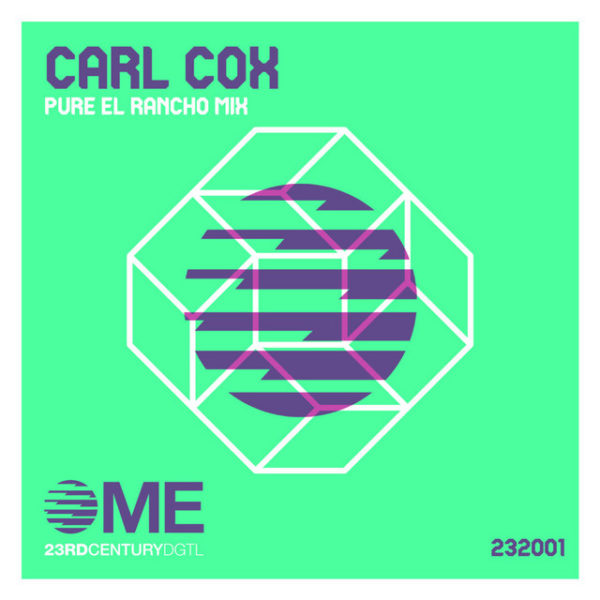 Carl Cox just shared his first solo song in two years, a storming techno track entitled 'Pure (El Rancho Mix)'. The track delivers a stomping peak-time dance floor destroyer embracing a humongous ground-shaking rhythm, stadium-rousing synth blasts, futuristic arpeggios and lush atmospherics! There's an ominous effect on the track, which places light and darkness side by side in a tremendous exercise of juxtaposition. Foxy rhythms, exuberant sounds, heavy beats, driving basslines, mesmeric moods: they're all here in abundance as Carl Cox takes us on a journey into his creative mind.
Carl Cox's 'Pure (El Rancho Mix)' is sultry techno produced by unquestionably one of the finest purveyors of this style of music. He shares a love for the kind of hypnotic, voodoo music which is the mandate of the day all around the world. While listening to the track, you can feel a sense of tranquility, combined with a hunger to lead you away from life's ups and downs. An electric atmosphere pervades as we're led into the feather-light ambiance before things get slightly more energetic, the oomph is dreamlike.
The rumble of the pounding techno vibe reverberates throughout 'Pure (El Rancho Mix)' with very little respite, but that's why his fans love it. There's no let-up, smashing their way through eight minutes of gnarly techno rhythms with gusto. The song is hypnotic in its driller killer monotony and has fidgety, frantic energy.
Here's what the man himself has to say about the El Rancho Mix:
This techno beast is my first solo release in some time! and I've already secretly tried and tested it at my appearances around the globe, people have been going wild when it drops! It's a real thrill to see the crowd reaction when I drop PURE into the mix. The thing about this one is that it grabs hold with a million techno-tentacles and won't let go! Even I can't resist when it comes on! -Carl Cox
In addition to 'Pure (El Rancho Mix)', Carl Cox has launched an exclusive new live-streaming series called 'Cabin Fever – The Vinyl Sessions' to further catwalk the social gap we are all feeling under this new life under quarantine. The sessions will be broadcasted daily from his home studio 'El Rancho' in Melbourne, Australia through his Facebook page.
Stream 'Pure (El Rancho Mix)' on Spotify below and grab your copy HERE!
More About Carl Cox:
A perennial favorite as the best DJ in the world according to fans as well as the major mixing magazines, Carl Cox has been a part of Britain's dance scene from the heady days of disco through to the global clubland of the new millennium, with temporary pit stops covering hip-hop, the rare groove movement, and the immense rave revolution of the late '80s. That large span of time has undoubtedly affected his choice of records, since Cox routinely detours through breakbeat, Italian house, and the dance mainstream during his usual sets of hard techno. Perhaps the best testament to his mixing skills is his immense popularity despite his focus on music much more intense than the brand of arena trance spawned by Oakenfold, Sasha, Digweed, and others.
Follow Carl Cox:
Website
Spotify
Soundcloud
Facebook
Instagram
Join Us On