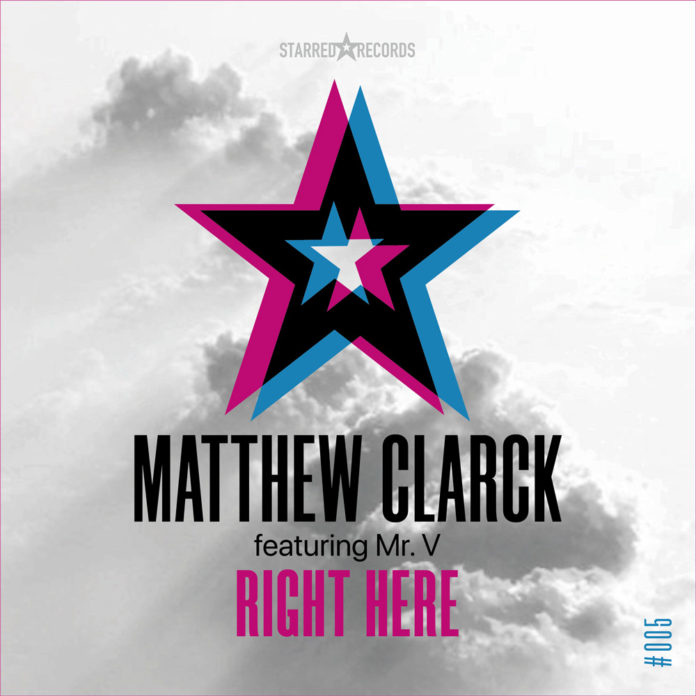 Matthew Clarck teamed up with Mr. V on the fresh Tech House banger "Right Here", released on the brand new record label "Starred Records", founded and managed by Steven "Sugar" Harding from the legendary Milk & Sugar duo.
"Right Here" delivers a very accessible and banging Tech House sound. The bassline is extremely intoxicating, it has a groove and an energy that will put fire on pretty much any dancefloor!
Mr. V's vocal gives the track a cool urban flavor and the hook is so relentless that before you know it, you will be singing along too! I wouldn't be surprised if "Right Here" end up being one of the most Shazamed songs in Ibiza for the end of the season. Yes, it seriously has that potential!
This opus is really a super versatile banger, it doesn't go too underground nor too mainstream but remains perfectly balanced to please ears of dance music fans. It truly delivers all the ingredients needed to turn up a party and will, without a doubt, end up in the top House music charts this year.
"Right Here" really has an effortless playful vibe that will put smiles on partygoers faces! What more can a crowd ask for?
Stream Matthew Clarck & Mr. V – "Right Here" on Spotify and Youtube below and grab your copy HERE!
More about Matthew Clarck:
Matthew Clark, DJ and producer is an icon on the club scene in Poland. He works with the best clubs in Poland. A resident of the Poznań SQ club. He is the producer and originator of the cult ŚRODing, RESUME and Backroom. Matthew is also a brand ambassador for Urbanears, Jabra, Nixon and Jack and Jones.
Matthew Clarck debuted last summer on the main stage at Sunrise Festival, in previous years he also played twice at Sunrise Afterparty.
More about Mr. V:
Mr V is also known as Victor Font, and experiencing his magical DJ sets, original productions or remixes is like taking a trip back in time to dance music's golden age. It is with this classic sense of spirit and enthusiasm that New York City's Mr. V targets today's dance music world as a throwback to a better time. Growing up in the 1980s the open-minded Mr V was heavily influenced by house, hip-hop, Latin, garage and disco classics, rhythm & blues and jazz. Mr V was enticed by the role a DJ commanded over a crowd and was taken by the talents of his friend Lord G., who had a weekly Thursday night party in New York City. Despite wanting to be a professional DJ, it wasn't until he met the legendary Louie Vega that he found his calling.
Louie saw the drive and potential in Mr V and hired the young Nuyorican DJ/producer as his assistant at the world famous Masters At Work label, and in this position he was given a rare insight into the global dance scene. Before long he was taking to the decks alongside his mentor and is now one of the top DJs in his field. In addition to his busy DJ schedule and ever finer production credits Vega Records, King Street Sounds, Flamingo Records, Defected Records, Play It Down, Strictly Rhythm and many more, Mr V launched his own label Sole Channel Music as a way to release music with complete control and artistic freedom.
Follow Starred Records, Matthew Clarck & Mr. V:
Facebook.com/starredrecords
Instagram.com/starredrecords
Starredrecords.com
Facebook.com/matthewclarck
Facebook.com/solechannelMrV
Join us on:
Spotify
Soundcloud
Mixcloud
Youtube
Facebook
Twitter
Instagram