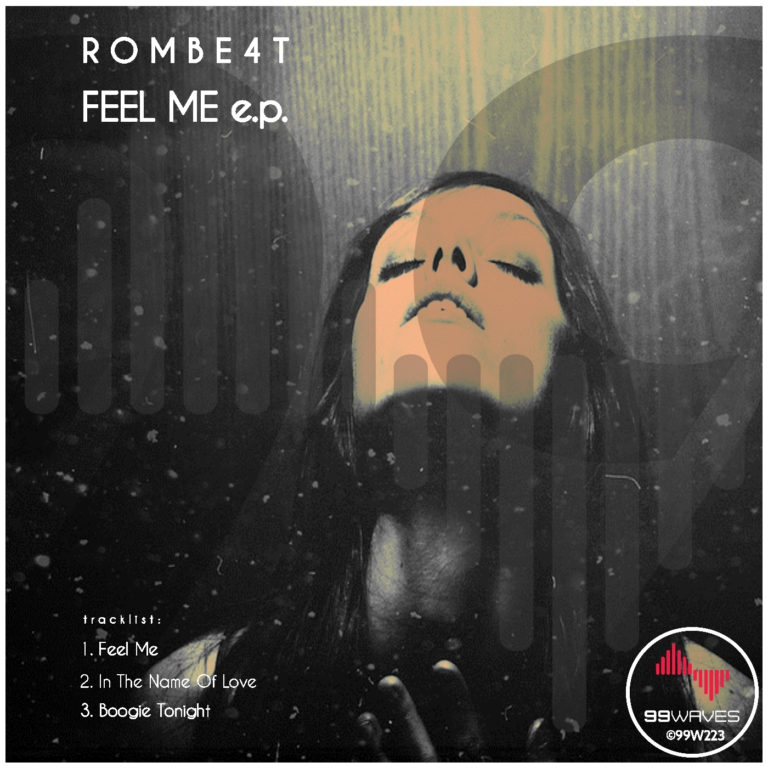 After taking some time off, ROMBE4T is back with his feel-good soulful House music trademark sound on "FEEL ME", a brand new three track EP from the Disco House maestro available now on 99waves.
The fresh new EP is intoxicating, funky, jazzy and most of all, super groovy! All three tracks are very versatile and accessible and would please just about any crowd.  They deliver a great festive energy, infectious rhythms, catchy hooks and a vibe that will make you dance and smile, because this is the type of music that will lift your spirits no matter what. Perfect summer vibes for pool/beach parties, nightclubs, music festivals, or just to blast very loud in your car with the windows down!
"FEEL ME" is not only a refreshing blend of House music and Indie Dance / Nu Disco. It also delivers 80's and 90's elements, from the early days of House music and showcases the evolution of Disco and the amalgamation of Disco and House music through these three gems.
It is truly a memorable EP for the old school nostalgic Disco heads, but also a perfect opus for the younger generations to discover the brilliance of the subtle mingle between Disco and House music! Highly-recommended!
Stream ROMBE4T – FEEL ME on Spotify and Soundcloud below!
More about ROMBE4T:
ROMBE4T is a producer with a passion for infectious soulful house vibes.
Feel good house music is the best way to describe the sound of ROMBE4T. So far his life is immersed in music and at the very first house music tunes fell in love with this genre and it has been so ever since. ROMBE4T (previous DJ Ryan and Brainchild) provided performances to many thousands of event–goers since his first DJ set back in the early 90's.
After a sabbatical ROMBE4T returned back to his roots with quality melodic house music. He is ambitious and driven in achieving his goals for 2019: 10 singles releases and DJ gigs in London, Ibiza and Amsterdam.
In the past year ROMBE4T has scored several top chart positions on Beatport (4 top 10 positions, 2 frontpage Hype Picks and Opening Set Fundamental) and number one postion on DJ website Kings of Spins. Gaining support from DJ ROOG, Jack Kandi, Richie Hawtin, Rob Boskamp, Andi Durant, Sound Fausto, Brisk, Mike La Funk and Vanilla Ace to name a few. Also radio stations like Radio Party Groove Italy, Ciberdelia, Public House UK, Warm FM, Deep in Radio, Muzikman Edition and Kross Well Radio Show are picking up on his releases as well as housemusic websites like Hammarica.com and IHouseU.com.
What DJ's and fans are saying about his music:
• 'Thank you so much ROMBE4T for this promo I will play it with pleasure on Blaqhol Radio and via Mixcloud and edeejay.com. Full support'
• 'Really nice funky groove! Support in my Club House Radio Show'
• 'Cool, soulful house tune, feelin the vibes..'
• 'Absolutely Loving this!'
ROMBE4T released music on labels like ID&T Music, Bonzai Records, Chrono Records, Universal Music Dance and published via Strengholt Music Publishing. Currently signed at Bass Rebels Records, 99 WAVES Records, Vivifier Records, Urban Sound of Amsterdam, Instant Groove Records, Deeplomatic Recordings and In It Together Records.
ROMBE4T's versatility is shown by his multi musical abilities. He has the ability to venture back to the roots of dance music in a way that is in keeping with the contemporary needs of current audience demands: Quality feel good house music.
Teaching the talented how to master their music skills;
ROMBE4T is keen to share his knowledge, skills, energy and passion for the business with others. Always has been and in 2015 he came across some young talented boys which fired up the passion for producing even further by sharing his knowledge. He has been working as their producer instructor for the past years.
By providing a solid basis of knowledge for talented, up-and-coming producers, he is investing his skills and experience in the future of music, and making a positive contribution to society.
Follow ROMBE4T:
https://soundcloud.com/rombe4t
https://www.facebook.com/rombe4t
https://www.instagram.com/rombe4t
https://twitter.com/Rombe4T
https://open.spotify.com/artist/5r89seDhq5dnVWpQ7y0wHQ?si=26k4q775T8OOPlolc_Ml5Q
Join us on:
Spotify
Soundcloud
Mixcloud
Youtube
Facebook
Twitter
Instagram