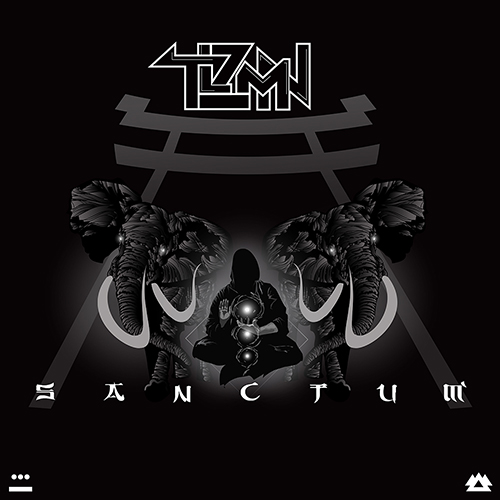 A brand new EP has just arrived on Wakaan. The freely creative label (run by producer and DJ Liquid Stranger) has been releasing some incredible material over the past few months. As an example, the brilliant Sanctum from TLZMN is no different.
One of those artists who likes to keep his identity under wraps, there is no doubt that his music speaks volumes. His sound is cleverly designed to "represent musical fulfillment and rebellion" and nothing is held back within this collection.
And out of the seven tracks, you can expect some high-flying D&B and some super slick hip-hop foundations. Opening with "No Obstacle," the vibe is powerfully immersive and crisp.
From here, TLZMN moves into an almost neuro-inspired "Blackout," which stretches out with deep melodies and plunging low-end thumps. "The Pendulum" audibly swings with an array of select samples, expertly matched and pitched.
Again, like "Blackout," the fast tempo and aggressive riffs of "Battle Drums" make for an eye-catching combination. Beginning to loosen the intensity, TLZMN moves into "Deuces," before easing us into the penultimate offering, "Rewind."
Completing this EP is "Lithium," which has a blend of vocal snaps and spiky melodies – the best way to close out proceedings.
Giving us a glimpse into his thought process for Sanctum, TLZMN explains: "To discover, compose and create in a world immersed in darkness, one must derive true intention through the darkness from powers within. Most honored, our Sanctum within. Sorcery is actualized when self-awareness is formulated, guarded and developed."
With such a developed production style and fizzing creativity, it's clear TLZMN has another big year ahead. We are already looking forward to future releases and collaborations. Make sure to stay connected by keeping an eye on his socials.
You can find this EP through Wakaan, or stream it right here.
Follow EKM.CO on:
Spotify
Soundcloud
Youtube
Facebook
Twitter
Instagram
Looking for music promotion?
Submit Here