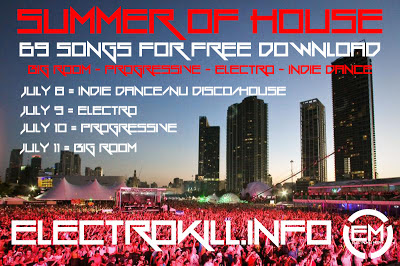 I know I didn't provide your dose of House music in the past 2 months, whether its Progressive House, Electro House or Big Room House, I focused a lot more on Bass music and I'm sorry for the people that aren't happy about that. Last week, I took a whole day to listen to every House music submissions I received (over 200) and kept only the best ones to create the "Summer of House" compilation! The result is 69 banging songs for free download! Since I couldn't fit 69 tracks in one post, I divided them into 4 parts:
(Click on the part you wish to view to open it in a new tab)
Part 1 – House / Indie Dance / Nu Disco / Tropical / Tech House / Minimal / Electro Pop
Part 2 – Electro
Part 3 – Progressive
Part 4 – Big Room
Today I'm proud to bring you one of my favorite parts of the "Summer of House" serie, the banging Electro sounds! We have freebies from so many great producers, huge respect for artists like Valentino Khan, SirensCeol, The Disco Fries & The Boomzers who give most of their music for free! Don't forget to like the songs you download and show support to the artists!