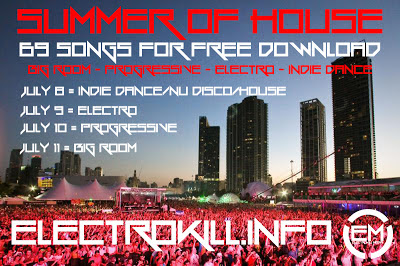 I know I didn't provide your dose of House music in the past 2 months, whether its Progressive House, Electro House or Big Room House, I focused a lot more on Bass music and I'm sorry for the people that aren't happy about that. Last week, I took a whole day to listen to every House music submissions I received (over 200) and kept only the best ones to create the "Summer of House" compilation! The result is 69 banging songs for free download! Since I couldn't fit 69 tracks in one post, I divided them into 4 parts:
Part 1 – House / Indie Dance / Nu Disco / Tropical / Tech House / Minimal / Electro Pop
Part 2 – Electro
Part 3 – Progressive
Part 4 – Big Room
Let's start this with the Indie Dance feature, this one has a lot of different subgenres of house music, you will certainly find something for your taste! I'd say one point all these songs have in common is the groove, a vibe that progressive house and big room house lacks! Stay tuned for tomorrow "Summer of House" Part 2 "Electro" edition, this one will go hard! Thanks for stopping by and enjoy the music!
House / Indie Dance / Nu Disco / Tropical / Tech