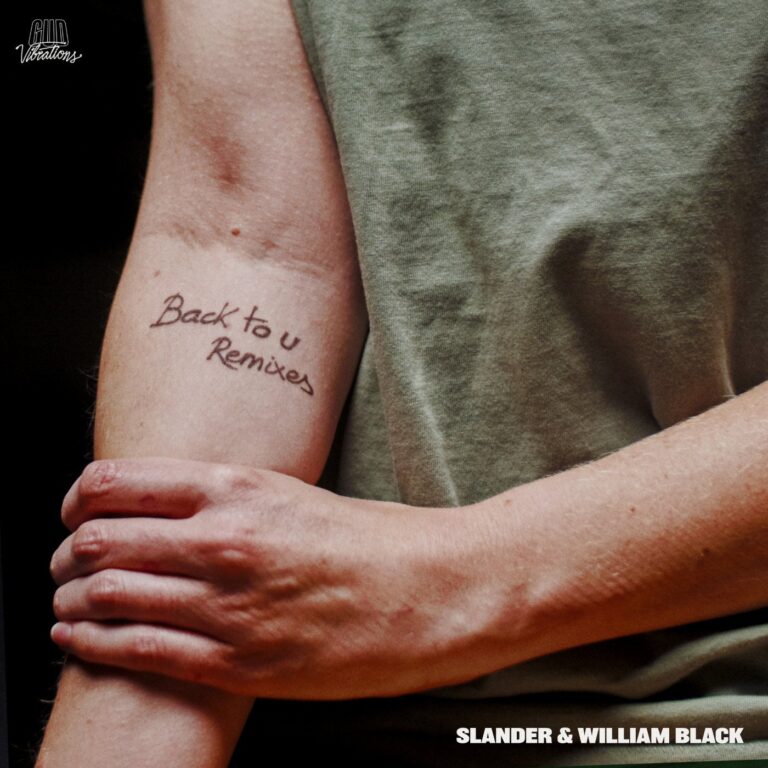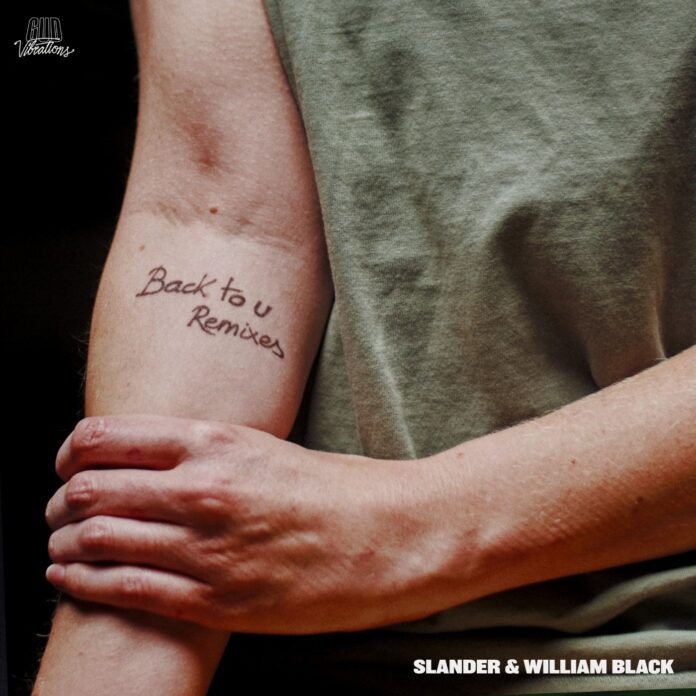 The Back To U Remixes EP is a chance to rediscover the magic of SLANDER & William Black's sublime hit Back To U. It's out now on the Gud Vibrations label and features some of the most creative minds in electronic music. Each one has taken the opportunity to do a SLANDER remix and put their own spin on it. If you already know the original, then you know how amazing this EP is going to be. If you don't, then you're in for something special.

First up is Control Freak, an NY-based Dubstep producer with releases on Bassrush and Subsidia. This alone is a good indication of where this track is heading. Control Freak is known for his unforgiving sound-design and brutal drops. This remix capitalizes on both of these strong points. It has a wild energy about it that's begging for a dance floor to ignite. The screaming synth bass is reminiscent of the 2011-era Dubstep which exploded in the US that's still popular today. With this track, the Back To U Remixes EP is off to a fantastic start.

Next up is Canada-based, multi-instrumentalist Fairlane. Despite a previous collaboration with SLANDER, this is his first time on the Gud Vibrations label. His original music is clean and anthemic, with a variety of influences from the entire EDM-spectrum. However, his take on Back To U is slightly surprising. Fairlane takes full advantage of the original track's layering and harmonic structures. Using this, he creates enormous amounts of emotion and musical tension. When he releases the tension, it catches you completely by surprise. The climax of this track has space and it breathes. It allows all the elements to catch your ear and excite your curiosity. The chorus embers out, builds again and only then does Fairlane give you what you expect; unadulterated EDM goodness.

The next track on the SLANDER remix EP is from Drum & Bass heavyweights Matrix & Futurebound. Their decades-long career has seen them cover the entire spectrum of up-tempo electronic music. They open their remix with some arpeggiated flutters of 80's-inspired bass. The vocals float on top of some dream-like pad work, giving the track a transportative quality. This feeling is intensified by some synth leads which take us to the drop, where Matrix and Futurebound deliver the goods. A distorted, undulating bass line drives the track at breakneck speed. You have just enough time to savor the song's emotion before you accelerate away again. The Back To U Remixes EP is incredible so far.
If one Drum & Bass remix wasn't enough, the Gud Vibrations label are kind enough to give us two. Maybe one and a half in this case. The second one comes from Mazare, an Italian DnB producer. He gained popularity with his remixes of Seven Lions and Haliene. This remix starts off slightly faster than the original. The drums have a lot more weight, giving it a Dubstep feel. The track gets faster still towards the end, with a high-energy DnB twist. Throughout, Mazare has preserved the emotion of the original but given it a more 'up-front' feel. The synths are still huge, though also a bit more abrasive. What's great is that this is a totally different DnB remix to the one before. Of all the Back To U remixes, this one stays most true to the original.

The last remix, from Finnish producer Topi, stands apart from the other remixes. So far the producers featured have all played on the original's ethereal and emotional qualities. Topi makes it clear from the start that he's not going to be following that trend. He manages to combine some off-kilter rhythms and slightly assonant chords to create an uneasy but alluring sound. He builds us up to a head-nodding, catchy drop, full of odd metallic sounds and micro silences. Of all the SLANDER remix, this one bears the least resemblance to its namesake. This is particularly true of the song's latter half, where musical conventions seem to disappear completely. But despite this, it arguably demonstrates the most ingenuity on the EP.
All of the Back To U Remixes have paid homage to the original but also showcased the skill and ingenuity of the remixers. All of them are fantastic and they're all available on the same download. You can grab the entire EP from the Gud Vibrations label from the download link below.
Stream 'SLANDER x William Black – Back To U Remixes' on Spotify below!
Streaming Options:
SLANDER x William Black – Back To U Remixes Apple Music
SLANDER x William Black – Back To U Remixes Spotify
SLANDER x William Black – Back To U Remixes Soundcloud
SLANDER x William Black – Back To U Remixes FREE DOWNLOAD
SLANDER x William Black – Back To U Remixes Download
More Streaming Options HERE.
---
More About Fairlane:
Fairlane is the musical alias of Tyler Mead, a Canadian based multi-instrumentalist producer. He's been experimenting with music since his early adolescent years. After debuting his project with an official remix of Rihanna's "Desperato", Fairlane has gone on to work with industry legends. These include Ava Max, Ilsey Juber, Nevve, Jocelyn Alice, and many more. His original music and remixes have accumulated over 200 million streams on YouTube and over 20 million on Spotify to date – both numbers continue to grow with each passing day.
In late 2018, Fairlane entered the live music scene supporting ILLENIUM on his Awake 2.0 Tour. He then supported similar artists such as Gryffin, Vanic, and William Black in the following year. He has since remixed William Black's track on the EP Back To U Remixes. By combining live instrumentation with his guitar and DJing, Fairlane has been able to deliver an intimate yet energetic show. This is an experience that has left fans all across North America patiently awaiting their next opportunity to catch a set.
Despite setbacks due to the current state of the global pandemic, Fairlane has still managed to play to the public. He's partnered with charity live-streams such as "Room Service Festival" which streamed to tens of thousands of viewers all across the globe.
Although live shows have been postponed for the remainder of 2020, Fairlane shows no sign of slowing down, and plans to make 2020 his best and biggest year yet! His SLANDER remix surely demonstrate that perfectly!
More About Matrix & Futurebound:
Matrix and Futurebound, two DnB veterans with extensive solo catalogs stretching back to the mid-'90s. They became one of the genre's most successful acts during the 2010s, scoring four U.K. Top 40 hits. The duo began working together in 2005, releasing their debut full-length Universal Truth in 2007. The album included a few pop-leaning vocal collaborations along with the duo's cinematic, heart-racing instrumentals. The duo expanded on their pop songwriting skills with their subsequent singles, including 2013's "Control" (with Max Marshall). This track hit the Top Ten of the U.K. singles chart and was certified silver. The duo continued releasing singles and remixes throughout the decade.
London's Jamie Quinn is brother of fellow DnB innovator Optical. He began releasing tracks as Matrix in 1994, appearing on labels such as Metalheadz, Moving Shadow, and Virus. As well as this he founded Metro Recordings in 1997. Brendan Collins (of Liverpool) co-founded the group Futurebound in 1994, but he maintained the moniker for his solo work after the group disbanded a few years later. Quinn and Collins formed the duo Matrix & Futurebound in 2005, debuting with the single "Strength 2 Strength," issued by Metro as well as Collins' Viper Recordings. Two years after their first pairing, the duo released their debut album, Universal Truth, which included collaborations with Chicago house legend Robert Owens and MC Spyda. The non-album single "Shanghai Surprise" followed in 2008. A mixed compilation CD, Worldwide 001, appeared in 2011.
Remixing the likes of Justin Timberlake and Moby helped to slowly build the pair's profile. It wasn't until 2012 that success came knocking. The anthemic single "All I Know" appeared in May and went straight into the U.K. singles chart at number 29. After this it was added to the playlist on BBC Radio 1 and championed by the likes of Zane Lowe and Fearne Cotton. Following the success of the release, the duo returned with the follow-up "Magnetic Eyes" (with Baby Blue). This track peaked at number 24. With pressing remixes and DJ commitments, the pair wouldn't return to the U.K. charts until December 2013. Their most successful single, "Control," featuring the vocals of Max Marshall, peaked at number seven. The 2014 follow-up "Don't Look Back" (with Tanya Lacey) reached number 38.
Following the 2015 single "Fire," Matrix & Futurebound collaborated with Empire star V. Bozeman for the single "Happy Alone." In 2016, the duo released the instrumental "Scatterbrain" and "Fire,". Subsequent singles included 2017's "Light Us Up" (with Calum Scott), "Human" (featuring Raphaella), and 2018's "Live Another Day" (with Alex Hepburn). The single "Got You There," featuring Zelah, arrived the following year.
More About Topi:
From the middle of a scarcely populated Finnish forest region, comes some of the most idiosyncratic music of today's world. This is the home of a Finnish producer Topi, who continuously both defies and defines what music is, and can be. Topi's masterful and forward-thinking sound design, dark tones and ominous themes, combined with the sheer joy of exploration of the unknown, has proven that the only thing you can expect out of Topi, is the unexpected.
In 2016 Topi was welcomed as part of the Monstercat family. They're a fast growing Canadian music label. They're considered as the forerunner of what a modern age digital music label should be. Since then, the enigmatic Topi has also appeared on other hallmark labels such as Getter's Shred Collective, Diplo's Good Enuff, the UK dubstep juggernaut Never Say Die and most recently SLANDER and NGHTMRE's very own Gud Vibrations. Always seeking to challenge himself as a producer, Topi has also collaborated with artists like Space Laces, Tisoki and Twine. He now ends 2020 with a masterful SLANDER remix!