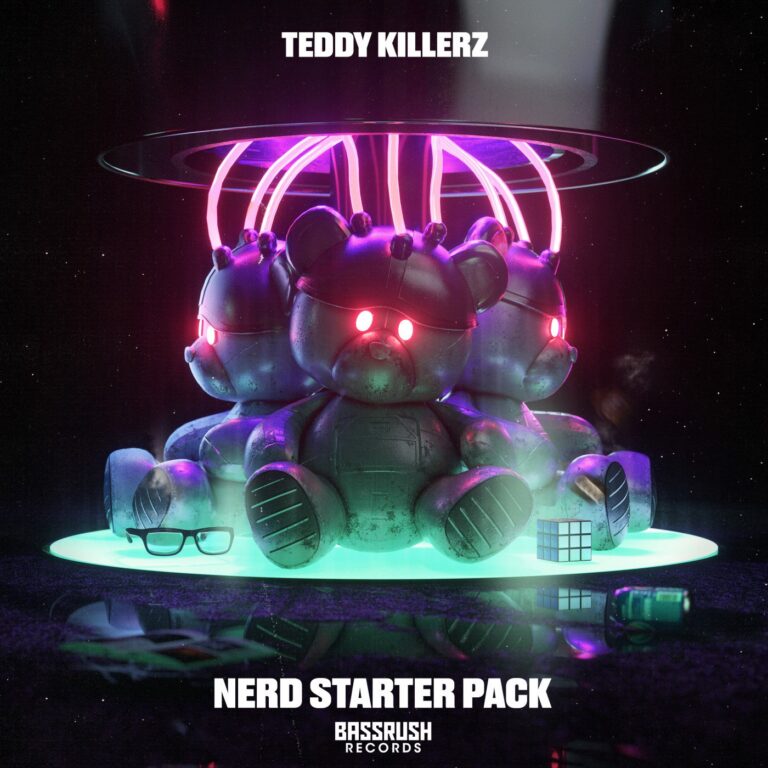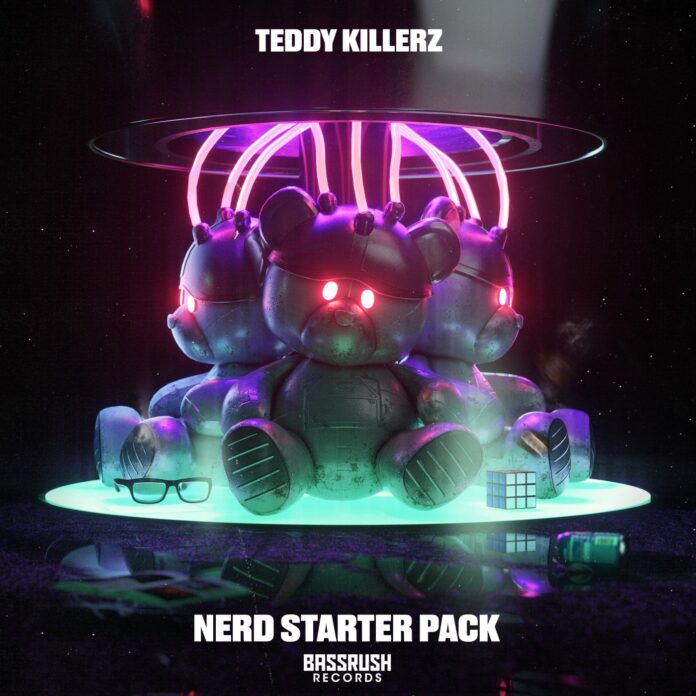 Teddy Killerz are back with the heavy Drum & Bass banger Nerd Starter Pack. Their new EP (of the same name) is off to an incredible start with this one. New Teddy Killerz music has been highly anticipated, ever since their last EP 'Bun Dem' with Nais on Souped Up. Their unique blend of dance floor, jump-up and neurofunk have captured the attention of heavy Drum & Bass fans across the world. Bassrush music is also known for its hard-hitting, low-frequency chaos. For that reason, it's no surprise they've teamed up to bring us Nerd Starter Pack.

Teddy Killerz set your ears ablaze from the word go. Menacing string trills and distant drums amp up the tension. Before long, a punchy neurofunk kick/snare combo interrupts them. In addition to this is a synth riff, which gets your adrenaline pumping with anticipation and raw aggression. They carefully weave in some spatial trickery and creative percussion to flex their production prowess. They finally hit you with the Teddy Killerz signature move; neurofunk sound design. But unlike the countless other neurofunk producers out there, the Bassrush music inductees have a way of channeling a wild, untamed fury in their music. It's their ability to harness this rage that satisfies adrenaline junkies and emotional masochists alike. (Otherwise known as Drum & Bass fans.)
This track is a neurofunk supernova. The snarling, undulating basses are going to work listeners into a dance floor frenzy (although it's probably more of a lounge frenzy for most people at the moment). There are also two more tracks on their new EP. They are set to reinforce their dominance in the scene for 2021 with a lot more new Teddy Killerz music. This 3-track showpiece is a testament to the trio's skills and an absolute must-buy for Drum & Bass heads everywhere. Check out the links below for how to listen and remember to stay tuned for new Bassrush music.
Stream 'Teddy Killerz – Nerd Starter Pack' on Spotify below!
Streaming Options:
Teddy Killerz – Nerd Starter Pack Apple Music
Teddy Killerz – Nerd Starter Pack Spotify
Teddy Killerz – Nerd Starter Pack Soundcloud
Teddy Killerz – Nerd Starter Pack Free Download
Teddy Killerz – Nerd Starter Pack Download
More Streaming Options Here.
---
More About Teddy Killerz:
Teddy Killerz first exploded onto the drum'n'bass scene in 2012 with their debut release, Scary/Earth Shaker, for Bad Company UK's Bad Taste Recordings, but its members — Russian-born Anton Mashevsky and Ukrainian Oleg Cholovski — had previously worked together as Place 2B & Paimon.
With a foot already in the drum'n'bass world, the duo's meticulously produced tracks were released on labels such as Fokus, Citrus, and Disturbed before they joined fellow Russian Grigory Cherekaev (also known as Garud) to form Teddy Killerz. After the release of their debut EP — which was also a collaborative release with N-Phonix — the trio quickly delivered the follow-up New Drums, and rounded out the year with The Exorcist EP on Dee Kline's Hardcore Beats. That same year, they also entered a remix contest, which saw them delivering their take on Skrillex's "Make It Bun Dem." While not winning the contest due to being proper artists in their own right, the trio got a special mention from Skrillex himself, and the following year delivered two EPs for his OWSLA label.
With their profile exploding, the trio released the Big Blow EP for RAM underground offshoot Program in 2014, alongside a trio of releases — the Machine Room EPs — for Bad Taste. At the end of 2014, Teddy Killerz announced they had signed an exclusive deal with Andy C's RAM Records. Over the next two years, while they focused on producing their debut album, the trio delivered a handful of EPs and singles for RAM, including Hyperspeed, Killer Squad, and Teddynator. At the end of 2016, they announced the release of their debut album, Nightmare Street. Dropping in mid-2017, the cohesively produced release — which saw them flirting with dubstep and electro as well as drum'n'bass — was preceded by the single Monkey Kingdom.