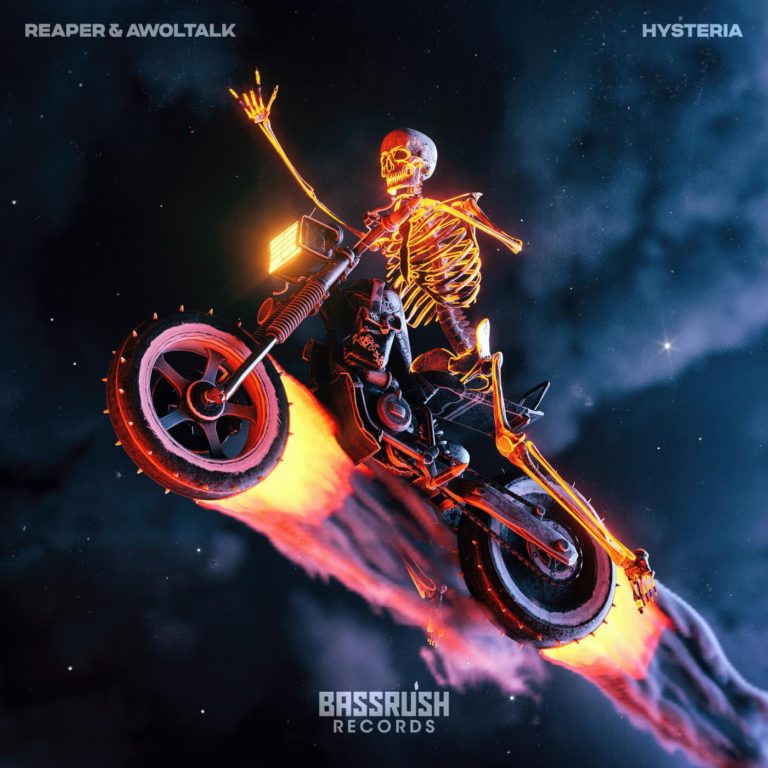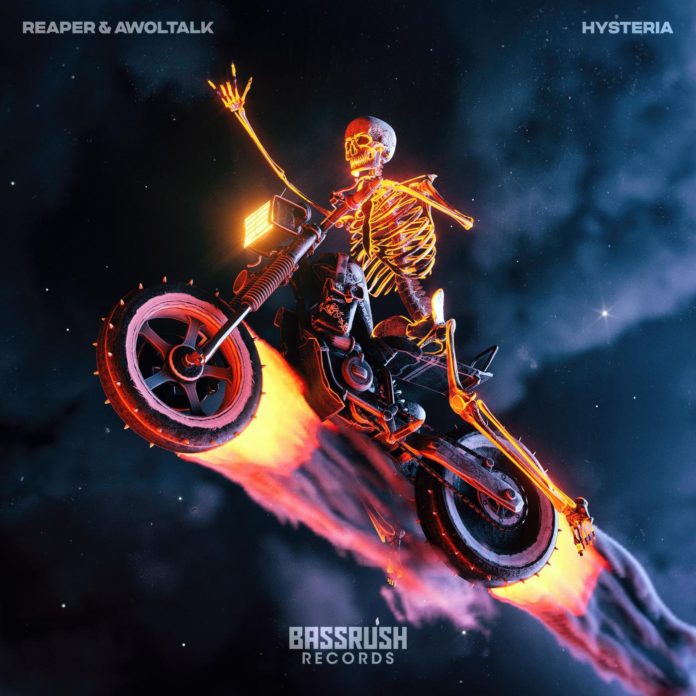 Awoltalk teamed up with REAPER to unleash an absolute DnB Festival anthem via Bassrush, "Hysteria" is bringing the intensity of Drum and Bass to a brand new level.
"Hysteria" is so fierce, Awoltalk & REAPER really created a monster here. The baseline will hook you right from the start and won't let go until the very end. Although the song is quite short, just a little bit under three minutes, the producers made sure they used all that time efficiently, giving the listener very little downtime. Once you first here the baseline, you get a good idea of what you are in for. "Hysteria" delivers an hectic and uncontrollable energy, this is a track that will really make people jump up until the last seconds. The drops are simply enormous, it is an absolutely dominant track that will be hard to match.
If you are a DJ and you are ever looking for a track to really turn up a crowd with an exceptionally powerful track, "Hysteria" is there for you. I couldn't have imagined a better name for the track, it really sums up the vibe in just one word.
Make sure to add this one to your playlists, this banger is without a doubt going to set countless dancefloors on fire this festival season.
More about Reaper:
Shrouded in mystery, the REAPER project is one of the most exciting acts to burst onto the dance music scene in years. His sound can be described as chaotic, transcendent, and evil. The drum and bass influence coupled with modern sound design illustrates a dark, aggressive picture of what bass music can evolve into. The journey has only begun, but the impact is already evident with support from industry leaders such as Illenium, RL Grime, Zeds Dead, Slander, Kayzo and more. Since the debut of his RAPTURE EP with Monstercat in the summer of 2019, he's amassed over 3,000,000 streams across digital platforms with no sign of slowing down. REAPER is the voice of the future, the culmination of over two decades of bass. His music is a portal to the new era, the scene's gateway to drum and bass.
More about Awoltalk:
In the world of Awoltalk, it's okay to be yourself, be loud, push back, and question everything. As a self-taught producer raised in Miami, Awoltalk represents the kind of music that allows listeners to let out who they are and what they feel inside, offering high-octane cuts across the bass music spectrum. Since 2016, his energetic presence has ignited the dancefloor at some of Los Angeles' well-known parties, including Brownies & Lemonade, Space Yacht, and more. When it comes to the music, Awoltalk's vision includes a multitude of alter egos, allowing him to unlock new sounds with a focus on drum and bass, halftime, and everything in between.

He's collaborated on original tunes with artists such as Fransis Derelle, Ian Munro, Holly, and more, along with his solo works like 2019's "Latent Space." Beyond his own kinetic productions, Awoltalk is a high-caliber remixer: his unofficial remix of DJ Khaled's "I Got The Keys" continues to make rounds through nightclubs. In the last year, he's delivered his remixing abilities for artists like Zeds Dead, Jauz, Party Favor, Baauer, and more.

Heading into 2019, Awoltalk's dedicated to bringing his show to cities across the United States with an arsenal of new music to unleash. Self-described as a loud, punk basshead who still expresses himself through songwriting, Awoltalk is poised for multi-genre success in 2019 and beyond.
Follow Reaper:
Follow Awoltalk
Join us on:
Spotify
Soundcloud
Mixcloud
Youtube
Facebook
Twitter
Instagram