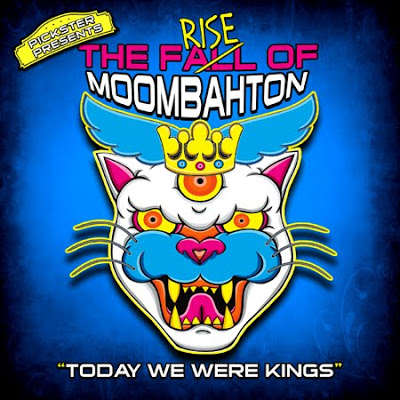 Pickster & Mixmag Magazine present:
The Rise of Moombahton "Today We Were Kings"
Tradition and family run deep in the Moombahton scene. The seasonal Moombahton compilations started by Munchi in the Summer of 2010 kicked off a tradition. As the seasons change a different Moombahtonista curates a compilation that takes a snap shot of the scene and the producers making noise at that time. David Heartbreak followed with the Fall Of Moombahton in 2010, DJ Melo with the Winter Of Moombahton in 2010, Lightning Eyez with the Spring Of Moombahton in 2011, and Munchi with Verano Del Moombahton in the summer of 2011. Pickster from Phoenix, Arizona has taken the baton and put together the Fall compilation for 2011.
The Rise Of Moombahton "Today We Were Kings". Everybody is a king or queen for at least one day in their own world. Whether you're on top of the game or just coming up and hitting that first milestone, were all kings or queens for a day. With that said, the comp showcases some OG Moombahtonistas that have been there from the beginning, as well as some young up and comers. Pickster, not feeling the name The Fall Of Moombahton, instead called the Fall compilation The Rise Of Moombahton, feeling it to be a better fit for this rising genre.
Huge free moombahton compilation! For any Moombah fan or DJ this is a must have imo. You get 19 quality tracks for free from artists like :Dface, ETC!ETC!, Sluggo, Pickster, Bro Safari, Jamrock and many others! Get this now! Essential Moombahton!
Pickster presents The Rise Of Moombahton Compilation
Tracklist:
1. DJ Melo & Steve Starks – Un Gran Circo
2. Sluggo & Pickster – Vida Loco
3. Apt One – Yin Yang
4. Jon Kwest – The One
5. Shelco Garcia & TeenWolf – Disco Rides
6. UFO! – Reptillian Sex Parade
7. Alliance – Mi Gente (Mendez Remix)
8. SoundFreq – New Sound Feat. Saith
9. Bro Safari – K-Hole
10. Jack Beats – Shutterbug (LeDoom Remix)
11. ETC!ETC! – Rakata! Feat. Lorna
12. Skinny Friedman – Not Miami
13. Dface – Bearcrawl
14. Kid Cedek – Esperanza
15. Drake – Marvins Room (Obeyah Remix)
16. Chong X – You
17. Jay Fay – Jungle
18. Jamrock & Jake Twell – Neck Tie
19. DJ Javier Estrada – For A Few Dollars
Artwork credit: Josh Rhodes (Phoenix, AZ)