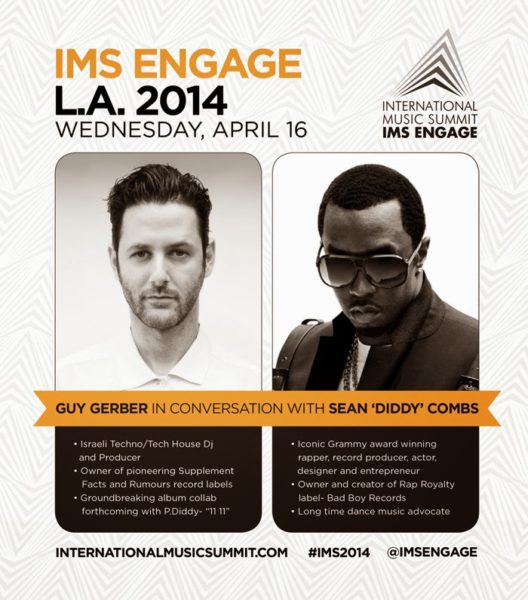 WATCH: IMS ENGAGE – DIDDY "IN CONVERSATION" WITH GUY GERBER
Diddy and Guy Gerber's conversation about their forthcoming 11 11 project was probably the biggest talking point at IMS Engage 2014.
Gerber opened up the talks with how he and Diddy met and why this relationship has become what it is: "I was told to come to New York to make music together. He played me a track from my first album for inspiration."
Diddy talked about his own fascination with electronic music by reminiscing about early trips to Ibiza and its famed DC10 Club, his own first collaboration in this space ('Let's Get Ill') with Stuart Price, Deep Dish, Nellee Hooper and Felix da Housecat, and dancing to Junior Vasquez at the Sound Factory in New York.
"It's all about the spiritual aspect of this music," he said. "Playing from the heart and experiencing true emotions. I am always looking for DJs/producers without a set format, who aren't afraid to clear the dance floor, who are fearless. I thought it would be cool to work with Guy after hearing him."
On the same day as IMS Engage at W Hollywood, news broke that Diddy topped the rankings in the Forbes Entertainment list with a net worth of $700 million. Diddy, when questioned by Pete Tong on how he managed to reach this,  replied: "You all have the same 24 hours a day I do." Probably the most memorable quote of the Summit.
A heartfelt moment of the day then came when a delegate paying compliments to Diddy, was brought to the stage for a huge hug. At IMS Engage 2013 it was the fight between two managers that caused the headlines. In 2014, it was the Diddy love-in.