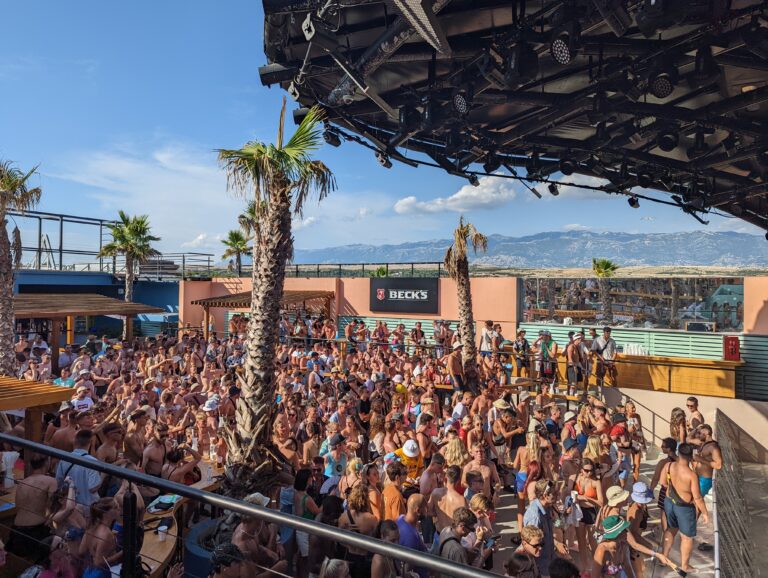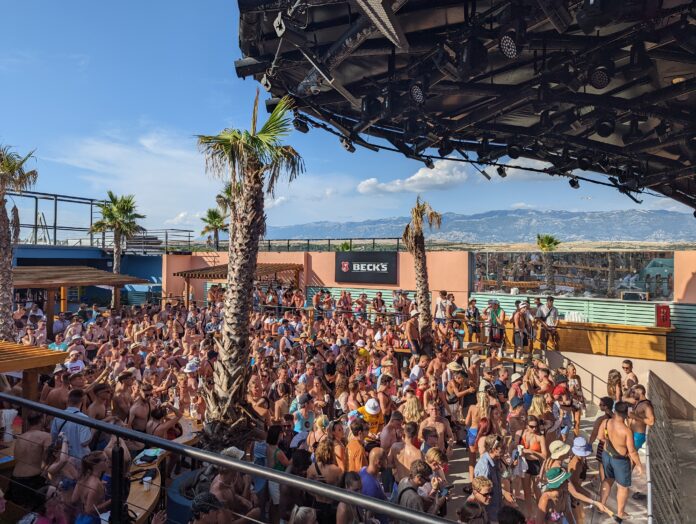 The 10th edition of Hideout Festival in Croatia has sadly come to an end, and we can tell you it was a pretty unique festival experience. You can't go wrong with five days of very hot weather, great music, hosted at five beach clubs on ZRCE beach, Pag island in Croatia! It was our first time attending the legendary festival and we have to say that it was a special one. The line-up was stacked with world-class DJs, and performers and all the ones we had the chance to see seriously delivered!
Even if words can hardly describe the great time we had, here are some of the highlights and reviews of this year's Hideout Festival in Croatia. You can also find some recommendations if you are planning to attend the next editions of the festival at the bottom of this article, because we learned a lot at Hideout 2022, we made a few mistakes in planning our trip, especially concerning where Hideout Festival is exactly located in Croatia, how to get there and the best area to stay. So we wanted to share what we learned to help others plan their trip in the future.
Highlights of Hideout Festival 2022 in Croatia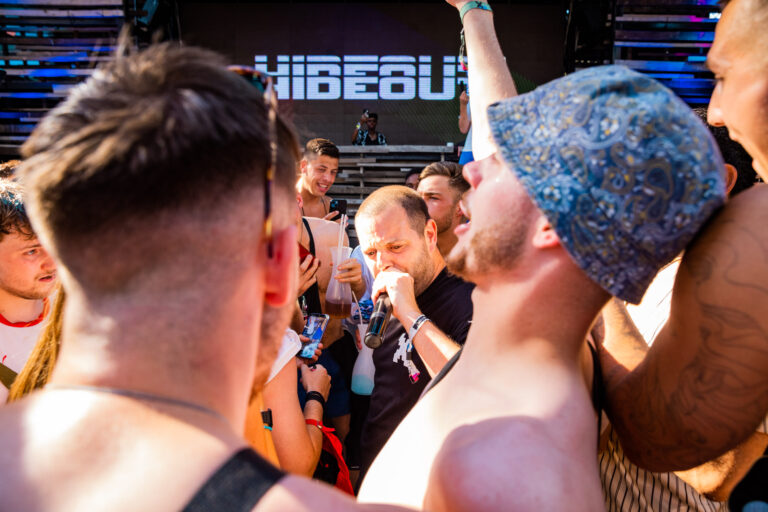 Mike Skinner (aka The Streets)
I've been a fan of The Streets ever since the first time I heard "Blinded By The Lights", I immediately fell in love with his style and sound. So seeing Mike live was a bit of a dream come true for me. His DJ set was all over the place, Hip Hop/Grime, UK Bassline, House, Drum & Bass, and everything in between, including some comedy on the mic. For his last song, he jumped in the crowd to sing it live, the crowd went absolutely nuts and it was truly a memorable moment. Watch some of the highlights of Mike Skinner (The Streets) live @ Hideout Festival 2022 on YouTube below!
Skream b2b Ewan McVicar
Although Ewan McVicar was supposed to play before Skream at Noa Beach Club, both DJs ended up doing a B2B set for approximately 4 hours, they kept going even after the club was supposed to close. Their set was a true masterclass in DJing. They started off on an Indie Dance/Nu Disco note, since they were following Horse Meat Disco, and slowly evolved their set from funky to heavier flavors of House music. You can watch the first hour of Skream B2B Ewan McVicar live @ Hideout Festival 2022 on YouTube right below!
Hybrid Minds
It is no surprise that Hybrid Minds delivered a legendary liquid Drum & Bass set. High-energy, emotional and uplifting, he delivered anthem after anthem and the crowd just couldn't get enough. Big singalongs and a tangible feel-good vibe from start to finish really made HM's set one for the books! Watch some highlights from Hybrid Minds live @ Hideout Festival 2022 on YouTube below!
Folamour
French Disco & House DJ phenomenon and founder of the label FHUO, Folamour really brought funky feel-good vibes to the festival. The perfect sound for afternoon by the beach vibes under the sun, Folamour absolutely set Euphoria Beach club on fire! His unique blend of Disco, House, Funk and Indie Dance put a huge smile on everybody's face. Although Indie Dance/Nu Disco is not usually my cup of tea, I have to admit that, even for me, his performance was legendary! Watch some highlights from Folamour live @ Hideout Festival 2022 on YouTube below!
Sam Divine
Defected Records' own Sam Divine started her set with an almost empty Noa Beach Club, however, it didn't take long before the place filled up. She brought her extra groovy House music sound and the crowd loved it. Her energy was infectious and you could feel it everywhere around. She truly showed us why she is a really in-demand DJ on the House music scene. Watch some of the highlights from Sam Divine live @ Hideout Festival 2022 on YouTube below!
Camelphat (Boat Party)
Last but not least, although they didn't play for very long, the Camelphat boat party was a memorable experience. As you can see on the video below, the boat party was packed to a probably unsafe level. Their set started off deep and groovy, without playing any of their top hits, but they ended the last 30 minutes with one anthem after another. Watch some highlights from the Camelphat Sunset Boat Party @ Hideout Festival 2022 on YouTube below!
Hideout Festival in Croatia – Everything You Need To Know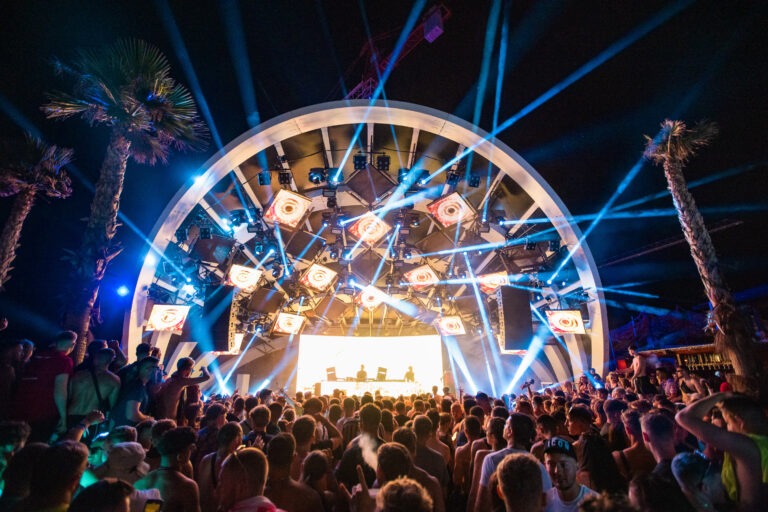 Where to stay / Transport / Shuttle service
• So, where is Hideout Festival exactly located in Croatia and how to get there? The closest town is Novalja (pronounced No-val-ya) and the festival is held at ZRCE beach. The shuttle service was available between the two locations, which is extremely convenient, especially since the taxis and Bolt (the Uber of Croatia) were very very expensive during the festival (approximately 5x the price of a ride anywhere else in Croatia). The shuttle ran every 15 minutes between the festival and Novalja, and until very late. The shuttle doesn't go anywhere else on the island, so it is imperative to stay there. We made the mistake of staying in Kolan (about 3-4 KM south of the festival) instead of Novalja, so we couldn't take advantage of the shuttle service… big mistake! The taxis/Bolt were between 120 and 200 Kuna (16-27$) for a 5 minute ride, which is very expensive, even by North American standards, so we decided to rent bicycles for the week, at 9€ per day, from Mbikes in Mandre. The bike rides were fun but pretty tough (especially to come back from the festival), since Pag island is all hills. If you plan on attending the festival next year, make sure to book your accommodation early, and somewhere in Novalja, nowhere else on the island, otherwise you won't be able to take advantage of the shuttle, and you will be stuck paying a lot of money on taxi rides.
Bars
• Every beach club had multiple bars, the wait times were very reasonable, however, most of them only took cash. In a time where most festivals (and the world) are going cashless, it felt a bit like a hassle to be forced to always carry a lot of cash around. Especially since all the ATMs around ZRCE beach have steep transaction fees. A few bars took credit cards but only if you bought over 200 Kuna (27$). Local beers were 45 Kuna (6$) and imported beers [Heineken, Beck's, etc.] 55 Kuna (7.30$) at most bars. Not the most expensive nor the cheapest we've seen at festivals. You could also buy beers and alcohol at the various small convenience stores on ZRCE beach for a slightly cheaper price, but, you obviously couldn't take those in the beach clubs.
Beach Clubs / Stages
• All the 5 beach clubs have great sound systems, the wait times to enter were also very reasonable. Although the beach clubs are close to one another, the sound clashes were very minimal.
The Music
• House and Tech House music dominated the festival overall, however, there was almost always other flavors offered somewhere else around ZRCE beach. From Bassline, Drum & Bass, Techno, Indie Dance/Nu Disco and even some Trap and Hip Hop, it was easy to find something for everyone. Great diversity, outstanding bookings, and approximately 12 hours of music every day, with a short break between 21h and 23h, something we've never seen at a festival before.
Bathrooms
• There were plenty of "real" toilets and chemical toilets around the beach clubs and they were generally clean which, let's be honest, is not always the case at music festivals. The wait time were also reasonable most of the time, but considering how they pack the clubs with no limit (people were almost stacked on top of each other at Papaya during Jamie Jones and Alan Fitzpatrick's set, even in the VIP), it could become a hassle at peak times. In some beach clubs (notably Noa), you had to pay to go to the bathroom, which was a first for us at any festival, considering the price you pay for a festival ticket, the toilets should definitely be free.
Logistics
• ZRCE beach is very well organized. All the beach clubs are close enough to each other, only a few minutes walking distance. You also have the beach right in the middle, perfect spot to chill between sets and refill the batteries before hitting the next beach club. A very interesting fact about the festival was also that it completely stopped between 21h and 23h most days, none of the festival DJs were playing during that time. Some kind of forced break for festival-goers to go eat and relax before attacking the evening/night part of the festival (23h to 5h).
Security
• Don't mess with security at ZRCE beach, I personally didn't have any issues with the security, but I saw a security guy pull his "police baton" at someone just because of a minor argument, I also saw a guy who got literally beat up by security guards because he peed on a tree nearby one of the beach clubs. Stay friendly and respectful, don't get in trouble over there!
Food kiosks
• On ZRCE beach, between the beach clubs, there are multiple little food stands and convenience stores available. You can buy alcohol, food, cigarettes, and pretty much anything a convenience store sells. It is very practical so you don't actually have to leave ZRCE beach if you need anything.
The Crowd
• I would say that approximately 90% of the people at the festivals were from the UK. The crowd was also very young, probably the youngest crowd I've seen at any festival around the globe, and I've been to EDC Las Vegas. Although the crowd felt more like a young "nightclub" crowd than a festival/rave crowd, the vibe was always electric.
Recommendations before going to Hideout Festival in Croatia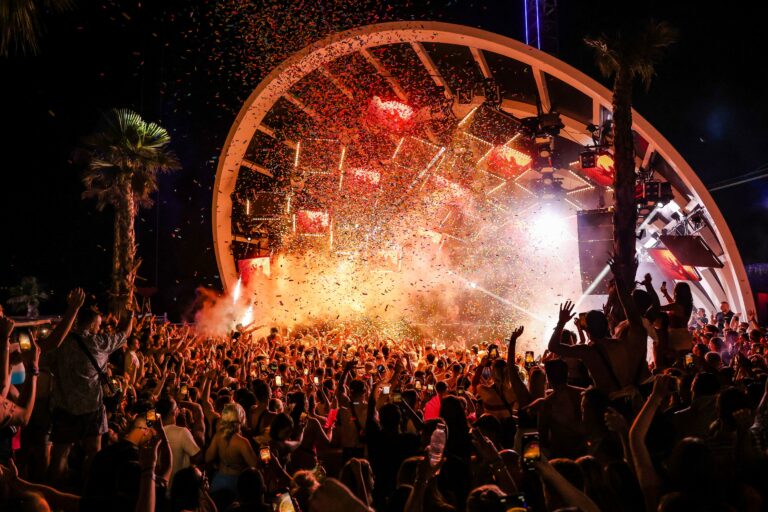 Considering where Hideout Festival in Croatia is located, make sure to book your accommodation in Novalja, not in Kolan, not in Mandre, Novalja, nowhere else. And book it very early, because Airbnbs and hotels are very limited in that area.
Fly to Zadar airport, all the other airports are rather far. The Split airport is approximately 4 hours away by bus/car.
Book your bus ticket from Zadar to Novalja with Flixbus. Cheap and convenient.
Buy the shuttle pass, the taxis are very expensive.
Always carry cash on you, withdraw money at a bank in town before hitting ZRCE beach, you will save a lot of money on ATM fees.
Buy and carry sunscreen with you at all times. The sun is strong at the beach!
Buy the festival app, the festival sadly don't post time slots anywhere, and they don't give the app for free, so if you want to know who plays, where and when, it will help to purchase the official festival app.
Don't mess with the security over there, a lot of them have 0 patience and won't hesitate to get physical with you.
As usual, stay hydrated, if you do drugs, test them before taking them, and most importantly, have fun!
Final words
Overall, Hideout festival in Croatia is a quality festival like no other. The line-up was outstanding, you can see that the people in charge of booking artists know what they are doing, they know their electronic music. The diversity and quality of the music, the location, the weather, the sound systems, the visuals, everything was very satisfying.
We hope that the information in our Hideout Festival in Croatia – Everything You Need To Know reviews post will help you plan your trip to the next edition! Make sure to follow Hideout Festival below to stay up to date!
Hideout Festival!