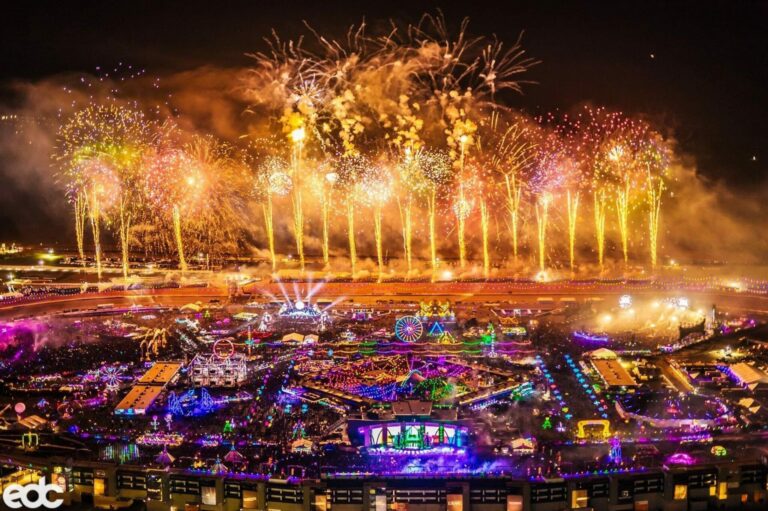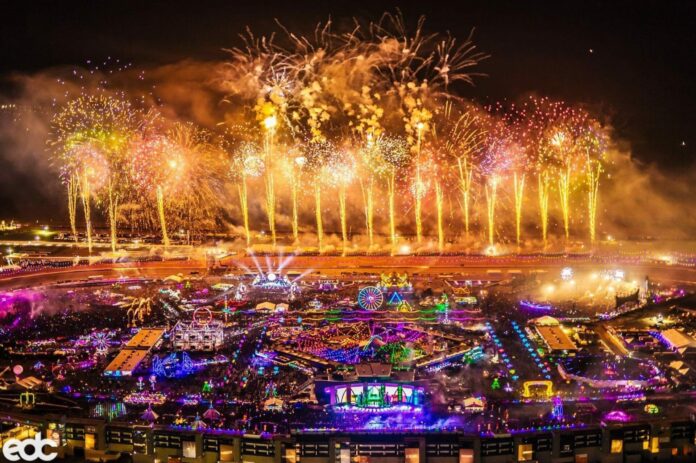 The EDC Las Vegas 2022 Compilation is out, and it's all about lighting up the dancefloors with extreme amounts of bass and summertime energy! The new EDC Festival album features the EDM essentials from Russia to Mexico, yet the geographical differences get annihilated by the artists' common goal to bring the irresistible party energy into the every corner of the world.
Last year, the Russian House Duo Volac managed to impress with two adrenaline-infused tracks; Candy Shop and Naughty Water. On the EDC Las Vegas 2022 Compilation, the energy from those singles is a bit tamed, which makes it a great introduction to the album. But if you're familiar with their previous works, it becomes obvious that even a tamed Volac track is still a Volac track. To The Beat tears apart the speakers from its first seconds and sets the mood for the rest of the compilation with its heavy and steady drum section, supported by the very physical, boisterous bass and the playful vocal refrain.
4B & Chuwe elevate the energy further with Turn Up. The extravagant sound of the US-producer, who showed his versatility on Going Nowhere with Trippie Redd and Hyperpop-inspired There 4 You, maintains the ability to impress with the Bass-avalanche that Turn Up is. Everything on 4B's new EDC Festival anthem is interpreted through the Bass and serves to the Bass. As it "rolls" over the drums, Hip-Hop-inspired chants and vocal samples, one may even get disoriented by the unleashed mass. But soon as you get used to it, Turn Up becomes one of the catchier highlights of the EDC Las Vegas new EDM essentials compilation.
Although, the catchiness is a relative term when it comes to the album, since each track has something to offer when it comes to this, and it's really a matter of genre-preference of each listener. For example, Jessica Audiffred & Point.Blank – Riding (ft Martay M'Kenzy) is a mixture of EDM, Pop and Dubstep and any comparison with the previously mentioned 2 tracks becomes a waste of time if you keep this in mind. That's the kind of sound the Mexican producer really knows how to work with. Last years' anthemic The King Is Dead is a great example of that. The musical ride she offers becomes especially memorable and uplifting when it's combined with the gorgeous and wide vocal range of Martay M'Kenzy and the riddims of Belgium-based artist Point.Blank.
When it comes to some kind of bridge or interlude that connects most of the pieces on the EDC Las Vegas 2022 Compilation genre and mood-wise, Chapter & Verse – Sideline is a universal track that can handle this job, while bringing in some fresh grooves to it. With a moderately slower tempo and synth-centered sound, it creates the much-needed space on EDC's EDM essentials. Still bearing some soulful elements similar to Riding, it sounds darker and more nocturnal than any other track on the album. Although, by no means Sideline is a laid-back tune. As it's been mentioned, terms like "catchiness" or "calmness" are very relative when it comes to describing the collection of bangers on the new EDC Festival album.
Last, but not least, JSTJR's Gimme That is the track that can compete with Turn Up in terms of its wildness and chaotic energy. If anyone managed to survive the "dance fever" of the EDC Las Vegas 2022 Compilation so far, Gimme That is a track that makes one abandon all hope from its first seconds. JSTJR takes a whole range of inspirations from different uptempo Electronic genres from Grime to Hard Bass and concentrates them into a destructive two and a half minute track that feels like it's constantly threatening to explode the speakers.
These five Insomniac Records' new EDM essentials merely give a peek into the musical kaleidoscope that's going to unfold during EDC Las Vegas 2022 next week. However, it's enough to get an idea of how diverse, energetic and memorable the festival is going to be.
Stream Volac – To The Beat on Spotify below!
Stream 4B & Chuwe – Turn Up on Spotify below!
Stream Jessica Audiffred & Point.blank – Riding (ft Martay M'Kenzy) on Spotify below!
Stream Chapter & Verse – Sideline on Spotify below!
Stream JSTJR – Gimme That on Spotify below!
Stream the EDC Las Vegas 2022 compilation on Spotify below!
Looking for more EDC music?