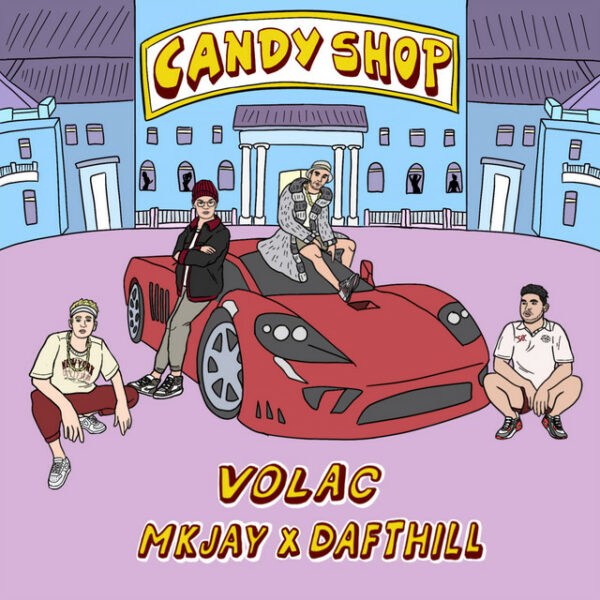 It's time for some new Volac music and we're excited about this one! Custom built for the big stage, Volac, MKJAY, Daft Hill – Candy Shop is the 2021 reboot you didn't know you needed. This peak hour, sub rumblin' monster is nothing shy of an absolute banger. Boasting no shortage of massive synth stabs and thunderous wobbles, Mix Feed has really struck gold with this Candy Shop Bass House remix that's sure to be on regular rotation all summer long.
Jumping right in where they left off with their "Deep House in California" release, the boys hop right into the fray by giving us that classic 50 Cent vocal that we knew the track would be centered around. Surprisingly, they do so in a fresh and rave-y sort of way that actually leaves you wanting more. Already getting massive support around the globe from the likes of Oliver Heldens, Tiesto, R3HAB and countless others, this new Volac music 2021 has all the trappings of a main stage anthem, with the momentum of a freight train and the rumble to match. Surely to delight any fans of huge bass and nasty, sloppy drum lines, this remix will hit a chord with Bassline & Garage heads, fidget fans and Bass House geeks alike.
Already riding high on collaborations with massive artists like Dr. Fresch, Destructo, Vanilla Ace and many others, Volac is as hot as hot could be right now. Adding Candy Shop to that tracklist, with it's heart pounding kicks and chest rattling bass lines, is only adding fuel to the fire. 2021 certainly appears bright, bold and bangin' for this savage Russian duo. New Volac music 2021 has been thrilling and we can't wait for more!
Stream 'Volac, MKJAY, Daft Hill – Candy Shop' on SoundCloud below!
Streaming Options:
Volac, MKJAY, Daft Hill – Candy Shop Apple Music
Volac, MKJAY, Daft Hill – Candy Shop Spotify
Volac, MKJAY, Daft Hill – Candy Shop SoundCloud
Volac, MKJAY, Daft Hill – Candy Shop FREE DOWNLOAD
Volac, MKJAY, Daft Hill – Candy Shop Download
More Streaming Options HERE.
---
More About Volac:
VOLAC is a Russian electronic duo. Volac shows their unique style in cartoon comics, which present each podcast called 'VOLACAST'. Heroes of the comics are very similar to the guys in real life – they have the same style, habits, characters and love to have fun. Each Volacast includes a guest mix from Volac's friends. The duo's sound combines elements of deep house, bass house and g-house, producing music with deep powerful bass-lines and energetic grooves loved by clubbers. One of their main bangers 'Drug Dealer' was released by CUFF and has been rocking since release. Since 2014 Volac is part of the Mix Feed family and their label. Volac's collaboration with Sharam Jey 'Get Tipsy' got to the TOP10 of Beatport. In 2015 the Volac guys started working with AC Slater's Night Bass imprint, having released 2 EPs with them thus far. VOLAC kick-started 2017 in fashion with their 'Do Ya Thing' EP and their remix of Riton's "Rince & Repeat," which has already accumulated more than 500K streams on Soundcloud in a month. After that the Russian boys have joined forces with LA-based DJ/producer DESTRUCTO to create an irresistible G-house infused anthem "What I Got" which got more than 1 millions streams on Soundcloud. Volac has collaborations with Sharam Jey, Illusionize, Bruno Furlan, Vanilla Ace and others. "Volac, MKJAY, Daft Hill – Candy Shop" Bass House remix is sure to be the next step in what appears to be a meteoric rise of these young stars in 2021. Well done Mix Feed, well done.
---
Looking for more tracks like "Volac, MKJAY, Daft Hill – Candy Shop"?