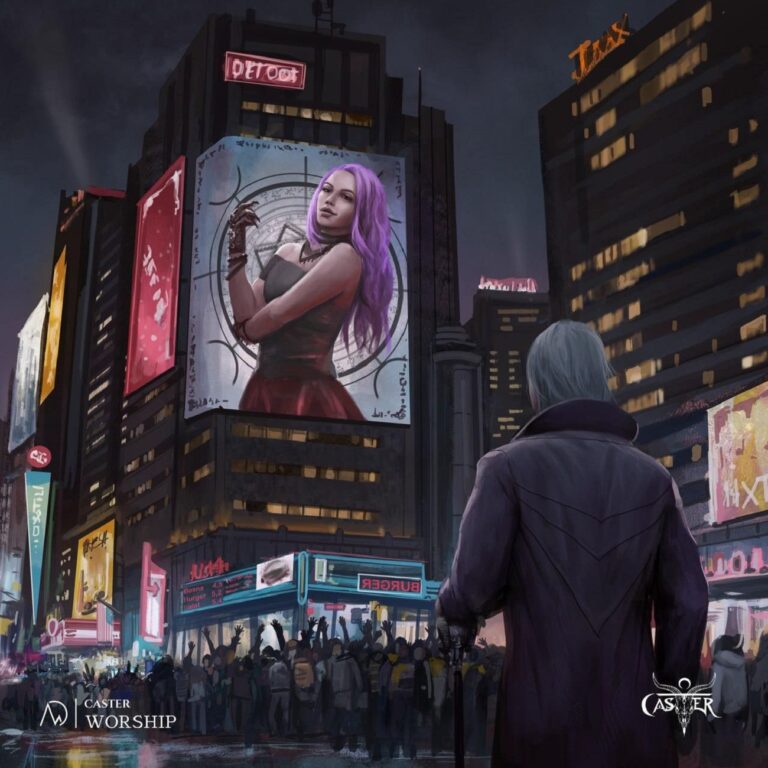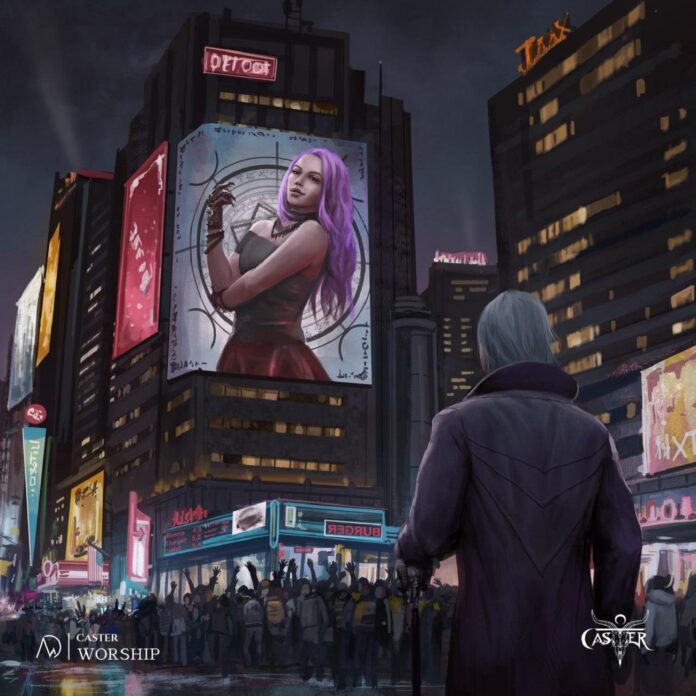 Bass music and Psytrance music fans are in for a treat as New Dawn Collective has released new CASTER music 2021 called, 'WORSHIP.' This Psytrance Dubstep hybrid track is set in a dark and dystopian realm. To say that this song hits hard would be an understatement. We were actually quite stunned the first time we listened to this fiery banger. The sheer intensity of this tune immediately reminded us of 'GATHERING COVEN' and 'HUNTING SEASON' both of which are equally as infectious as his latest offering. CASTER – WORSHIP morphs into ecstasy-filled elements with an intoxicating exuberance. We're completely enamored by this divergent cinematic electronic music.
Dominated by the recurring vocal samples, CASTER – WORSHIP is an energetic party track that will leave the crowds on an intense high. This cinematic electronic music is flourished with evolving eeriness and propulsive percussion that are downright spellbinding. The song is led by powerful synths and a full-on bassline, creating a killer ambiance that will send you in a trance. The rhythmic effervescence of this new CASTER music 2021 will send chills down your spine. The track becomes even more enticing thanks to the clandestine vocal effects and whispering lyrics. This Psytrance Dubstep hybrid also arrives just in time for the return of music festivals!
This new CASTER music 2021 exudes a raw strength as the tune follows through the explosive drops that will surely take many by surprise. 'WORSHIP' is a perfect blend cinematic electronic music and festival music with a memorable sinful aura. While we have become acquainted with mesmerizing theatrical releases from CASTER, this magnanimous Psytrance Dubstep hybrid cut will conjure fleshy and kaleidoscopic imagery in your head. This tune has an organic ferocity to it that shows he indeed is the master of his craft. CASTER – WORSHIP is a high-octane cautionary tale and we can't wait for him to drop more of such epic tunes.   
Stream 'CASTER – WORSHIP' on YouTube below!
Streaming Options:
CASTER – WORSHIP Apple Music
CASTER – WORSHIP Spotify
CASTER – WORSHIP SoundCloud
CASTER – WORSHIP FREE DOWNLOAD
CASTER – WORSHIP Download
More Streaming Options HERE.
---
More About CASTER:
Little is known about this mysterious spellcaster. Since his launch in October of 2019, he has quickly made his mark on the dark corners of the electronic music world. With a versatile sound ranging from melodic bass, mid tempo, dubstep, psytrance, and even witch trap, it is a challenge to discover his true identity. When asked why the secrecy he simply responded "my identity is irrelevant right now. For this project and this vision to come to life, my art must first speak for itself" His words held true as he landed a release with one of the most respected label's in electronic music, Ophelia. The label owned by Seven Lions helped make clear the raw talent behind Caster story telling vision. While his collaboration with Swarm proved just how intense his music can be.
Who knows what the future will hold for Caster. But one thing certain is that there is nowhere to hide from what is to come. And with the release of CASTER – WORSHIP, he is looking to be unstoppable.
---
Looking for more tracks like "CASTER – WORSHIP"?