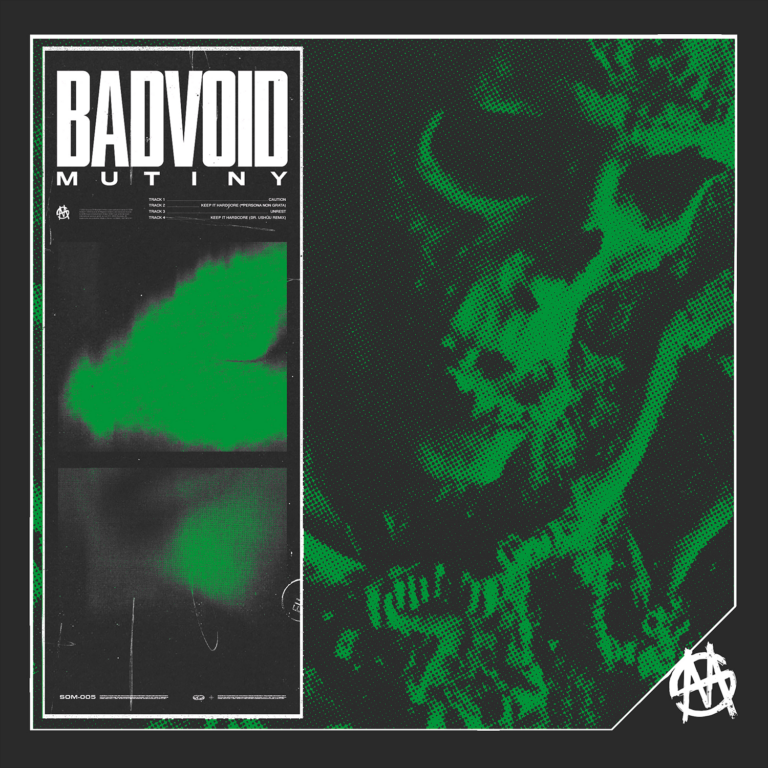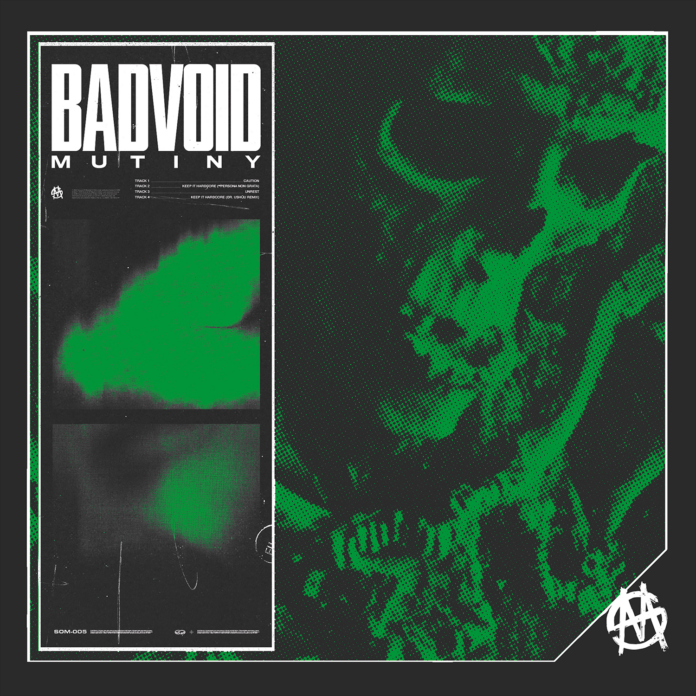 Aged just 22, Newcastle-born BADVOID describes himself as an artist who is "breaking boundaries" and "bringing a unique flavor to Drum and Bass". He's certainly keeping to this manifesto on his latest EP MUTINY, which closes with two particularly notable tracks. The first is a BADVOID solo track called UNREST, and the second is the Dr. Ushūu Metal Dubstep remix of a track called KEEP IT HARDCORE.
The first of these two tracks, UNREST, looks to the darker side of BADVOID's Drum and Bass roots for its appeal, featuring an ominous and atmospheric build-up with inklings of underlying electronic melodies to draw listeners in. This track's key feature, however, is its positively filthy drops, which use some seriously heavy distortion, chainsaw rhythms, and stabs of bass and percussion to bring UNREST to an intense conclusion.
Then there's the Metal Dubstep remix of KEEP IT HARDCORE by Dr. Ushūu, the Lisbon-born, Paris-based producer and DJ formerly known as D.C.R. BADVOID's original version of the track can also be heard on his MUTINY EP, and is based around gritty Drum and Bass drops and sampled shouts of 'come on!' to keep the energy high. Dr. Ushūu's remix, on the other hand, harnesses this energy and propels it in a different direction, slowing the track down but simultaneously increasing its intensity using extended vocal samples steeped in distortion. There's even a section towards the end where Dr. Ushūu takes a chance and slows the track right down, stripping it back to its rawest state for a few moments and creating a crazy feeling of heightened chaos in the process.
After reading this we hope you'll have been persuaded to take a listen to BADVOID's MUTINY EP, which as mentioned features both UNREST & KEEP IT HARDCORE (Dr. Ushuu Remix), as well as the original version of KEEP IT HARDCORE and another brilliant track called CAUTION. And if you still want to hear more from these two artists, why not check out some of their other material that we've covered on the blog in the past, including BADVOID's collaborative single POISON, his remix of WE ARE FURY's Remember and his previous EP ENTER THE VOID, as well as Dr. Ushūu's collaboration with Bizo titled Bondyvoid.
Stream BADVOID – UNREST on Spotify below!
Stream BADVOID – KEEP IT HARDCORE (Dr. Ushuu Remix) on Spotify below!
Looking for more music like UNREST and KEEP IT HARDCORE?