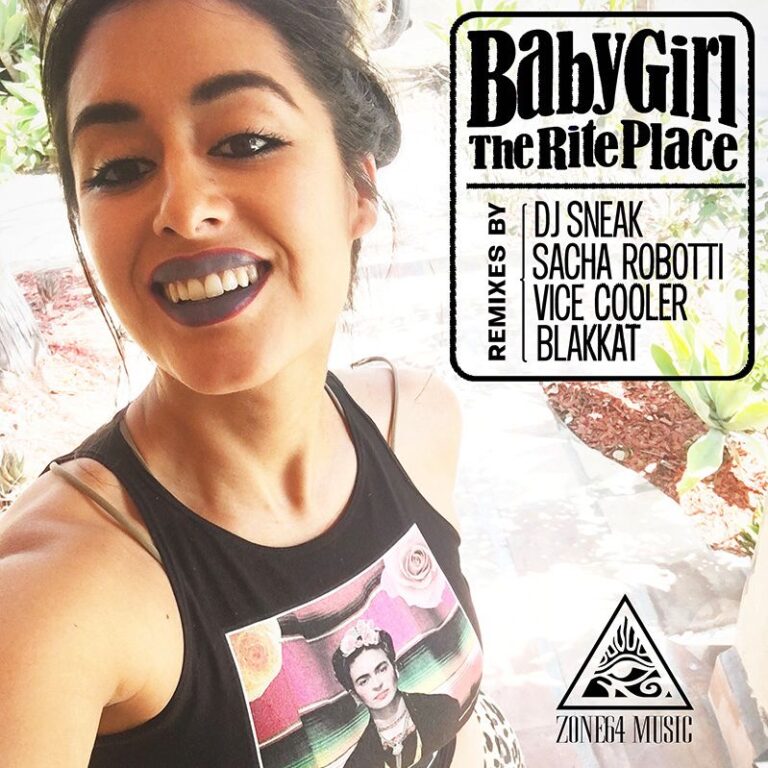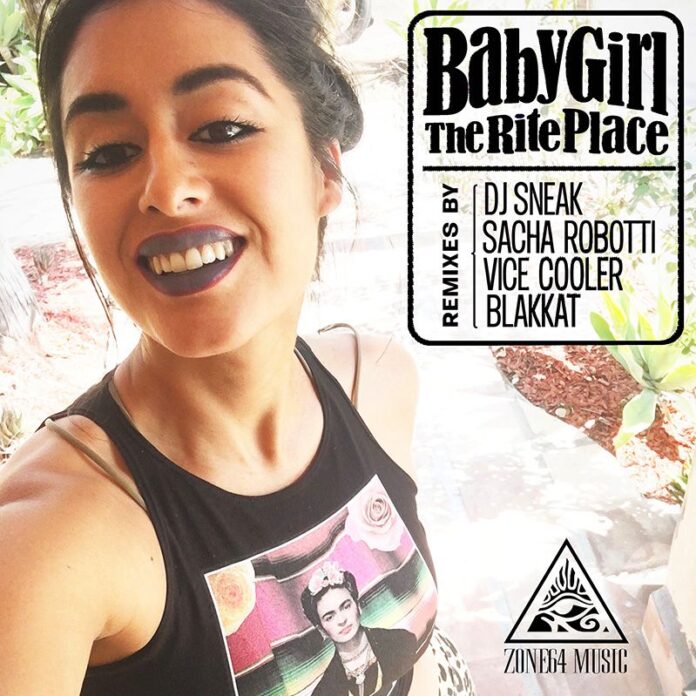 BabyGirl might be young, but 'The Rite Place', her newest track, the Indie Dance/Nu Disco-tinged groover speaks of sophistication and high quality. But the Sacha Robotti remix that comes along is also a heater! When you look at the fact that this Los Angeles artist is at the same time a singer, songwriter, DJ, producer, and founder of the music label Zone64, you quickly realize why it is so. It is a snappy, sparsely produced dance floor filler with BabyGirl's silky, multi-tracked vocals, excellent guitar work, and understated keyboards that drive the song quickly through its moves. Some big sophisticated Eighties disco acts like Kid Creole & The Coconuts would be proud of this one. In the end, the only thing you are bound to do is press that 'repeat' button.
BabyGirl's 'The Rite Place' is so good that it deserves all four remixes it received from DJ Sneak, Sacha Robotti, Vice Cooler, and Blakkat. Sacha Robotti, who we featured not only once but twice this year, shows all his remixing skills. He takes the track Tech House way with floor shuttering thump and electronic handclaps, with BabyGirl giving softly-spoken direction before her vocals start playing with that thump, your downstairs neighbors might not exactly be fond of too much. But your dancing instinct certainly will.
It is really hard to say, which version of BabyGirl's 'The Rite Place' deserves more play, the original Indie Dance/Nu Disco mix, or Sacha Robotti's Tech House remix. Maybe the best solution is to alternate them one right after the other. Still, there is no chance you will get bored at any point. Hopefully, more from both of these artists are on the way.
Stream BabyGirl – The Rite Place (Original Mix) below!
Stream BabyGirl – The Rite Place (Sacha Robotti) below!
Streaming Options:
---
More About BabyGirl:
Based in Los Angeles, Babygirl is a quickly-rising multicultural and multi-talented singer, songwriter, DJ, producer, and founder of music label Zone64. BabyGirl knew from an early age that she wanted to be a singer and musician. Completely self-taught, BabyGirl spent her formative years teaching herself piano, guitar, and voice. At age 19, she started collecting vinyl from a friend's reggae shop and quickly became associated with the bands and DJs that played there. She soon found herself dropping freestyle verses over the DJ's reggae and dub beats as well as experimenting with the turntables herself, jump starting her career as a DJ. Teaching herself Ableton, Logic, and Serato, BabyGirl was soon DJing all over.. Stylistically, she is flexible enough to pair with a variety of genres and styles, ranging from house and hip-hop to dubstep. As a DJ, her sound covers house and techno with touches of tasteful bass music.
To date, BabyGirl has recorded with Mark "Blakkat" Bell, DJ Larse, [a]pendics shuffle, and Lucas Frota. She has done feature work on several Blakkat releases including "The Light," "Kingmaker," and "Forces of Nature," as well as on DJ Sneak's remix of "Do the Damn Thang" by Snoop Dogg, Nipsey Hussle, and George Clinton. Her single "Get Ya Boy" is available on Beatport with remixes by Blakkat and Larse. Surrounded by talented musicians including Blakkat who functions as a mentor, and possessing innate talent, voracious curiosity, and a fearless DIY ethos, BabyGirl is a dynamic and multi-talented artist on the rise.