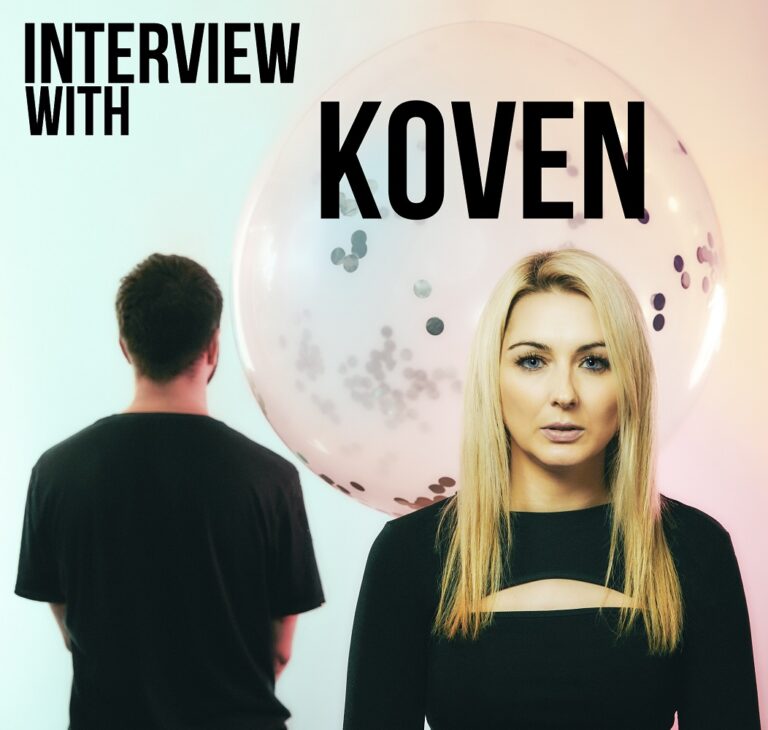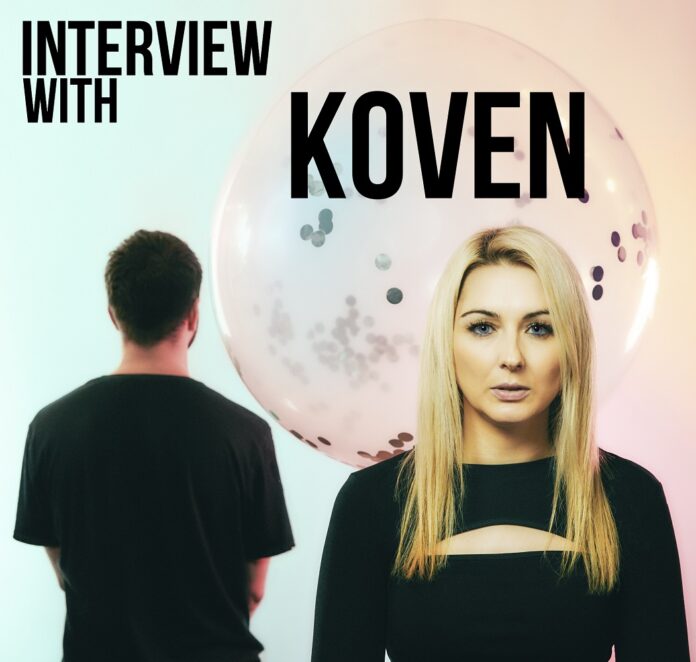 I cannot express how excited we are here at the EKM headquarters to have the opportunity to have a chat with Katie and Max, aka the legends behind the duo Koven. To put it simple, they have been blowing our minds with every single release they've made, period. Never once did we feel disappointed by their music, and we cannot say that from many artists out there. Being a DnB fan for the longest time myself, having the opportunity to talk with them and being able to ask them anything, was like a dream come true. Without further ado, enjoy our interview with the amazing duo, Koven!
---
How did it all start for you? Tell us how Koven was formed and started making music.
We were both making music separately for some time before we started working together, I (Katie) was actually a massive fan of Max and everything he was doing with Koven before he asked me to join. A few online exchanges of mutual appreciation and a chance bumping into each other on the dancefloor of various events, is basically what started it all.
---
Who is the biggest inspiration to Koven's sound?
That's such a tough question because we are inspired by so many people from all different genres. We love the sounds of Jon Hopkins, Coldplay, Odesza, not that we make music in the same style at all but they have definitely influenced us.
---
What is the first DnB song you've ever heard? And the one that made you fall in love with the genre?
Katie: Oh that's a tough one! Well The Prodigy, although they aren't technically drum and Bass, got me into that heavy dance sound without a doubt, when I was very young. First dnb song I remember really falling in love with was the High Contrast remix of a Tiesto song called Kaleidoscope.
Max: Like Katie, The Prodigy were my first taste of that kind of sound while growing up thanks to my parents. That then led me to dig deeper into that sound, and from what I remember, the song that sticks out in my mind is DJ Hazard – Machete.
---
What do you personally consider to be the incisive moment in your artistic careers?
I think playing Rampage 2019, as part of the Monstercat showcase was pinnacle for Koven, and everything that's happened from the back of that event has led to something, that's then led to something bigger and there was a real snowball effect from it.
---
What single night out has been the most memorable for you? Did you have a "this night changed my life" kinda deal that made you absolutely want to be a part of the electronic dance music scene?
Katie: I honestly couldn't pin point it, I always wanted to be a singer and a songwriter and it was only when I turned 18 and started going to big festivals and club nights that I discovered an entire world and a new potential for writing music.
Max: From a very early age my dream was to just be involved in music, whatever area that may be. So I can't think of a night that specifically made me want to be a part of the electronic dance scene, it just happened out of purely being in love with the sound and nightlife.
---
Tell us more about your virtual reality club 'Koven – Another Home'. We are very intrigued! How did this project start and how did Koven get involved with Sansar? [We are super excited for Nov. 4, we already have our ticket!]
Well it was something we started thinking about right at the start of lockdown as an alternative to the other live streams everyone was doing. We wanted to create a way to enjoy a show from your home but also be somewhat involved. In all honesty we have a manager who is super techy and loves all this kind of thing and he created the relationship with Sansar.
---
"Koven – Buttlefly Effect" is a fantastic album, from start to finish, truly an outstanding mingle of DnB, Dubstep and Future Bass. Tell us a bit about the creative process behind building the album's structure and flow.
Wow, thank you so much, we really appreciate your kind words. When we started the album writing process, we were so fearful it was going to take forever and we would never finish but once we got started we somehow were on a bit of a roll with its tracks. The first finished track we had was 'Speaking through Smoke Detectors' which is a bit of the oddball on the album, so we had no idea where to go after that. I think not having a plan was the best plan, we just got creative and made whatever we wanted and what felt write.
---
How do you think growing up in the UK had an influence on your sound?
I think living in the UK, especially close to London, we are very lucky as there is always something on your door step and you can get any genre live that you want. So I think the greatest influence has been having access to everything, every genre, every kind of live event and I think you can hear that in our music by the fact that we switch genres constantly.
---
Where do you think the DnB music scene is headed? Five, ten years from now?
We just think it's constantly growing, I guess every genre has its lows and highs but dnb is very strong and will only continue to get stronger. Once you discover it you realize its more than just a genre, its an entire community, people meet some of their best, lifelong friends from it, and once you're a part of it you don't want to leave.
---
If you could eternally be stuck in one year's music scene (only one!), which year would it be?
Katie: 2009 is where my heart is, discovering so much music, all different genres, going to festivals with all my friends and creating moments to all the tracks that even if I hear today still give me butterflies.
Max: 1997. When Radiohead released 'OK Computer'. I was only 5 at the time, so would love to experience the release at my current age.
---
What is one track that never gets old for you no matter how many times you listen to it?
Katie: Can I pick an album instead, Sub Focus first self titled album, oh and also Nero – Welcome Reality. I still revisit them often.
Max: Aphex Twin – Stone In Focus. Used to listen to it on repeat every night while trying to sleep. Every time I hear it, I notice something which I hadn't heard before
---
Do you have a dream collaboration? (Dead or Alive)
We actually, recently discussed a possible collaboration with our dream collab so we won't say who it is yet… just watch this space.
---
You collaborated with a lot of other amazing producers, any of them you particularly enjoyed working with and really felt a great chemistry?
We love working with Muzz, he's insanely talented, knows what he wants and is very direct. Working with Hybrid Minds is always lovely as well because they are great guys and we've always just got along really well with them, so that's just good fun.
---
You remixed so many outstanding artists, tell us more about your process of selecting songs that you want to put your spin on? (and also how you select artists to remix your songs)
Well with the tracks we remix, we don't necessarily pick those, we get asked and obviously we are within our rights to say no but we haven't yet because they've all been great to remix. Steve Aoki actually sent us a DM on twitter asking for a remix, which blew our minds! In regards to people remixing our tracks we just ask people whose music we really respect and love.
---
Favorite venue to perform?
Katie: Electric Brixton, London
Max: Electric Brixton also
---
What is your favorite destination to just enjoy and relax? (No concerts, no music, no business, just chill)
Katie: I went to Hawaii for my honeymoon and it was incredible but very expensive so just waiting for an excuse to go again!
Max: This was many years ago, but I went to the South of Portugal with a load of friends in which we just stayed at the villa by the pool for the whole holiday.
---
What genres of music does Koven usually listen to? Are you strictly Melodic Bass music? Give us a few tracks that you've been hooked on lately.
Katie: Oh no absolutely not strictly bass, I listen to pretty much everything. I love Indie, chilled house, trance, classical, anything really.
Max: To be honest I rarely listen to bass music in my spare time. At the moment I'm listening to Jónsi''s new album 'Shiver'
---
What genres of music did Koven listen to growing up?
Katie: My mum is also a singer, but she does a lot of tributes stuff so I was often forced to listen to whatever new music she was learning, so lots of Cher, Shanina Twain, Belina Carlisle, Shakespere Sister. Not necessarily what I would have chosen.
Max: My parents luckily had good tastes in music. So we would listen to bands like 'Crowded House', 'XTC', 'Radiohead' and 'The Prodigy'.
---
What was a day like in the life of Koven during the lockdown?
We went fully back in on the writing. It was weird because we had just released a 2/3 year body of work, but we weren't able to tour it so we went straight back to writing again which felt strange. We live about an hour apart so we are always sending ideas back and forth.
---
We are extremely excited for the deluxe version of "Buttlefly Effect" on Monstercat! What can you tell us about about what this version will feature?
So, there will be a few new original tracks and a handful of excellent remixes. We didn't want to remix every track, with some remix albums you can overkill it a little I think if you remix every track, so we've hand picked what we want to have a new twist on, and approached producers we love!
---
What are your other plans and things you want to focus on in 2021?
Just playing shows! Same as every other DJ/ producer I guess, and hopefully we get to do our Butterfly Effect tour. All we can do is hope!
---
From dimRodionov:
Do you often listen to other people's music and how do you discover new artists?
Oh yeah we spend hours every week dedicated to listening to other people's music, usually through promo emails we get sent, it's very important to keep up with what everyone else is doing so we can keep our DJ sets fresh and just good to know what's happening. I also discover lots of new music through artist playlists on Spotify.
---
From Johniestabo:
How did you guys meet?
We actually spoke online for sometime before ever meeting, I guess just from both working in the same genre of music, and then when we actually did meet for the first time it was an accidental meeting on the dance floor at a Dubstep night.
---
From endingitonahighnote:
Is it difficult to break the pattern and try new styles like your more orchestral or slower tunes? Have you ever struggled with forcing an idea be a DnB or a Dubstep instead of it being something new, even if it may not fit a label or might offset listeners?
I think we are very lucky because it's actually easier to be able to change sound / direction/ genres, so you're not restricted. Whereas some artists don't have that freedom, we can start creating a track without worrying whether it's going to fit into a particular box and that's such a blessing.
---
A huge thank you to Koven for taking the time to answer all our questions! It was truly an honor. If you haven't already, make sure to check out their latest album "Butterfly Effect" and stay tuned for the release of the deluxe version!