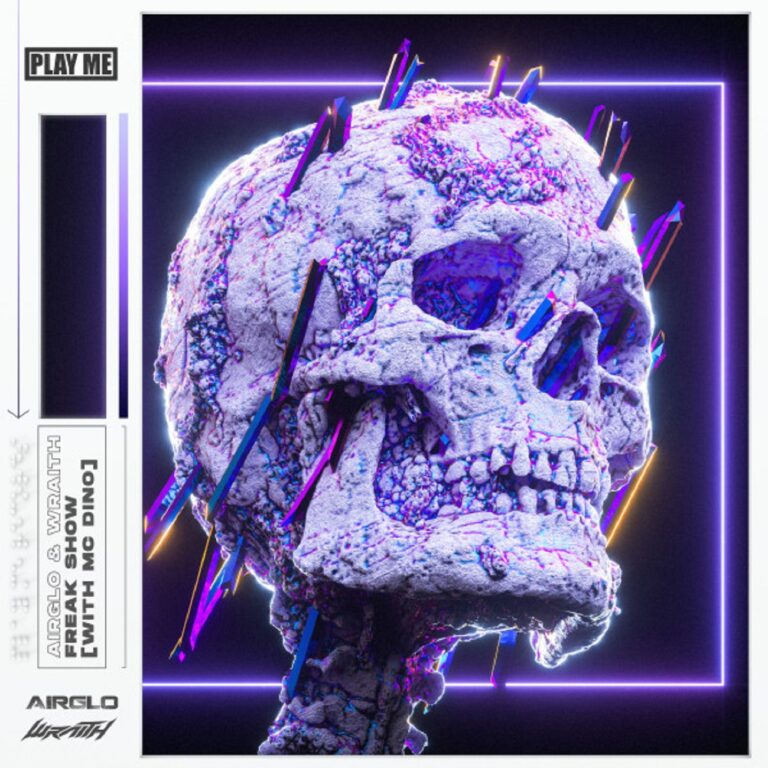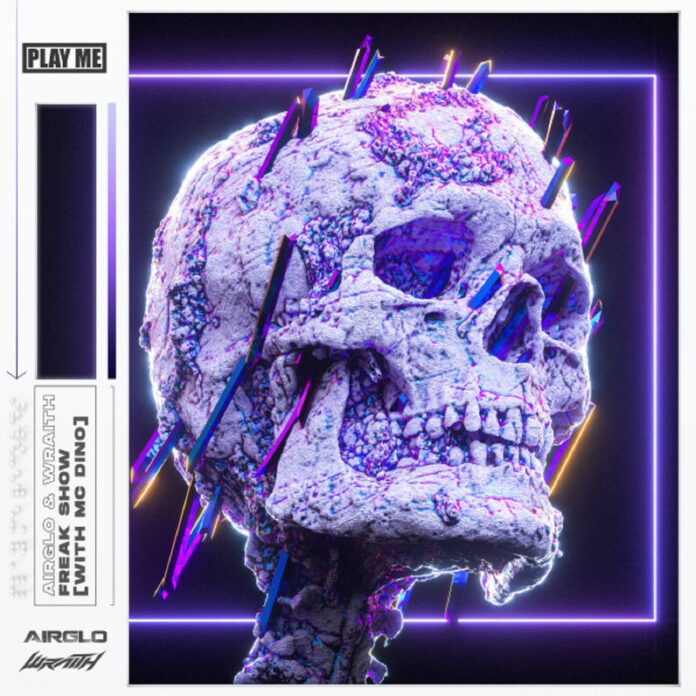 With so many frazzling releases piercing our airwaves, AIRGLO & Wraith – Freak Show featuring MC Dino is a special track in many ways. This American DNB tune is a gratifying mix. This is the first Drum and Bass track from the sonic prodigy, Wraith in five years! And let us tell you his divergent ways with beats are still strong and mean. AIRGLO has already raised the temperature on the underground landscape with tracks like 'Know Me,' 'Back To Reality,' and 'Sick.' He is definitely a talent to watch out for. Released on the Play Me Records DnB portfolio, this dope tune has neck-breaking and muscle-twisting energy that will send you on a wild ride. 
This American DNB track is swarmed with swift-paced beats and rattling breakdowns. Layered with a highly expressive and impeccable vocal performance from MC Dino, AIRGLO & Wraith – Freak Show is a rhythmic and intense banger. On this Play Me Records DnB release, the forceful blend of impulsive drum work and lethal basslines will satiate the listeners who crave hard-hitting elements in their music. 'Freak Show' finds its grit in the full-blown chaos and sizzling cadences that reverberate and crash around you with complete confidence. Flustered with magnetic drops and booming hooks, this tune is meant to fuel up festival and rave crowds.
AIRGLO & Wraith – Freak Show is a stunning delivery that will flood your senses with an electrifying intensity. MC Dino is a fresh entry on the EDM scene, yet his nuanced vocal performance has the kicks and swag in perfect proportion. This slithering release from the American DNB artists also has pops of futuristic and cyberpunk vibes hidden behind the relentless vigor. That just further elevates this heater into dangerously intoxicating territories with its cerebral alacrity and powerful hooks. All in all, 'Freak Show' is a hellish tune on the Play Me Records DnB catalog. We're highly impressed by this terrific peak-time cut from AIRGLO & Wraith.
Stream 'AIRGLO & Wraith – Freak Show' on YouTube below!
Streaming Options:
AIRGLO & Wraith – Freak Show Apple Music
AIRGLO & Wraith – Freak Show Spotify
AIRGLO & Wraith – Freak Show SoundCloud
AIRGLO & Wraith – Freak Show FREE DOWNLOAD
AIRGLO & Wraith – Freak Show Download
More Streaming Options HERE.
---
More About AIRGLO:
Airglo has etched his abstract, yet versatile artistic palette into the dark and arduous halls of the underground. Through a consistent timeline of musical achievements and an unapologetic thirst for live music, Mikael's focus-fired work ethic streamlined his upwards trajectory into what he's established today. Mikael began his musical expedition at an early age in Eastern Europe. After graduating from some of the most decorated musical institutions in the world, he set his aggressively-determined sights on breaking into the ever-growing world of electronic music. Delivering perception-shattering beats aligned by a diabolically-melodic musical prowess, Oganes' sonic skill set is now an unadulterated force to be reckoned with. Be it the product of his radical self-reflection materialized intravenously with every composition, or his insatiable appetite for exploring the sonic possibilities of a diversified soul-sinker, the next chapter of this undoubtedly-talented artist's story has only just begun. And with the release of, AIRGLO & Wraith – Freak Show, he is showing no signs of slowing down.
More About Wraith:
Enter Wraith, a powerhouse Drum and Bass pioneer who has taken his underground sound to new heights with his unique headlining performances. This innovative sound-bender has shared the stage with industry heavyweights such as Goth-Trad, Homemade Weapons, Mob Tactics, Fracture, Sam Binga, Skeptical, and more. For years, Wraith refined his artistry and developed his sound before claiming his niche amidst the heavier side of the bass spectrum. Every track pairs hard-hitting drums with jarring switch-ups and haunting vocals with cut-throat sound design, proving Wraith to be a longstanding figure in Drum and Bass.
After tipping hats from critics and producers alike – and garnering a world-wide junglist fan-base – Wraith took a hiatus to refine his craft and reimagine himself through the art of audio engineering. This ultimately led him to starting and managing his own successful mastering company. Now emerging back from the shadows, this phantom of furious sound is making his return with a highly-anticipated release on Play Me Records and a promise of even more to come.
---
Looking for more tracks like "AIRGLO & Wraith – Freak Show"?