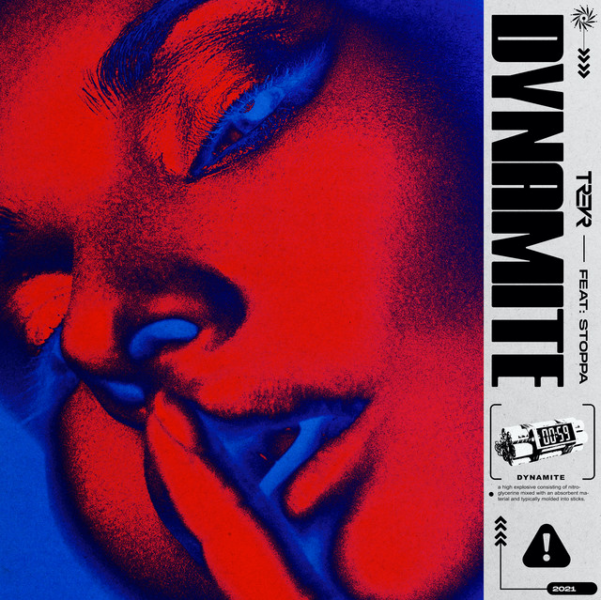 TREVR is back on stage with a brilliant Bass House production loaded with a massive groove and hip hop vocals with a devastating flow from Stoppa. TREVR – DYNAMITE feat. Stoppa hits hard and will grab your attention immediately. The young, native San Francisco artist just released this club heater along with co-star Stoppa, under the Spitfire Music label. On this occasion, this great producer has shown once again that he is up to the demands of the musical genre, as he has already done in previous compositions such as: "Break it down" and "I will run". If you want to know more about TREVR, we have compiled links in the streaming options section below so that you can discover more new TREVR music.
TREVR – DYNAMITE feat. Stoppa is particularly interesting as it transmits relentless energy and truly has a strong intoxicating club feel. For banging House music enthusiasts, this Spitfire Music release will be extremely satisfactory. The production is impeccable and the Hip Hop vocals by Stoppa are extremely catchy and perfectly hype the instrumental. These vocals appear subtly panned from left to right throughout the track which gives the song unparalleled dynamism, and are perfectly contrasted and enhanced with the synthesizer work. The giant and super funky bassline keeps the track bouncing and will not let you stand still. All this, added to the driving percussion arrangements, create pure party vibes!
Spitfire music has made a great addition to their discography with this one. This new TREVR feat. Stoppa music arrives just in time for the return of music festivals. It is a production that will leave you with an intense feeling and desire to party!
Stream TREVR – DYNAMITE feat. Stoppa on YouTube below!
Streaming Options:
TREVR – DYNAMITE feat. Stoppa Apple Music
TREVR – DYNAMITE feat. Stoppa Spotify
TREVR – DYNAMITE feat. Stoppa SoundCloud
TREVR – DYNAMITE feat. Stoppa FREE DOWNLOAD
TREVR – DYNAMITE feat. Stoppa Download
---
More About TREVR:
TREVR was created by San Francisco native and 28 year old, Trevor Murphy. At age 15, he first began producing hip-hop records affected by the Bay Area's "Hyphy Movement." In 2010, when he moved to Denver, Colorado, he found his true passion creating EDM primarily. From there, he crafted his distinct style, garnering influences from Gesaffelstein, Mercer, Zhu, and many others. TREVR's signature sound carries a range of menacing basslines and evocative melodic themes. In a time when originality has become the new standard, TREVR brings a fresh perspective to the EDM world.
The TREVR project is a fictional tech-noir story about a male protagonist that represents personified malware. Consequently, he remains anonymous for understanding the forbidden verity of his environment. The TREVR "figure" creates music as an encrypted broadcast, weaving within cyber-space to reach like-minded existents.
The TREVR project was inspired by the creator's experiences growing up in downtown San Francisco, CA. The adaptive nature of an inner-city directly influences the TREVR narrative. Those impressions are reflected in TREVR'S music and visual designs. And with releases like TREVR – DYNAMITE, 2021 is looking to be a very promising year!
"There's something genuinely viral about the whole concept. The possibilities are limitless with the TREVR storyline. More importantly, I'm beyond appreciative for the support I'm receiving, it pushes me forward every day."
---
Looking for more tracks like "TREVR – DYNAMITE feat. Stoppa"?