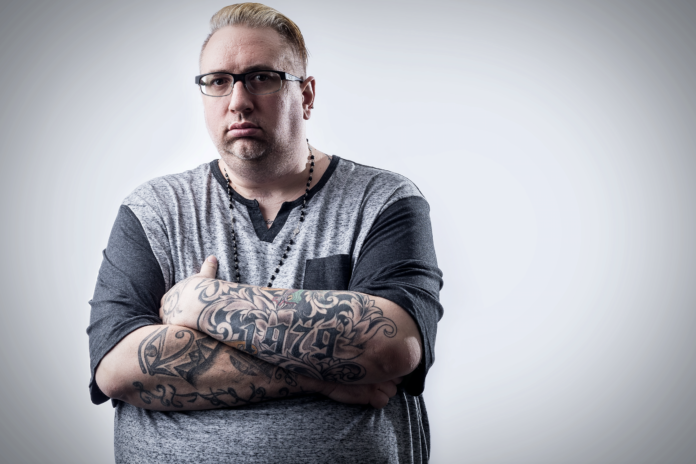 For those who haven't heard of Saladin by now, where have you been? The Chicago based artist has taken the EDM scene by storm this year, putting out banging releases at a blistering pace. With an impressive history and no signs of slowing down, this artist is one you should have your eyes and ears firmly watching out for. We caught up with him to learn a bit more about how he got in to music!
Hey! What was the song/artist/moment that made you get into music?
I have loved music since I was a small kid. I knew from a young age that I wanted to pursue music. My first album on cassette was Guns N' Roses "Appetite For Destruction." I was blown away when I first heard that album. I wanted to be a rock star, too. I still have a heavy influence from Rock music plus with my Bass music mixture, that's why I was nicknamed "Chicago's Ghetto Rockstar."
We know you love production, but was there a moment that you can pinpoint which made you want to make music, and more specifically EDM?
When I was a teenager, I used to get hired to write lyrics and record vocals. I always admired the producer when being in the studio. When I was in my late 20's I decided to learn the craft of a production myself. My love for EDM started with my love for House music and Italo-Disco as a young kid.
When did you discover your passion for DJing and producing?
Mainly within the last 6 years. That's when my passion was full blown and I decided to pursue this as a career. If you can get paid to do what you love, why not do it?

What was the first release that blew your socks off?
My favorite dance music record of all time has to be "Angel Eyes" by Lime. It's an Italo-Disco track from the early 80's and I just love the emotion involved in the track.
Was there an American artist you admired when you were younger?
Over all, Axl Rose of Guns N' Roses. As far as Dance music, I would have to say Bad Boy Bill.
Has there been a show/track which has changed your life and the course of your musical career?
The best concert I have ever seen in my life has to be Depeche Mode. I am a huge New Wave/Synth Pop fan and they are amazing live. So much energy and passion!
Finally, what do you think makes your work unique?
I try to make music that is recognizable but also with my own flair and style involved. I try to give it all when I am making music.
Thanks! Give us one song that we should all check out?
My new track "Far Enough" that is being released on the legendary label, Tommy Boy Records. Worldwide release date is August 10th 2018. I worked on this track with a local vocalist and I am super proud of this one.
Saladin Online
https://soundcloud.com/saladinproducer
https://www.facebook.com/saladinproducer
https://www.instagram.com/saladinproducer