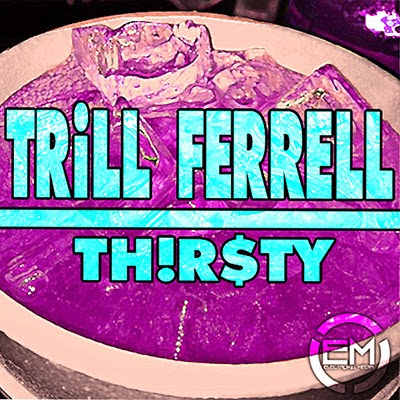 Trill Ferrell is definitely a unique pair, consisting of Nick Hyde and Danny Canick, they are coming up with fresh vibes and inspiring sounds on their debut EP "TH!R$TY". With anything from Hip Hop to trilled out Trap tracks with a Dubstep influence to "in your face" Big Room, "TH!R$TY" is an orgy of EDM flavors.
The first track on the EP, "Juice X Dro" featuring Kid Karma, is a blend of Hip Hop & Dubstep vibes with a little trill flair in there. The song has been featured in the official Dancefestopia recap video (see youtube video at the bottom of this post). The original & instrumental versions are available on the EP.
The second track is "DMND CUTTRZ", an upbeat, Big Room tune using sounds that will catch your attention in a completely different way, with a heavy House vibe but still dropping with energy that just makes you wanna move.
Last but not least is "Hip$ters & Rvchets", a thugged out ending to leave a nice taste in your mouth. The song tells a story starting off with you getting the vibe then progressing and ending it with you wanting more.
This three track EP has something for every dance floor and EDM lovers out there. It hits the ears in all different ways and expresses many different thoughts and feelings. Trill Ferrell's TH!RSTY is keeping it trill in all the right ways.
How to get the Bonus Pack? Buy the EP and send a proof of purchase @ electrokillmedia@gmail.com to receive the TH!R$TY bonus pack for free (6 exclusive TRiLL FERRELL tracks)
Follow TRiLL FERRELL @ www.facebook.com/trillferrellofficial