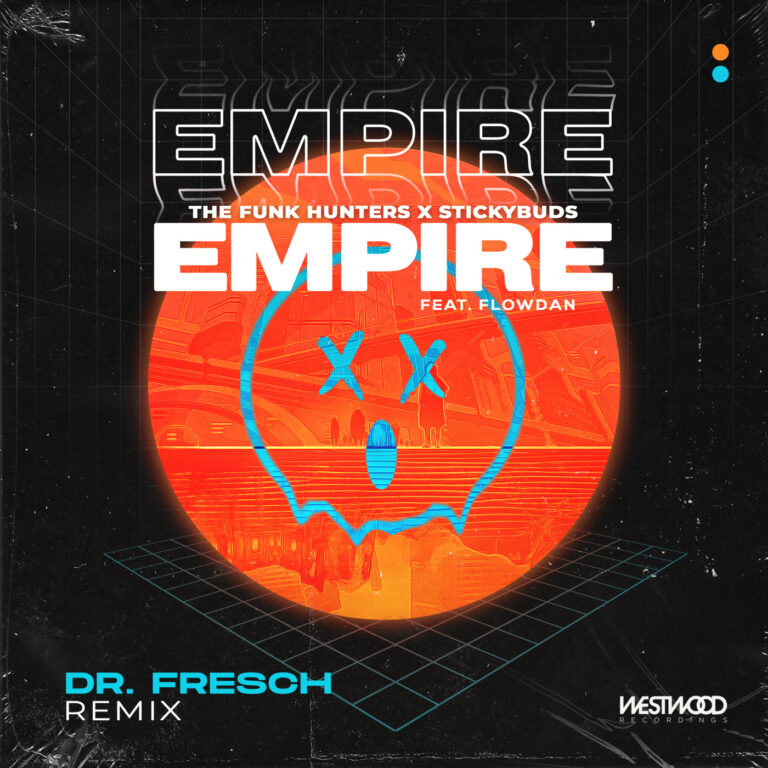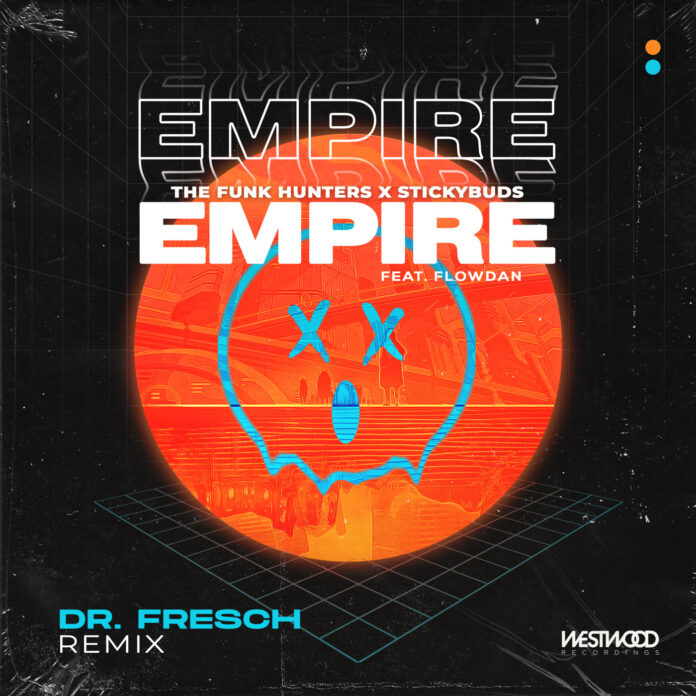 The Funk Hunters x Stickybuds dropped their massive collaboration featuring Flowdan late last year. The Midtempo Bass stomper 'Empire' caught the ears of Dr. Fresch. The LA-based producer has a unique flair that's become easily recognizable. No, we're not talking about his hair (although we could be) but his sound. His combination of House, Hip-Hop, and Electro have earned him a place on some of the biggest stateside festival stages. 'Empire' has received the full treatment on this Dr. Fresch remix. It's out now on Westwood Recordings. If you thought this track went hard before, just wait until you hear it now.
You're probably familiar with the sounds of Dr. Fresch. At EKM.co we've covered 'Ravewerk', his Bass House track with LO'99, and his high-intensity Trap tune 'Netflix N Kill' with Jackal. (We also covered the DUB FX remix of The Funk Hunters – 'Tribute' here). This track is a bit different though. The man himself had this to say about the track:
"I love the original so much, I was a fan immediately. When I went to remix "Empire" I knew that I had to deviate from mid-tempo electro but not leave the mid-tempo realm completely. I ended up taking my approach back to my sound from the early 2010's G-House era, mixed with today's bass house sensibilities—it's a world of house music I miss and I'm excited to bring it back. Thank you to The Funk Hunters x Stickybuds, and Flowdan, now I can't wait to play it live!"
Throughout the whole track, you can hear Dr. Fresch's patented bass sounds. All his music seem to really flex your speakers. They have this driving, head-nodding vibe that's just so catchy. The Funk Hunters x Stickybuds original has this vibe too, but the Dr. Fresch remix seems to have so much more attitude. With Flowdan's voice on top, it's got even more attitude. Check out this great remix, out now on Westwood Recordings!
Stream 'The Funk Hunters x Stickybuds – Empire (Dr. Fresch Remix)' on YouTube Below!
Streaming Options:
The Funk Hunters x Stickybuds – Empire (Dr. Fresch Remix) Apple Music
The Funk Hunters x Stickybuds – Empire (Dr. Fresch Remix) Spotify
The Funk Hunters x Stickybuds – Empire (Dr. Fresch Remix) SoundCloud
The Funk Hunters x Stickybuds – Empire (Dr. Fresch Remix) FREE DOWNLOAD
The Funk Hunters x Stickybuds – Empire (Dr. Fresch Remix) Download
More Streaming Options HERE.
---
More About Dr. Fresch:
After winning Insomniac's Discovery Project Contest in 2011, Tony Fresch launched the Dr. Fresch project, quick exploding in the blogosphere with his debut self-titled EP and innovative hip-hop/rap remixes. Weaving together elements of house, hip-hop/rap, and midtempo, Dr. Fresch creates unique, forward-thinking music that has found him releasing on the likes of OWSLA, Insomniac Records, Atlantic, and Ministry of Sound.

Over the summer of 2015, Dr. Fresch launched his semi-monthly mix series "House Call" which has since garnered tens of millions of plays. The Dr. Fresch brand has continued to grow with the launch of his record label "House Call Records" in 2019. Dr. Fresch continues to play a prominent role on the festival circuit with appearances at EDC Las Vegas, Paradiso, Moonrise, Electric Forest, CRSSD, Splash House, Osheaga, Shambhala, and more. His latest remix of The Funk Hunters x Stickybuds track 'Empire' is out now on Westwood Recordings.
More About The Funk Hunters:
As The Funk Hunters, longtime friends Nick Middleton and Duncan Smith bring together a perfectly-aligned chemistry that has spurred the creation of their forward-thinking electronic music. Cultivating a signature sound influenced by funk, bass and hip-hop, the Canadian duo has resonated with both listeners and industry tastemakers alike, amassing millions of streams across their catalog of original productions and remixes.
In addition to studio work, The Funk Hunters have enjoyed a vibrant global touring career with major festival plays at Coachella, Life Is Beautiful, Lightning in a Bottle, Electric Forest, Osheaga, Outside Lands, Burning Man, and Shambhala.
More About Stickybuds:
Hailing from the depths of Western Canada, Tyler Martens has honed in his funky craft as Stickybuds for over a decade. Touring globally, Stickybuds has become renowned for his skills on both the turntables and in the studio, performing live in over 25 countries. The award-winning artist has built his name on his blend of funk, reggae, bass and broken beats, ensuring that the music he creates is suitable for dance floors and headphones alike.
A 15-year-and-counting resident of the prestige Shambhala Music Festival, Stickybuds has perfected his unique DJ-style of mashing genres, acapellas, and tempo changes with live turntablism and impeccable music selections. His ever-impressive list of touring accolades includes acclaimed venues and festivals such as Burning Man, Envision, "We Love Space" Ibiza, Boomtown, and Glastonbury Festival.
More About Flowdan:
Flowdan has played an integral part within the Grime scene as an MC since the beginning. As one of the original members of UK grime crew Roll Deep and the Pay As U Go Cartel prior to that, Flowdan has cemented his raw booming delivery on some of the biggest tracks of the past decade – The Bug's "Skeng" and "Jah Wah", and Lethal Bizzle's – "Pow! (Forward)" – and put out on respected labels from Eskibeats to Hyperdub. Having featured in the BBC Documentary "The Story Of Grime" and as one of the main contributors to Wiley's autobiography, Flowdan's legacy in Grime is unparalleled.
After the success of his "Serious Business EP", he released his acclaimed solo album 'Disaster Piece' on Tru Thoughts, which was nominated for Best Album at the Urban Music Awards (alongside the likes of Dave, Slowthai, Giggs, JME and Skepta). The release was praised by DJ Mag, The Guardian, Trench, Clash, EARMILK, Complex, HYPEBEAST, Mixmag, GRM Daily and received support from across BBC 1Xtra, John Kennedy (Radio X), Nemone and Don Letts (BBC 6Music) to name a few.
"The Red Pill EP" (2020) is his first self-produced release and is rife with the definitive Flowdan grime sound, meshed with a selection of inspired musical highlights and talented featured artists, including Jammz, Snowman Baby and Roachee. His latest track is a Dr. Fresch remix out now on Westwood Recordings.