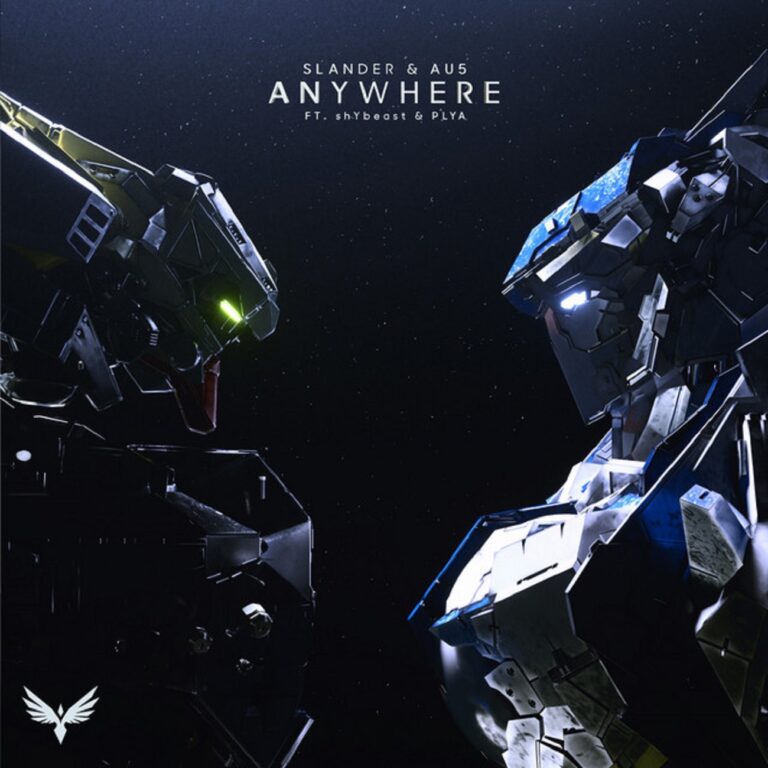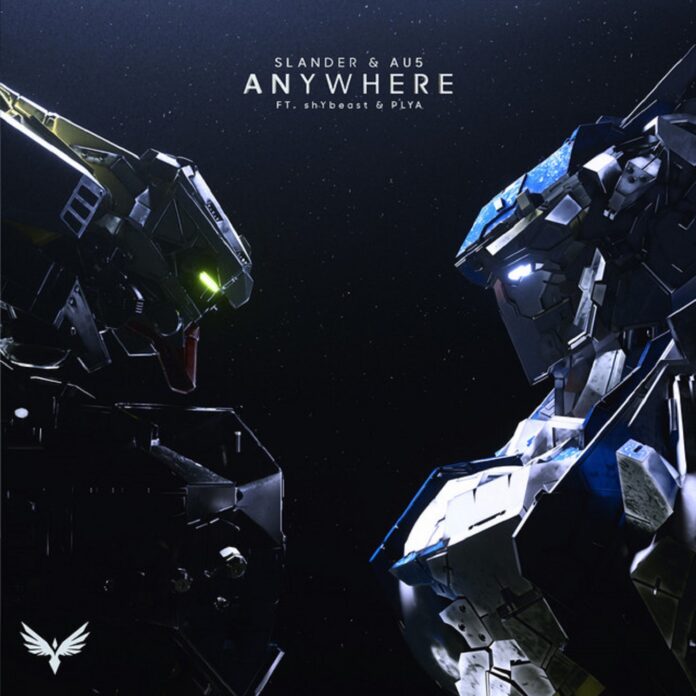 The producers behind the stunning tracks 'Blood On Me,' 'Heart Break' and 'Back To U' are back with a new mesmerizing release. The American duo, SLANDER, has dropped the third single on their new imprint Heaven Sent Records. 'Anywhere' is a Future Bass gem and a colossal collaboration with the famed producer of 'Always In a Nightmare,' Au5. This amazing new release also features powerful vocals from up and coming singers shYbeast & PLYA. SLANDER x Au5 – Anywhere is a festival anthem that depicts the skill magnitude of the collaborating artists with full force. 
SLANDER x Au5 – Anywhere is high on emotive current with rich chord progressions and mighty buildups. It is the fusion of bright, sparkling melodies and the powerful rhythm from the slaying bass that sets the mood of the track. The harmonies are particularly tight and amplify the vocal sections by shYbeast & PLYA perfectly. This issue on Heaven Sent Records will dominate with its emotional intensity and full-fledged rhythmic sections. 
This Heaven Sent Records release oscillates on multiple layers of shape-shifting synth that gives off infectious energy. SLANDER x Au5 – Anywhere explores edgy dimensions of Future Bass and experiments with warm vocal melodies, acoustic textures, retro vibes, and an overall delightful aesthetic. Whereas, shYbeast & PLYA have brandished this lyrical affair with gripping and catchy vocals over impressive choral pads. Dance music fans will be pleasantly overwhelmed as beneath each swing, lies a potential trap door that skillfully melts into soulful melodies, creating a refreshing aura. 
The rippling bass, dreamy cadences, and touches of falsetto on SLANDER x Au5 – Anywhere end up in an anthemic melody that will seize your wits. While the duo at SLANDER drop celestial and ethereal hits over swirling and expressive chords, Au5 takes the song into a pulsating and hard-hitting realm with impassioned Melodic Dubstep elements. However, it's the stunning vocal delivery by shYbeast & PLYA that will unearth intense emotions in you.
This Future Bass opus on Heaven Sent Records reels you in with a comforting atmosphere that is surrounded by delicious harmonics and melodic washes. SLANDER x Au5 – Anywhere floats with vulnerable moments of epiphany that will touch the deep recess of your heart and soul.
Stream 'SLANDER x Au5 – Anywhere ft. shYbeast & PLYA' on Soundcloud below!
Streaming Options:
SLANDER x Au5 – Anywhere ft. shYbeast & PLYA Apple Music
SLANDER x Au5 – Anywhere ft. shYbeast & PLYA Spotify
SLANDER x Au5 – Anywhere ft. shYbeast & PLYA Soundcloud
SLANDER x Au5 – Anywhere ft. shYbeast & PLYA FREE DOWNLOAD
SLANDER x Au5 – Anywhere ft. shYbeast & PLYA Download
More Streaming Options HERE.
---
More About shYbeast:
shYbeast is the alias of the electronic-aggressive rock icon Devin Oliver, whose goal from the beginning has been to seamlessly bind the two worlds of rock & electronic music. The Detroit singer/songwriter/producer made his debut back in 2010 being pulled out of high school at age 15 and put on a tour bus with the electronic rock quartet "I See Stars." The band has sold over a quarter million hard copies, charting on Billboard multiple times with over 100 million streams across digital platforms.
In 2017, Devin made his first appearance into dance culture on his collaboration with EDM artist Kayzo titled "Follow You" that shared a strong blend of Devin's signature top lines & Kayzo's aggressive & bass heavy drops.
Although this was his first appearance with an electronic artist, it was not his first encounter with the community. Being one of the primary writers/producers in his band, Devin has shared the studio with artists such as Sullivan King, Kayzo, Crankdat, Marshmello, Dubloadz, Celldweller, Yultron, and more. He has also shared the stage with Nine Inch Nails, Enter Shikari, Issues, Bring Me The Horizon & other electronic-rock crossover pioneers.
The artist plans to define his 2009 vision of crossbreeding two genres by redefining the two all together. ShYbeast will have no rules or ceiling as the project plans to involve voices and instruments of all kinds including his own.
More About PLYA:
At the centre of PLYA (pronounced "ply-ah," Spanish for "beach") is the voice of Julia Sykes, whose eclectic upbringing took her from Mallorca to Morocco and back before she headed to the United Kingdom, where she met bandmates Kris Taylor (guitar) and William Brown (drums). Together, they are poised to take on the world with their infectious, darkly gorgeous brand of dreamy electronic pop, which marries the sophistication and style of the London scene with the allure of West Coast beaches and the glitter of Los Angeles. After years of playing together, the members of PLYA have captured their perfect sound, filled with lilting melodies and lush, layered effects. Sykes has just been awarded PRS's Women Make Music Grant, putting PLYA's star even more on the ascendant. The first single off of their upcoming album, "Thinking of You" is your perfect track for a late-night city drive. Behind its infectious chorus and energetic beat is the story of falling hard for the wrong person. "It's about having that fiery connection with someone you know isn't right, and missing them after they're gone," says Sykes. Written in one day in a studio on the beach, the song captures the essence of the California coast, transporting listeners straight into the heart of PLYA's sensual dreamworld. She now just started 2021 with the magnificent collaboration with shYbeast SLANDER x Au5 – Anywhere.
More About Au5:
The unmistakable sound of Au5 – futuristic sound design infused with melodic soundscapes. Au5 transports you to a utopian world that's as vibrant as it is monumental. Unbounded by genre, Au5 consistently pushes the boundaries of possibility within electronic music. From the stargazers to the neck-breakers, Au5's music has something we can all immerse ourselves in. Born and raised in New Jersey, Au5 (Austin Collins) has been a lifelong musician. Trained in classical piano since age 4 and studying bass guitar and music production since age 13, Austin is a well-rounded composer and music technologist. He has toured with Infected Mushroom, Liquid Stranger, Seven Lions, has been releasing music for over a decade, with over 100 songs released. "If you're looking for trendy music, turn away. If you're looking to embark on a journey, come with me." He is now starting 2021 with the magnificent collaboration SLANDER x Au5 – Anywhere.