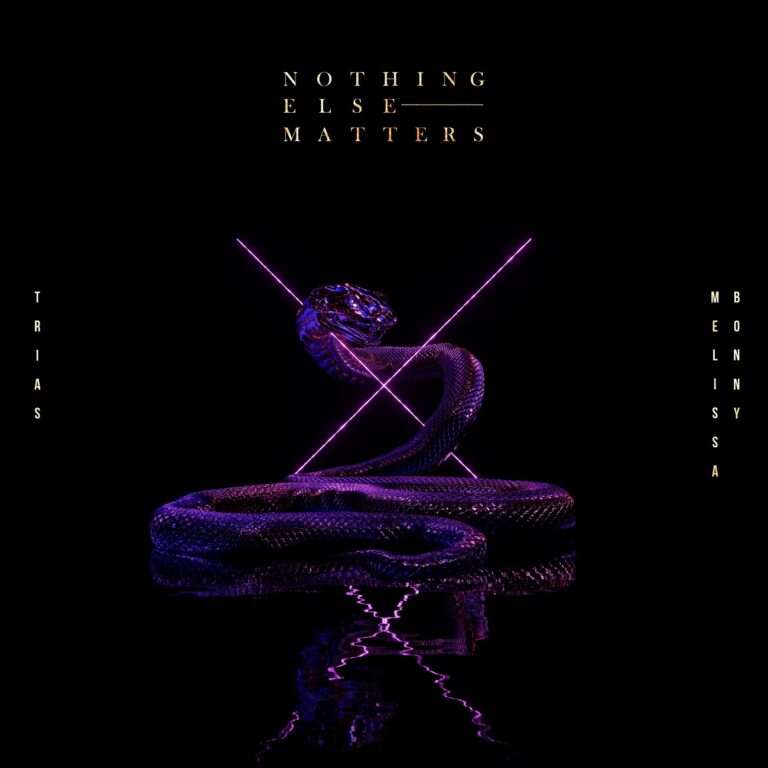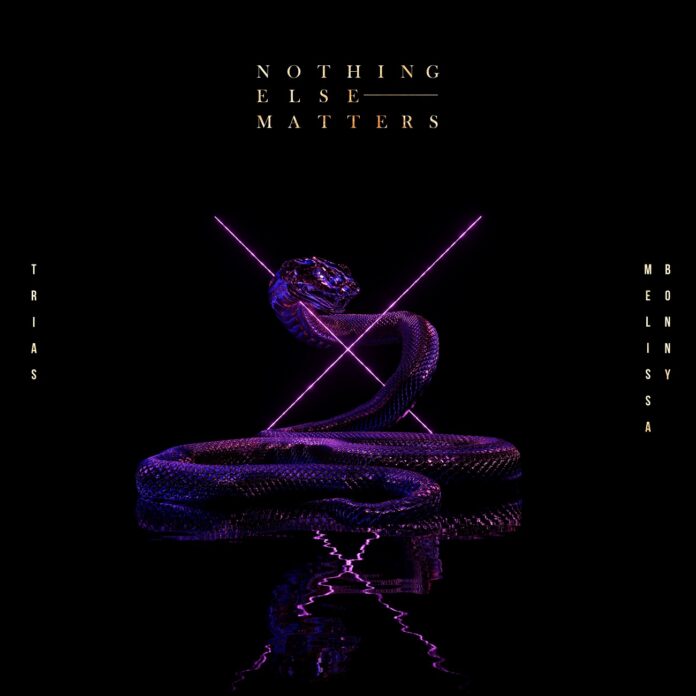 Trias is a rising trio of music producers, Gerald Schollmayer, Florian Voit, and Fettah Ekinci. With peak-time tunes like 'Downfall,' the group is generating some serious buzz within the dance music community. They will now generate even more with their Nothing Else Matters cover. This cover track of the all-time classic song features the amazing singer Melissa Bonny on the vocals. This cover is Trias' take on the 1992 cult song of the same name. This Metallica Trap remix will surely bring you nostalgic vibes. We're sure that the Nothing Else Matters lyric video will rake in major views on YouTube.
This Metallica Trap remix is an epic play on instrumentation featuring the shimmering and stirring sonic punches in an perfectly balanced approach. Melissa Bonny launches the song with soft-edged, alluring vocals. Trias follows suit by adding dense hi-hats and slithering percussive energy into their Nothing Else Matters cover. Imbued with a sense of urgency and an intoxicating display of string, the composition will stroke your soul with a feather-light touch. However, in the first stanza, it's Melissa's dulcet yet hair-raising vocal progression on the track that will cage the listeners' attention. In case you don't already know the lyrics to this masterpiece, the Nothing Else Matters lyric video is there for that!
Trias has delivered their Metallica Trap remix with flawless conviction. The trio has structured a poignant ambiance fueled with a melting fusion of melodic synths and spine-tingling bass. On this Nothing Else Matters cover, fans will oscillate between harmonic and crashing build-ups. This Trap opus goes for a piercing makeover with sharp basslines and killer drum work. The reverberating riffs and pads evolve with fluctuating and lush beats. The rhythmic keys are unleashed over powerful trunk-rattling kicks and booming sequences that will hit the listeners with drunken ecstasy. 
This outstanding Nothing Else Matters cover explodes with bright and filtered instrumentation as Trias rides the tune in an epic zone. The infectious builds and drops of this Trap driven melody show the real artistic skills of the group in this composition. It seems like the trio has drilled everything that they have got in this classic remake. Fans will love to view the Nothing Else Matters lyric video over and over again to truly appreciate the hidden nuances of this epic cover.
Stream 'Trias & Melissa Bonny – Nothing Else Matters' on YouTube below!
Streaming Options:
Trias & Melissa Bonny – Nothing Else Matters Apple Music
Trias & Melissa Bonny – Nothing Else Matters Spotify
Trias & Melissa Bonny – Nothing Else Matters Soundcloud
Trias & Melissa Bonny – Nothing Else Matters FREE DOWNLOAD
Trias & Melissa Bonny – Nothing Else Matters Download
---
More About Trias:
The producer trio Trias is made up of musicians Gerald Schollmayer, Florian Voit and Fettah Ekinci. They are known for their music in the realm of EDM Trap. In recent years, they have celebrated various releases with big labels in the EDM scene. Each has a different musical background and different music-making skills brought together by the fact that they are the only three boys from the village producing music. Their love for classical/cinematic music, electronic and hip-hop united them. This constellation and the effort they put into their projects now epitomized the epic, mystical and sentimental Trias. The three believe that music, like any other art form, is an eternal opus and that it can touch people even after a hundred years, no matter their background or belief. Music is timeless. Renewal is meaningful to them. They find it important to keep their music alive by adding new elements and ideas each time. In the past few years, the trio has received attention from the biggest labels and channels for electronic music like Trap Nation, Trap City, Lowly Palace, BredNButter and xKito Music, to name a few. They have also reached over 40 million plays and views across several platforms, including YouTube, SoundCloud and Spotify. In the future, they have plans to work on many more projects with other artists. Their focus is on trying out and integrating different music styles. In order to keep up with the latest about Trias and their music, follow them on social media.
More About Melissa Bonny:
Born in Montreux, Switzerland on January 23rd, 1993, Melissa started music when she was only 6 years old by singing in a school choir for several years.
When she finished school, she spent most of her free time making music by herself or with some friends and took part in several events in her area, singing on stage, alone or with other musicians, before joining the Symphonic Folk Metal band Evenmore as lead vocalist in 2012 (until 2018).
She is now the founding member and lead vocalist of Ad Infinitum since 2018 and the lead vocalist of Rage Of Light since 2016.
Melissa also sang with Rock Meets Classic, singing with the Matt Sinner band, the RMC orchestra and prestigious guests such as Alice Cooper, Robin Zander, Joyce Baby Jean Kennedy, Robert Hart, Danny Bowes and Luke Morley. She is also known for her collaborations with Feuerschwanz and Warkings.