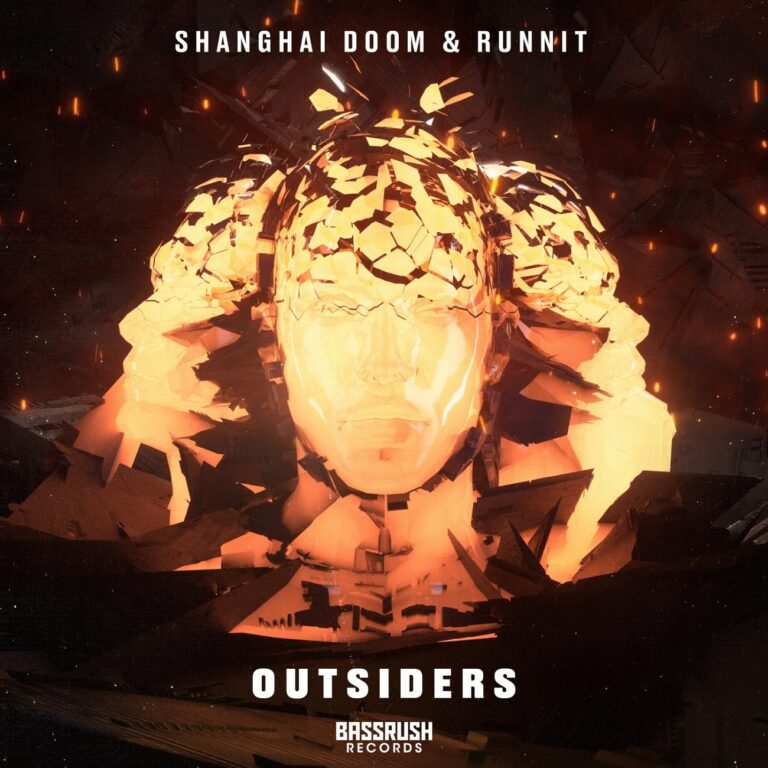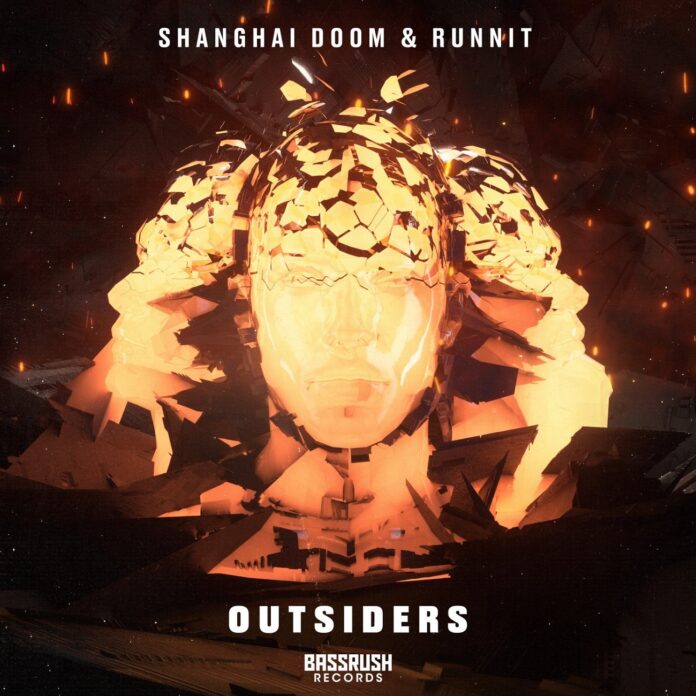 Are you in the mood to treat your senses with a dose of dystopian darkness? 'Outsiders' is an experimental Bassrush Leftfield Bass track that will make you experience exactly that. This sinister and mysterious vibe is a collaboration between the power-duo, Shanghai Doom, and the Baltimore-based DJ and producer, Runnit. This collaboration is a perfect unison of signature elements and niche sounds from both artists. Shanghai Doom x Runnit – Outsiders unravels a world with a trippy musicality that does not sound like run-of-the-mill stuff at all. If anything, this song is going to be continuously played on the best Leftfield Bass 2021 playlists. Why? Because it's an enticing wormhole of sonic sorcery that will leave you high and dry – it's that captivating.
The best way to describe Shanghai Doom x Runnit – Outsiders is that it's a sinful invitation to unknown auditory dimensions. This Bassrush Leftfield Bass gem serves some fierce heat that will genuinely leave your senses on a full-throttle overdrive. The ambient yet bass-heavy cut is treated with a shimmering bassline and powerful synth that conjure a vivid response. 'Outsiders' picks up the pace by indulging in crazed percussion with super fast hits and clangs that will gyrate through your senses. The wobbly elements with nerve-wracking riffs and rhythmic sections will send you on a kaleidoscopic retreat, making this song a perfect addition to your Leftfield Bass 2021 playlist.
This Bassrush Leftfield Bass release operates with restraint and never falls into a messy realm. The beat intensifies with dramatic twists and relentless momentum changes. Shanghai Doom x Runnit – Outsiders oscillates with dark tones and heavy bass that will leave you simply wanting more. It features an array of futuristic elements that are truly spellbinding. This genre-blending song has the makings of a chart-shattering hit. So, beware! Because once you add this track to your Leftfield Bass 2021 playlist, you won't be able to revisit it again, and again.
Stream 'Shanghai Doom x Runnit – Outsiders' on YouTube below!
Streaming Options:
Shanghai Doom & Runnit – Outsiders Apple Music
Shanghai Doom & Runnit – Outsiders Spotify
Shanghai Doom & Runnit – Outsiders SoundCloud
Shanghai Doom & Runnit – Outsiders FREE DOWNLOAD
Shanghai Doom & Runnit – Outsiders Download
More Streaming Options HERE
---
More About Shanghai Doom:
Shanghai Doom is a rising experimental bass duo hailing from Central Jersey. Since their start in 2017, the duo has found their inspiration within the more sinister things in life, dipping into many different sounds and styles to create their masterfully blended dark tones and heavy basslines. Shanghai Doom has established their unique niche within the electronic music community and are dominating it.
Their standout style has gained them support from artists like Liquid Stranger, Mr. Carmack, and TYNAN, with releases on WAKAAN, Bassrush, and Wormhole. Their undeniable ability to create ghastly atmospheres with intricate and polished sound design landed them in direct support of LSDream and Shlump on the Universal Wub Tour and on the stages of festivals such as WAKAAN Festival, Home Bass WAKAAN Takeover, and Equinox Festival.
Shanghai Doom's unique approach to sound is one they look forward to creating and sharing with us for years to come. Shanghai Doom x Runnit – Outsiders is the latest track released by the duo.
More About Runnit:
Runnit is Nick Noel, a DJ/Producer out of Baltimore MD mixing bass music, rap and trap influenced electronic music. Runnit began as a side project in 2017 and has already begun releasing on the largest labels in the Trap/Bass scene.
Nick has been releasing original music for 8 years prior under his regular name and had been included on Run The Trap's mix series, Hybrid Trap's best of 2018 mix, Zeds Dead's Deadbeats Radio, and San Holo's Bitbird radio. Recently this year his music has been played at festivals across the US including EDC Las Vegas, Emissions Festival, and Lightning In A Bottle Fest. Some past notable performances include opening for Kayoh, WKND BAES, and playing 2 sold out Moonrise Pre-Parties in recent years. Ontop of his music career, Nick is also the cofounder of Partica, an east coast label and artist collective specializing in innovative bass music.
The future of Runnit is to push the boundaries of sound design and inspire others to create without limits. Shanghai Doom x Runnit – Outsiders is his latest collaboration with the duo.
---
Looking for more tracks like "Outsiders"?