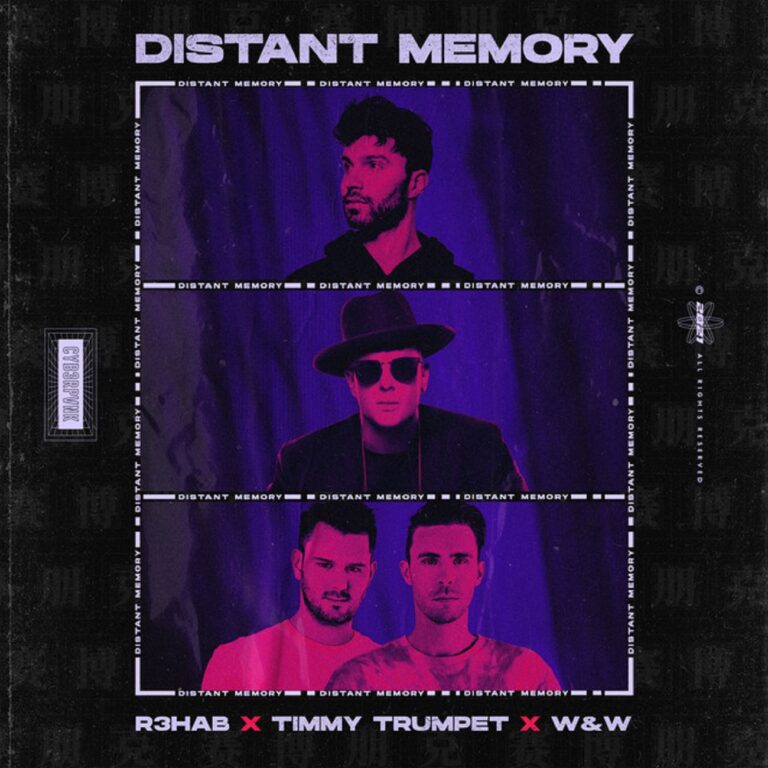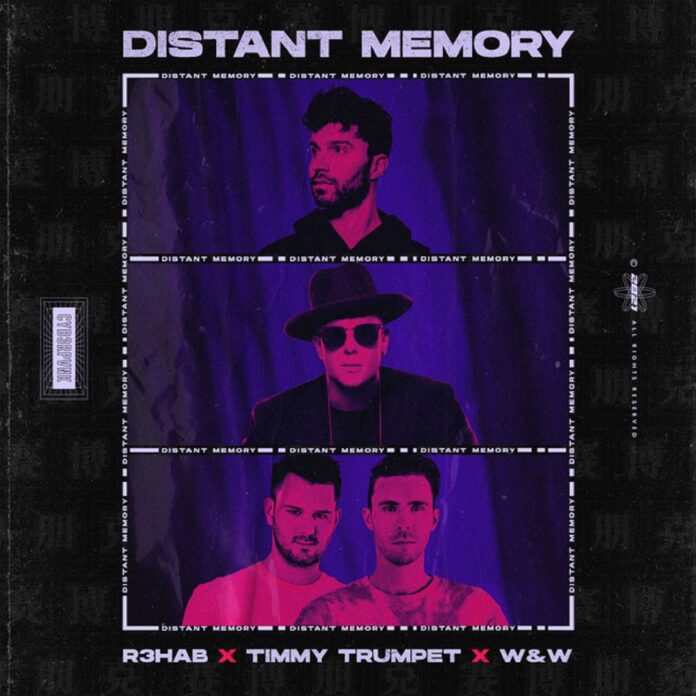 2021 is turning out to be a big year for R3HAB as he continues to drop massive tunes one after the other. His most recent releases, 'Fendi,' and 'Ringtone' have already become fan favorites, with the latter receiving over a million hits on YouTube. He is not going to slow down anytime soon though as the Dutch DJ/producer has dropped yet another anthem entitled, 'Distant Memory.' This tune is huge and we wouldn't be lying if we say that it struck us pretty hard. After all, the song also features EDM superstars Timmy Trumpet and W&W. How can we we not feel the combined energy that they unleashed on this track? R3HAB x Timmy Trumpet x W&W – Distant Memory has EDM festival written all over it. With this song, the future of Big Room EDM looks bright for 2021. To make this EDM collab even more memorable, the trio has put out a nostalgic Distant Memory music video. This is what R3HAB has to say about the song:
"Making music for a living is a special feeling, and to do it with friends is a next-level high. I'm excited to work with Timmy Trumpet on our second collaBORATION and have been looking for the right song to create with W&W for a long time. 'Distant Memory' is going to be a festival hype builder, but what makes it special is the contrast between the dreamy dazed verses and the drop. Timmy, Willem, and Ward have great energy, which keeps the artistic process fresh and inspired. Hope you love it."
R3HAB x Timmy Trumpet x W&W – Distant Memory is a perfect song to start the spring season. It's just unfortunate that the world is still going through a pandemic right now. Otherwise, this tune would have dominated the music festivals around the globe. This EDM collab is that good! The track opens with sweet vocals layered over dreamy pads, bells, and synths, wrapping you around in its warm and lull aura. However, this heavenly feeling doesn't last for long as the song starts to build towards its first drop, and when the beat hits, you will realize just how powerful this Big Room EDM 2021 song is. This track is just as addictive as 'Ones You Miss' and 'Am I The Only One' by R3HAB. The Distant Memory music video is equal parts as mesmerizing as the track. This is what Timmy Trumpet said about the song: 
"There's nothing I love more than making music with my friends, and these guys are the best in the business. I've collabed with both W&W and R3HAB before but never on the same record and you can hear all 4 of us inside its elements. I can't wait to drop this on stage with all 4 of us and blow up the dance-floor!"
We have been enthralled by the release of R3HAB x Timmy Trumpet x W&W – Distant Memory. It is structured with lush and catchy melodies that will make you hum along to the song. This EDM collab is a super effort by the trio. The tune truly embodies the Big Room EDM 2021 sound. The Distant Memory music video is also really impactful and will make you miss the pre-COVID life. W&W had this to say about the track:
"It was a real pleasure working with R3HAB and Timmy Trumpet on 'Distant Memory.' Both R3HAB and Timmy are really good friends of us which made it very easy going! We also feel it really combines the best of all of us as artists, and we hope you like listening to it as much as we liked working on it!"
This EDM collab is certainly one of the best main stage festival song of 2021 so far. We are loving every second of R3HAB x Timmy Trumpet x W&W – Distant Memory and hope that they work together on another banger soon.  
Stream 'R3HAB x Timmy Trumpet x W&W – Distant Memory' on YouTube Below!
Streaming Options:
R3HAB x Timmy Trumpet x W&W – Distant Memory Apple Music
R3HAB x Timmy Trumpet x W&W – Distant Memory Spotify
R3HAB x Timmy Trumpet x W&W – Distant Memory SoundCloud
R3HAB x Timmy Trumpet x W&W – Distant Memory FREE DOWNLOAD
R3HAB x Timmy Trumpet x W&W – Distant Memory Download
More Streaming Options HERE.
---
More About R3HAB:
Fadil El Ghoul is a DJ and producer of Moroccan descent, professionally known as R3HAB. To date, his work has collected over three billion Spotify streams, making him the most-streamed Dutch artist abroad and cementing him as one of Spotify's top streamed artists.
R3HAB's visionary remakes have collected endless attention over his career. His iconic song 'All Around The World (La La La)' has been certified gold and platinum in almost twenty countries. His track with GATTÜSO – 'Creep (mint Singles)' – collected 60 million streams in eight months. On top of this, R3HAB has created remixes for the likes of Rihanna, Drake, Taylor Swift, Calvin Harris, The Chainsmokers, Lady Gaga, and more.
But R3HAB's work is not limited to remixes. He is an avid collaborator, working with artists across genres to craft hits that appeal to any listener. For the epic thrillseeker, 'Flames (with ZAYN)', the former One Direction frontman, and U.K. DJ/producer Jungleboi is the song to start with. For a feel-good mood, 'Good Example (with Andy Grammer)' or 'Be Okay (with HRVY)' are the way to go. For Latin dance lovers, 'Bésame (I Need You) (with TINI & Reik)' is a good place to begin. For a night at the clubs, turn on 'One More Dance (with Alida)'. For a chill weekend, 'Ones You Miss' is a great choice.
In 2020 alone, R3HAB celebrated more than 50 releases and 900 million Spotify streams, and with the release of R3HAB x Timmy Trumpet x W&W – Distant Memory, he has no plans to slow down this year. It is a spicy EDM collab that has caught the attention of dance music fans. The release of this Big Room EDM 2021 track is also accompanied by a Distant Memory music video.
More About Timmy Trumpet:
DJ, producer and live instrumentalist Timmy Trumpet is undoubtedly one of the most prolific performers in the DJ Mag Top 100. An award-winning, multi- platinum selling recording artist, Timmy has forged his way to the top of the industry alongside the influential artists taking the world by storm. His breakthrough release Freaks has reigned in over half a Billion streams, reached six times platinum status in Australia and dominated the charts in ten countries becoming the highest selling track of all time on Ministry of Sound Australia.
More About W&W:
After meeting up in 2007, Willem van Hanegem and Ward van der Harst came together to form W&W and haven't looked back since. The Dutch DJ and production duo have transcended the boundaries of genres and traversed the world with their globally acclaimed music and iconic live performances, becoming one of the most sought-after duos the world of electronic music has to offer. As DJs, W&W have been dominating dance floors and festivals across the globe for years on end. Voted #14 in DJ Mag's Top 100 DJs poll in 2018, they continually perform at leading festivals such as Tomorrowland and EDC, and even had their own headlining tour this year. W&W continue to prove their status as innovators and tastemakers in the scene under their alias NWYR, where they release blistering productions and live sets from their trance-inspired roots. They also curate music for their brand-new label, Rave Culture, which includes hosting their own bi-weekly radio show on Dutch broadcasting station SLAM!, which has gained them over 300,000 listeners per show plus coverage across North America via SiriusXM. Now shifting into a new phase with a tidal wave of new productions and incinerating live sets, the rise of their new Rave Culture label and the impact of their NWYR alias, W&W are cementing their place amongst dance music's top acts in signature style: transcending boundaries and never looking back.