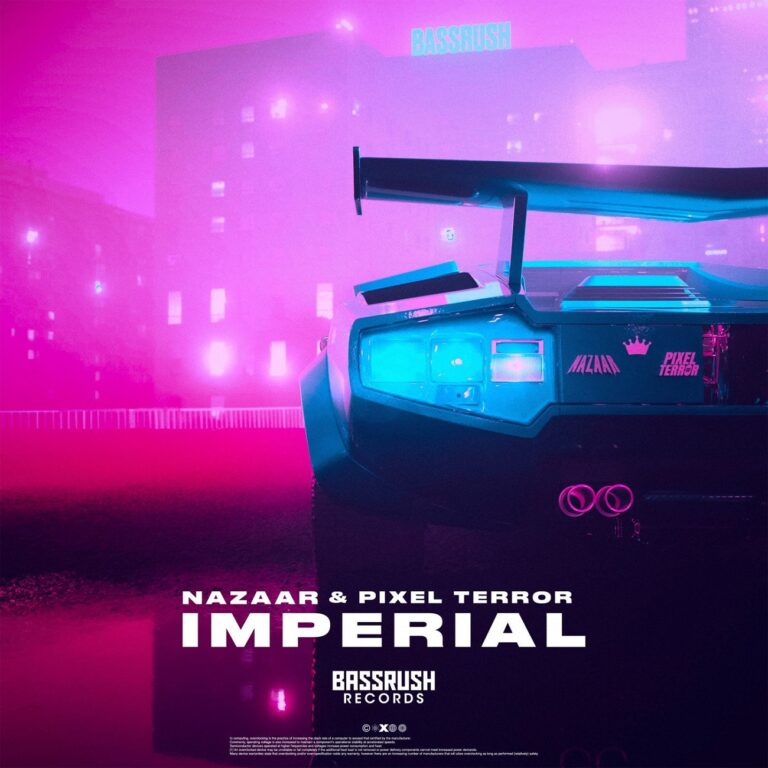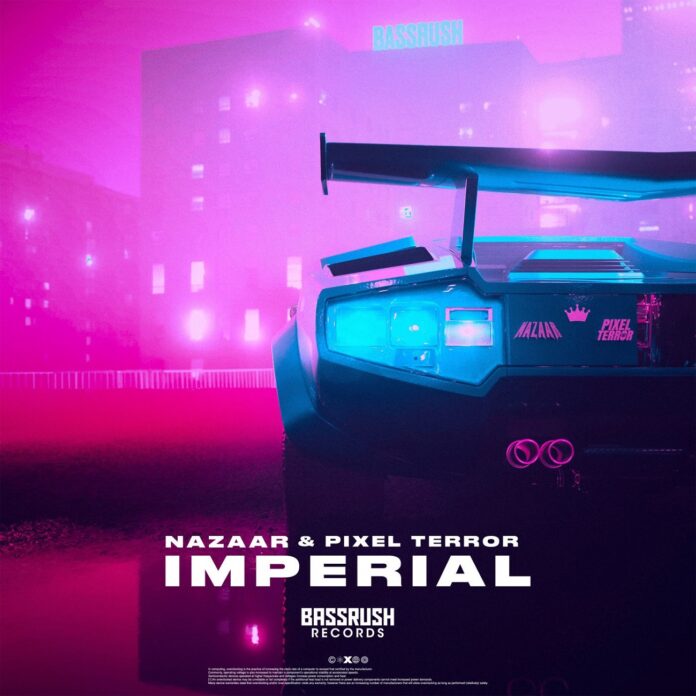 Nazaar and Pixel Terror's collaboration bring two of the most talented EDM artists on the mind-numbing Bassrush label release, 'Imperial.' The track, with its heavy Dubstep elements, will leave the listeners breathless. The song has a surreal yet sinister vibe that glides effortlessly. The tune amplifies and transforms throughout with mercilessly thrashing bass.
This Dubstep track is dark and ominous with a banging undercurrent. 'Imperial' has unbridled and unflinching energy, with a flow that intensifies over a punchy bassline. It is a superlative release featuring lethal synths along with vibrant beats and fierce bass that work flawlessly together, making this song truly bada$$. The haunting twists and eerie turns feel unsettling enough to keep any listener on the edge of their seat. This hard-hitting cut is an unabashedly brilliant production as Nazaar and Pixel Terror enhance the intensity of their music on this release. The venomous rhythm of the tune is juxtaposed perfectly with bright lurking melodies. 
Issued by the Bassrush label, 'Imperial' is loaded with absolute vigor and vivacious force with a cinematic tone in the air around the opening keys. The melodic hooks and driving rhythms of this Dubstep song make it a nod-worthy affair. It is an energetic tune by Nazaar and Pixel Terror that contains some rugged arpeggios layered over bouncy cadences which brings a smoldering, extra oomph to the song. This track harnesses a sonic angle while maintaining the melodramatic and enigmatic atmosphere. The impeccable yet colossal drops intensify the already freakish song to insane heights.
'Imperial' is a seriously impressive song that shows how skillful Nazaar and Pixel Terror are as composers. It's a theatrical tune with surprising falling-rising momentum followed by a fusion of eastern-influenced ensemble right towards the conclusion. Released on the Bassrush label, the song is wonderfully counterbalanced by fervid pulses and stellar strength. 'Imperial' is a throbbing and pulsating affair that will get the party out of control.
Stream 'Nazaar x Pixel Terror – Imperial' on YouTube below!
Streaming Options:
Nazaar x Pixel Terror – Imperial Apple Music
Nazaar x Pixel Terror – Imperial Spotify
Nazaar x Pixel Terror – Imperial Soundcloud
Nazaar x Pixel Terror – Imperial FREE DOWNLOAD
Nazaar x Pixel Terror – Imperial Download
More Streaming Options HERE
---
More About Nazaar:
NAZAAR is an electronic music producer on the forefront of bass music production. In 2017 he released an official remix of The Chainsmokers "Sick Boy" which was signed to Columbia Records. In 2018, he released a single titled "A Dance With Death" which enjoyed unprecedented DJ support from the likes of Excision, RL Grime, Zomboy and many more. This led to him releasing a full 5 track EP titled "The Legacy" on Never Say Die in early 2019. Recently, he released 'BLITZKRIEG', a brutal festival weapon in collaboration with Carnage. The traction the song received from artists like DJ Snake and Diplo helped it reach significant streams worldwide in a short period of time. The 20 year old Texas based producer has had an undeniably successful start to his career and has already begun to distinguish himself from the rest of the pack. He is well on his way to climbing the ranks and becoming one of dance music's most recognizable figures. NAZAAR (Farhan Zahir) was raised between Pakistan and America. His signature sound is a combination of his roots and his western upbringing, the hidden riches of the Middle East, with the prominent sounds of electronic dance music. He was recently recognized by Zomboy as a "Young & Dangerous" producer to look out for in the coming years.