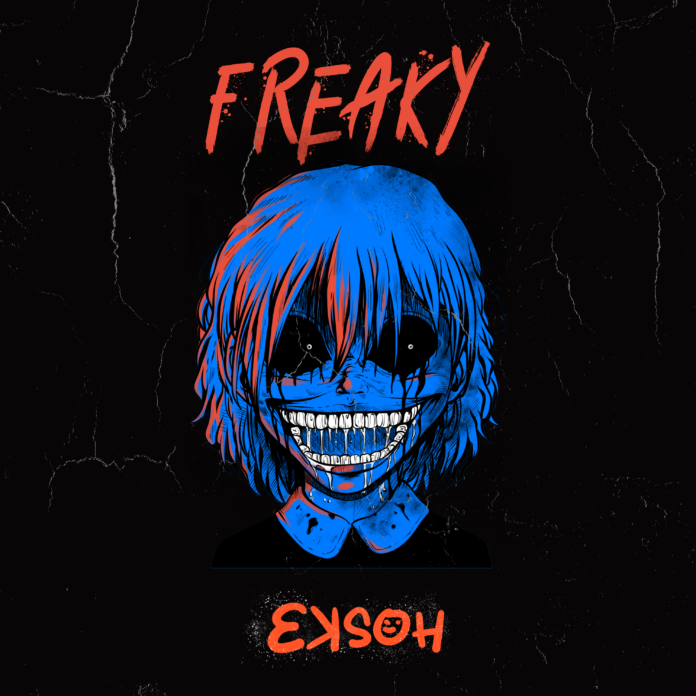 It's time to Get Freaky with South Californian artist Eksoh's new song! The eccentric and unusually catchy track flares with party energy and very authentic kinky vibes, that'll make you remember it even after the first listen.
Freaky sounds like a malfunctioning AI is trying to convince the listener to get intimate with it, although, the somehow threatening tone of the refrain also makes it sound like an offer you can't refuse. Eksoh's unmistakable production style makes Freaky's relatively simple structure sound extremely entertaining and makes the listener curious about which direction the producer is going to take the song next.
The metallic timbre of the main vocal sample influences most of the production choices on this new Eksoh song. Although it sounds very cinematic and futuristic, Freaky manages to keep the levels of tension and energy on the levels that are high enough to easily make it be featured on the wildest dance playlists during this summer. The groove of the track is built on the relatively straightforward, spoken-word rhythm of the vocal sample and the constantly progressing chemistry going on between the bass and the drums.
The latter have a peculiar, liquid-like flow to them. At the same time, Eksoh manages to make them sound extremely wide, teleporting the listener into a very surreal, dreamy space. Many of the traditional EDM sounds one hears on Freaky acquire a completely new aura with this kind of production.
The horn hits, risers and other elements, when played in contrast with the vocals or drums, make this new Eksoh release sound larger than life even without receiving any extraordinary treatment. And this is true for many of the otherwise conventional sounds on the track, like the delays or pads. Freaky's sound is a fine example of how some obvious and common production choices can be reinvented when one changes the context within which they normally are used in.
Stream Eksoh – Freaky on Spotify below!
Looking for more music like Freaky?