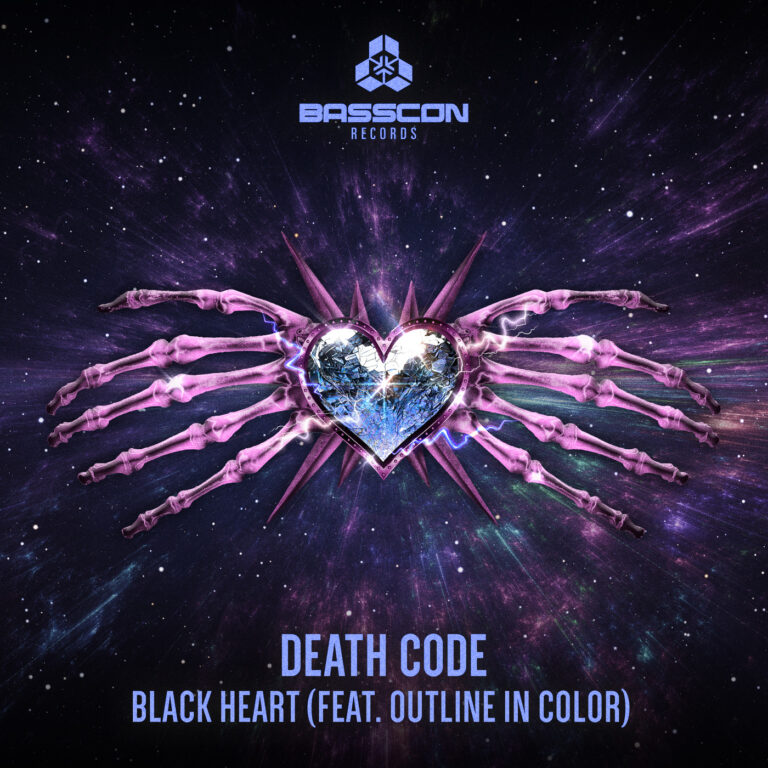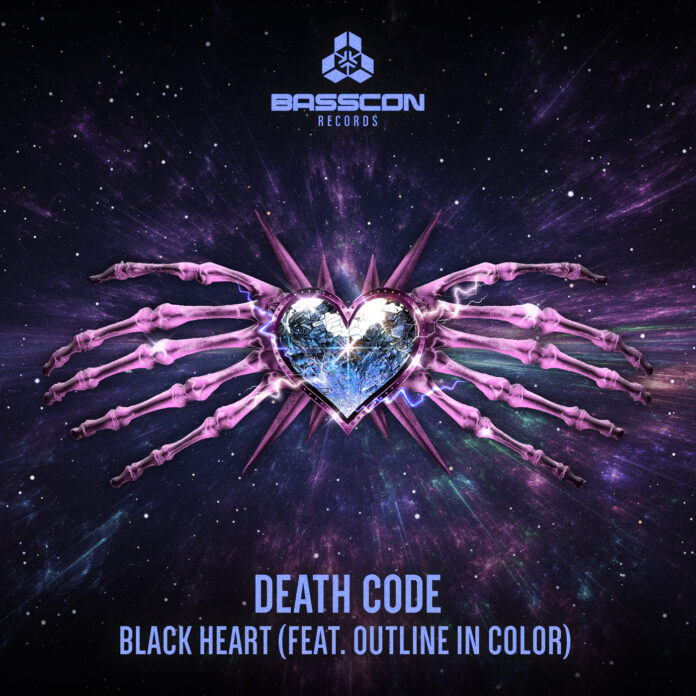 Sergio Garcia has found a niche these past few years by producing a merger of Hardstyle music with Rock and Heavy Metal influences under the byname DEATH CODE. The Heavy Metal & Hardcore / Hard Dance music stylings of DEATH CODE now continue forward in 2023 with the new song Black Heart featuring the Oklahoma-based Post-Hardcore and Metalcore band Outline In Color. Following the 2022 single Into The Dark which featured Cryblood and Andy The Core, Black Heart is now the second DEATH CODE track to feature heavier metal influences ripe with growl vocals.
Black Heart opens with a dark and haunting atmosphere. Vocal drops quickly join in with a thumping kick where each of its beats is accompanied by a melodic offbeat metallic twang. The vocals used on Black Heart display a mix of both Outline In Color's clean and growl techniques. Next, a riser joins in with the groove and vocals however in a somewhat deceptive manner. This is because it doesn't build toward an expected high-energy drop but instead to a desolate soundscape featuring a lyrical clean guitar played over a synth bass drone. We then get a hint of metal drums playing a brief double-kicked fill before returning to the synth beat. Meanwhile, another riser builds to a now intense throbbing beat mixed with industrial ambiance and continued vocals.
If you needle-dropped right to Black Heart's midsection you'd think that it's only an Outline In Color single. During this period of the track, there are no traces of dance production. Following a verse that is all Outline In Color, the chorus is then joined by a synth drone and riser. The escalation culminates with a sub-drop that transitions to a new invigorating Trancy synth melody. Lastly, after one final build-up, the newly established Trancy melody is now joined by a high-pitched and energetic pulsing cadence that takes the track out to its completion.
DEATH CODE has had its share of collaborators over its previous four singles. Working with the well-established Outline In Color will surely bring new listeners into the fold. We can expect that Black Heart, the new DEATH CODE & Outline In Color 2023 song will turn the heads of the Metalcore faithful as they welcome this newer Heavy Metal & Hardcore / Hard Dance music style.
Stream DEATH CODE & Outline In Color – Black Heart on Spotify below!
Looking for more music like Black Heart?