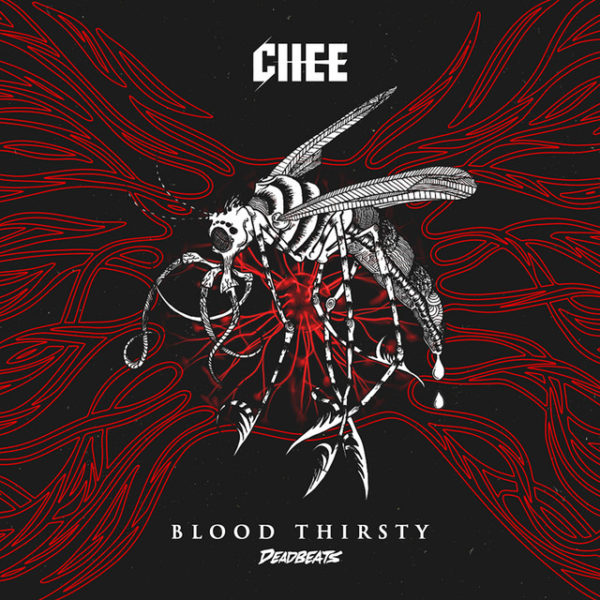 The leftfield bass scene is booming right now and it will continue to rule as long as stars like CHEE keep dropping hits like the highly infectious 'Vultures' (which you should absolutely check out if you haven't already). Having proved his production skills early on in his career, CHEE has achieved incredible success over the years. His music has also earned him the approval of some of the best in the business including, Noisia, Mat Zo, DJ Craze, and Amon Tobin. He has now stepped under the spotlight once again with the release of his latest hit, 'Blood Thirsty' on Zeds Dead's record label Deadbeats. The song is unlike anything you have ever heard before. The fact that it has generated over eight thousand streams on SoundCloud within a couple of days since its release proves that this is one special tune. 
'Blood Thirsty' features pummeling breaks, squelching synth energy, and plenty of Noisia's zig-zagging style to keep any club alive. If you were in any doubt that CHEE's dance floor beat can check all the boxes, pay close attention: this is a starry-eyed liquid roller built from classic stepping synth breaks and soaked in hair-raising luxury.
'Blood Thirsty' offers tight, gritty breakbeats that are, neurofunk-dark and jungly-crisp. The warping subs crackle astonishingly, and the bassline arpeggios nod subtly like a real gem. The last-minute of this track is when the sheer naked power of the breaks and bass shines through. It is all-encompassing, swirling, enveloping liquid while its subterraneous bassline provides the perfect filthy foundation for CHEE's matchless, gossamer beats.
The hard-knuckle aesthetic and the controlled ruggedness of 'Blood Thirsty' is surprisingly impressive. This is definitely one of CHEE's best works to date and will also appeal to fans of dubstep and trap. So, put on your headphones, hit play and enter the 'Blood Thirsty' world of CHEE. This track will remind you that leftfield bass is the future of bass music.
Stream 'CHEE – Blood Thirsty' on YouTube below and grab your copy HERE!
You can also enjoy the song on Spotify and Soundcloud!
More About CHEE:
After several years of lateral experimentation in sound design, South African producer CHEE erupted into the international bass scene following a handful of successful self-releases and releases through Dutch label, Underslug. Once the music began circulating, his sonic innovation and advanced production skills quickly gained the attention of many prime figures in the industry, gaining him support from Noisia, Amon Tobin, DJ Craze, Mat Zo, Culprate, G Jones and more. Since then, doorways opened across labels from a variety of genres, with drum & bass focused TYPE91, CLOSE2DEATH and ALGORITHM releasing his fierce take on the sound, whilst rising bass labels UPSCALE and RENRAKU delivered his raw trap and half-step influenced material in its full devastating glory. His assured arc of fresh ideas led to the release of his first full-length album FEAR MONGER on SATURATE RECORDS in 2017, demonstrating 12 tracks of raw low-end heavy material that set the precedent for CHEE tracks to come. Over the last few years, he has continued to evolve his sound and push the boundaries of possibility within developing soundscapes. With some major releases slated for 2020 and CHEE freshly coming off the Subtronics Cyclops tour, there's no limit to how this young artist will continue to flourish.
More About Deadbeats:
As the brainchild of Zeds Dead, Deadbeats label recently released music from Zeds Dead, Peekaboo, Rusko, Eprom, GRiZ, Subtronics, Shades, and many more. In just under 4 years Deadbeats has become a destination label for bass music acts that are pushing boundaries and shaking speakers, the label also showcasing them weekly on their Sirius XM Radio show, now in its third year. Also a live events brand, Deadbeats will hosts showcases and stage takeovers in over 25+ cities around the world this year including Denver, Chicago, London, Paris, Miami, and more. Forthcoming Deadbeats releases include music from Kid Froopy, Gentlemens Club, Eprom, Dion Timmer, Blunts & Blondes, and a whole lot more.
Follow CHEE:
Facebook
Instagram
Twitter
Soundcloud
Follow Deadbeats:
Facebook
Instagram
Twitter
Soundcloud
Follow Us On: