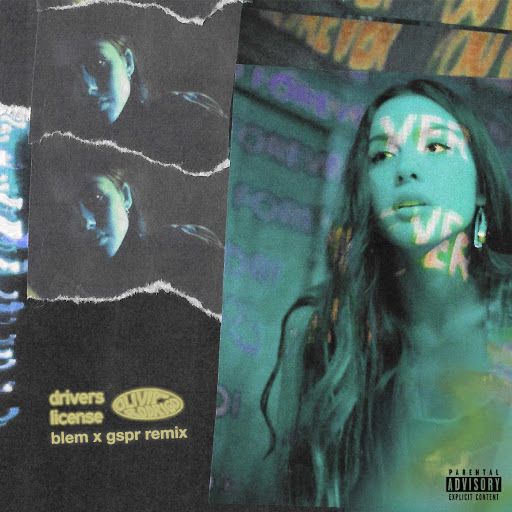 BLEM & GSPR have joined forces to bring us an awesome Olivia Rodrigo remix. BLEM is a Canadian producer whose tracks just keep getting better. His recent releases on Soave Tunes and a remix for Kiesza have cemented BLEM as a name to watch. GSPR is a French producer with a string of remixes and collaborations that showcase his outstanding and infectious sound. Together, they're a force to be reckoned with, and their 'drivers license' remix is all the proof you need. But if you wanted even more proof, the track has just been endorsed by Diplo!
It's fair to say that this Olivia Rodrigo remix is quite different from the original. The original is practically drum-free for the first minute and a half. Whereas, this 'drivers license' remix begins and ends with drums. The tight rhythm would be at home on any Prog House or Melodic Techno playlist. Olivia Rodrigo's vocal gets washed out but remains the focal point of the track. BLEM & GSPR have managed to introduce so much energy that wasn't present in the original. However, they've done this while preserving the listener's emotional response to the music; they've just amplified it. The track hits right but not too hard. It's the perfect interpretation of Olivia Rodrigo's emotional ballad. 
With BLEM & GSPR at the helm, this Olivia Rodrigo remix was never going to disappoint. Both producers are relatively new to the scene and it's incredible what they've achieved so far. Between them they cover the whole EDM spectrum, introducing elements from Pop to underground Bass Music. We're excited to see what the future entails for both producers. Check out their SoundCloud pages to stay up to date with their latest releases. And don't forget to grab this one, as it's a FREE DOWNLOAD!
Stream 'Olivia Rodrigo – drivers license (BLEM & GSPR Remix)' on SoundCloud Below!
Streaming Options:
Olivia Rodrigo – drivers license (BLEM & GSPR Remix) Apple Music
Olivia Rodrigo – drivers license (BLEM & GSPR Remix) Spotify
Olivia Rodrigo – drivers license (BLEM & GSPR Remix) SoundCloud
Olivia Rodrigo – drivers license (BLEM & GSPR Remix) FREE DOWNLOAD
Olivia Rodrigo – drivers license (BLEM & GSPR Remix) Download
---
More About BLEM:
Blem is a producer/DJ, from Montreal Canada. His debut single 'Good Dream' with producer Midsplit and Canadian Billboard top 40 radio singer-songwriter A-SHO combines a unique blend of organic and dance elements stemming from his indie-dance background. Inspired by the likes of Avicii and Lost Frequencies, BLEM's sound is heavily informed by folk music combined with classic house grooves. In 2020 BLEM released an official remix for pop songstress @Kiesza's comeback single "Love Me With Your Lie" as well as a string of singles including the anthemic 'Go Up' with Swedish vocalist ILY to the folk/EDM inspired '20 Years' and pop/dance record 'Just My Type.' His latest track is the BLEM & GSPR remix of 'drivers license'.
More About GSPR:
GSPR is already sparking interest early in his career with a strong ear for melodies and futuristic sounds. Born in a rural area on the outskirts of Lyon, France, music wasn't always his first love. It wasn't until 2014 at a friend's house party where he would stumble upon DJ turn tables that would allow him discover a hidden talent within. After dj'ing around town for a couple of years, and being inspired by the futuristic sounds of Tchami and Oliver Heldens he finally decided to sit down at the production table taking matters into his own hands.
By 2016 he had significantly improved and released his first single 'With You' in late 2017 via the respectable Future House Music records. This single sparked over 2 million streams and earned him an opening slot for Tchami in Zurich, in 2018. This granted him remix duties on the Billboard charting single "Right Now" by VAVO. With no stop in sight, he continued with releases such as "Lucky One" and "Nightcall". This enabled him to gain new fandom in different markets. GSPR is ready to challenge the market with a new modern twist on the current electronic sound. There is no doubt that this is only the beginning for the young rising star. Follow, like, share, and stay tuned for what's next to come of this promising young prospect. His latest track is the BLEM & GSPR remix of 'drivers license'.