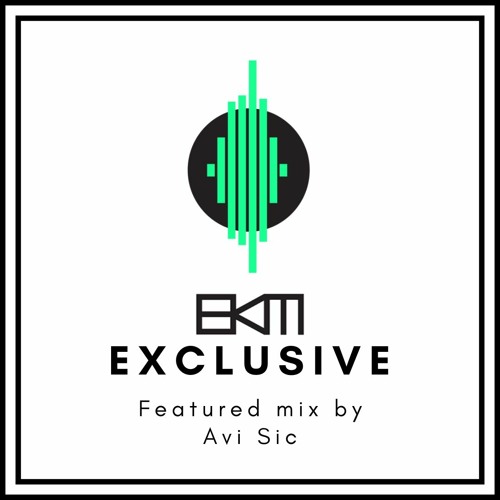 We had the opportunity to have a chat with Avi Sic, the extra versatile and high energy producer and open format DJ. Avi has a very impressive resume, she performs over 300 shows per year, she is the official concourse DJ for the Chicago Bulls, she runs her weekly globally syndicated radio show 'Late Checkout', and she plays high profile events for brands like NIKE, Red Bull, Only Fans, Google! In our Avi Sic interview, we talk about how it all started for her, her influences, what she has been listening to recently, her career path and much much more! Avi also recorded an exclusive feature mix for us! The mix is stacked with energetic Tech House, Bass House and EDM vibes while combining Trap and Hip Hop flavors in pure Avi Sic fashion! Without further ado, get to know Avi Sic in our interview below and check out the guest mix at the bottom of the page!
How did it all start for you in the music industry? Tell us how/where your journey began.
I was into music from a young age and it just kinda progressed over many years – to the point that my hobby turned into a full time career as a DJ.
Talk to us a bit about your beginnings as a producer, tell us about "In The Night". How did it happen? How/where did you start about music producing?
I dabbled in making beats and writing songs when I was younger. I was in a couple bands and even made an album when I was in high school like singer songwriter stuff – I never had the talent for singing but I could write decent songs and poetry.. In college I studied music, took a handful of production classes and got familiar with pro tools and messed around with garage band. As a DJ I make a lot of my own edits, bootlegs, and remixes so later I started learning Ableton but I never had (or made) too much time to focus on creating originals. When the pandemic hit, I finally had the time because live shows were canceled. I really got into it.' In The Night' was my first track as an Electro artist. I played live keys on it. I feel like I've improved massively since then in a short amount of time. My focus has become production in between live gigs now..
How did you end up becoming the official Concourse DJ for the Chicago Bulls and playing so many events? Was it something that you planned in your career or did it just organically happen?
For the Bulls, I knew a few of the DJ's and they were looking for someone to join the team. I made a mix, had an interview and boom! Been with them for 5 years now. But all of these highlights happened organically over time. There was a lot of work and steps that got me to these places throughout my career. It's been a one door opens the next door kind of journey.
Many young Djs sure look up to you and your amazing career, any advice for them?
Aw thanks. My advice is to stay true to yourself, your style, and do the work that needs to be done. Learn the technical skills of DJing and producing and keep building on that. Network and BE NICE ALWAYS (the person carrying your gear could be the person you need to sign that record deal down the line). And just have fun with it.
You play over 300 shows a year, how do you manage that? How do you keep that high-energy level in your performances?
I'm really focused. I have a goal in mind and won't stop until I get there. I love DJing and music so much. I always find new music to play or new ways to incorporate old music. I surprise myself during my sets and that keeps me excited and makes my sets interesting so it never gets stale to me.
What is a day like in Avi's life? What do you do outside of Djing/producing?
Oooo. If i'm not creating music or digging or DJing or making mixes for my weekly radio show 'Late Checkout', I love outdoor stuff like biking and hiking. I also play tennis. Got a killer racket that I'm stoked on playing with this summer. I'm into home remodeling. But honestly, sometimes it's nice to just kick my feet up and watch TV lol.
What is the "dance" music song that made you fall in love with the genre?
Armand Van Helden – I Want Your Soul

If you could eternally be stuck in one year's music scene, which year would it be?
The bloghouse days for sure. Like 2008. So much creativity. It was like indie rock meets dance meets electro house, right before EDM had a name. Those were wild times to be a DJ.
If you could DJ for one celebrity of your choice, who would it be?
Madonna

Name one track that never gets old for you no matter how many times you hear/play it?
Deadmau5 – The Veldt
What genres of music do you usually listen to? Are you strictly electronic? Give us a few tracks that you've been hooked on lately.
I listen to all kinds of music – hip hop, pop, soul, rock, indie but yeah definitely a lot of electro too.
James Hype & Miggy Dela Rosa – Ferrari
Chris Lake – 400
Kodak Black – Super Gremlin
What was the biggest inspiration / influence to your sound?
I'm inspired by all kinds of things. Artists that move me, songs that give me feels. Random sounds around me. I really just take everything in.
Any chance we will see you perform in Canada anytime soon?
I'd love to. Must look into that, let's make it happen!
Are you planning on reviving your Avi Sic's Picks playlist on Spotify?
YES. Great idea. Consider it done.
Thanks again for having a chat with us!
For sure, thank YOU. Be sure to check out my weekly radio mix show 'Late Checkout'. It's syndicated globally on various stations but I share the episodes every Monday on my SoundCloud 🙂
Check out the Avi Sic – Exclusive EKM FEATURE MIX below!
Avi Sic Online:
Djavisic.com
Soundcloud.com/djavisic
Instagram.com/avisic
Facebook.com/djavisic