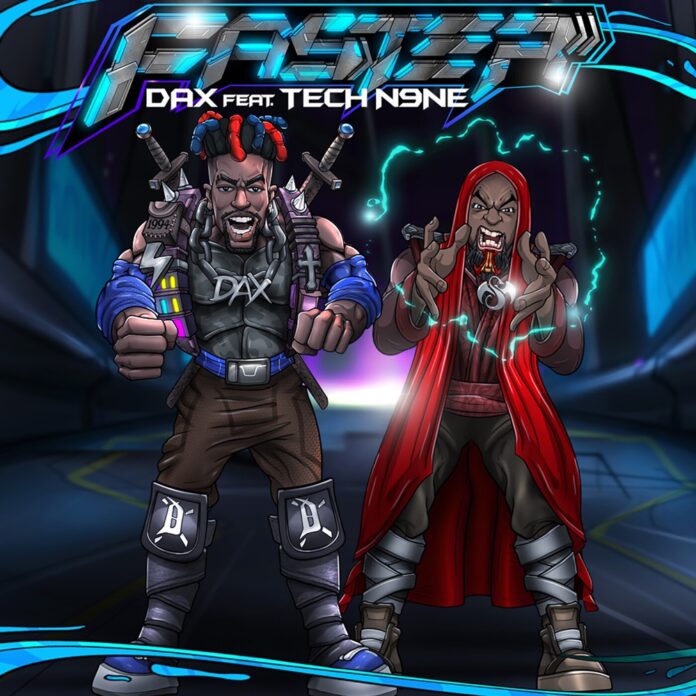 Dax has been on a roll. He recently delivered a thought-provoking track called, 'Joker' which surely is a must-listen. It has been streamed over 300,000 on Soundcloud alone in just a little over a month. Dax – FASTER has now been released. It is a collaborative effort with Tech N9ne. It is the epitome of what Chopper Rap music is all about.
Dax – FASTER with Tech N9ne is a high energy tune that will leave the fans stunned. The song is produced cleverly, it flourishes with driving percussion and it morphs and funks into different melodic patterns, creating a reverberating aura. The track echoes with percussive energy, giving it an infectious intensity. It is certainly a refreshing cut that EDM producers will love to put their own spin on to make it a peak-time festival banger. 
'FASTER' by Dax and Tech N9ne showcases their insane rapping skills. The duo went hard on this release and have impressed everyone with their lethal flows. The track contains a mixture of vibrant sounds that are layered over nifty pad work that blends smoothly with the bouncy rhythm, creating a bright and harmonic affair for the fans of Rap music. This track oozes perfection and creates its own hectic atmosphere, bubbling with the ingenious vocals and celestial synth. Considering how powerful this release is, it won't be a surprise if you decide to add the song to your Hip Hop playlist immediately after listening to it. 
Dax – FASTER with Tech N9ne is a special track that brings out the best in both of them. It is without a doubt an outstanding Hip Hop song that will raise the adrenaline levels, making the Rap music fans crave for more. We are expecting to see this duo hit the studio together again soon to drop more of such incredible releases.
Download 'Dax – FASTER ft Tech N9ne' HERE and stream the song on YouTube below!
Connect With Dax:
Join Us On:
More About Dax:
DAX was a talented basketball player growing up. He was named MVP at Sunrise Christian Academy during his senior season and later played for Casper College before heading to the University of Montana and eventually transferring to Newman University, Wichita, where he led the Heartland Conference in scoring with a 18.6 scoring average. He worked as a part-time janitor to help put himself through college.
Before getting into music Dax was delivering spoken word poetry and motivational speeches. He narrowly survived a situation where his car blew up at a McDonalds drive-through.
Before graduating at Newman, Dax made a short music video of him rapping about Newman's basketball team over a remix of Foster the People's hit song "Pumped Up Kicks." He released early songs like "Black In America", "Hilly Hilly Hilly Clinton", "The Basketball Song", "My President Bad And Boujee", but he didn't really hit the limelight until February of 2017 when he rapped alongside Bhad Bhabie on "Cash Me Outside".
He dropped some diss tracks towards RiceGum and Jake Paul and even Tory Lanez. At one point he was even set up to fight fellow YouTuber KSI in a boxing match. He's shared that he has his sights set on a major label: "I want to be signed. I want to be a major label artist. I want to be at the Met Gala and fucking Grammys. I don't want to chill in mediocrity. I'm going to get money regardless, but I need my impact on the world to be as big as it can."